BRTA directs ride-sharing apps to not allow bikes on long-routes before Eid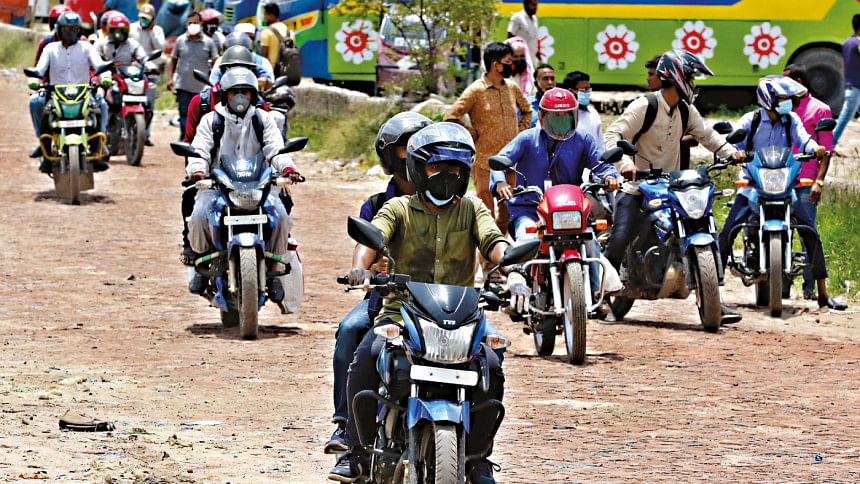 Bangladesh Road Transport Authority (BRTA) today directed all ride-share providing companies to take strict measures so that no motorcycles under their services can operate on long-routes ahead of the Eid-ul-Azha.
The authorities would take action against both the bike-owners and the respective companies if they operate bikes beyond their permitted territory -- areas under the jurisdiction of Dhaka Transport Coordination Authority (DTCA).
BRTA gave the directives at a meeting with the officials of ride-share providing companies at its headquarters at the capital's Banani today.
The move comes at a time when the authorities are taking a series of steps against the two-wheelers in recent times, citing safety concerns.
Bangladesh Bridge Authority has banned bikes on Padma Bridge while the Roads and Highways Department is considering banning bikes on Dhaka-Mawa-Bhanga Expressway.
Besides, a government probe committee has recently recommended banning bikes on national highways as they found involvement of bikes in road crashes saw a sharp rise ahead of Eid-ul-Fitr this year.
For the lack of public services and rise of bus fare, many people were forced to use their two-wheelers to go home ahead of the Eid. But, the huge number of bikes caused more accidents, different road safety organisations said.
In this given situation, BRTA held a meeting with the ride-share providing companies, a BRTA official said.
"They will not be allowed to operate bikes on long-routes. We will take tough action against both bike owners and the companies if they violate the directives," BRTA Chairman Nur Mohammad Mazumder told The Daily Star tonight.
He said bikes under ride-sharing services are supposed to provide their services under DTCA areas -- Dhaka, Narayanganj, Manikganj, Gazipur and Narsingdi.
"We have asked them to follow the rules and inspire bike owners under their companies to follow the rules," the chairman said.
Meeting sources said officials from five to six companies attended the meeting and they said almost all the bikes on the long-routes before Eid operated under contract-basis, and not under their apps.
They requested the authorities to take action if the bikers provide services under "contracts" instead of apps, violating the rules, a participant told this correspondent.
Asked about the matter, BRTA chairman said they have already written a letter to the local police to take action in this regard and also against the unlicensed bikers.