Despite ban, hundreds of motorbikes throng Padma Bridge toll plaza
Authorities turn them away, ferry carrying them across the river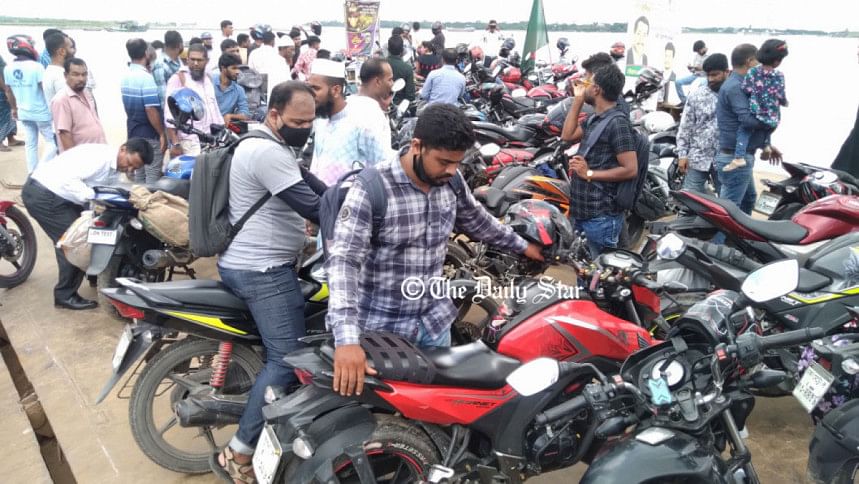 Despite the ban on motorbikes on Padma Bridge, hundreds of two-wheelers have been showing up at Mawa toll plaza to cross the river since this morning. Around 500 motorbikes have been turned away by traffic police and the bridge's toll authorities from 6am to 11:30am today (June 27, 2022).
The motorbikes then took a ferry from Shimulia Ghat in Munshiganj.
At least 119 motorbikes crossed the Padma river by ferry from Shimulia ghat, said BIWTC's Shimulia Ghat Manager (Commerce) Faisal Ahmed.
The decision was taken to facilitate motorcycle riders, he said.
However, a ferry will not leave the ghat unless 150 to 200 motorbikes accumulate at the ghat, he added.
When the bikers were not allowed to cross Padma Bridge, they tried to forcibly enter around 9am, and blocked movement of other vehicles in front of the toll plaza, our Munshiganj correspondent reports.
At the time, no vehicle could go through the four lanes for 20-30 minutes. Then, the vehicles used just one lane.
At one stage, announcement of ferry movement for motorcycles was made through miking at Shimulia Ghat, said Sohel Hasan, sergeant of Mawa Traffic Police Outpost.
He also said that the situation has been calm since 10am. "We are making announcement through miking so that the bikers leave the Padma Bridge entrance," he added.
Bikers complained that everyone has to cross Padma Bridge for urgent work. From the toll plaza, they came to know that a ferry would carry them across Padma river. But when they went to the ferry ghat, the authorities refused to operate the ferry. So they again gathered and demonstrated at the toll plaza. Later, the authorities assured to operate the ferry, and they moved to Shimulia Ghat.