Sales of electric vehicles rising gradually
But progress slow for lack of policy, industry people say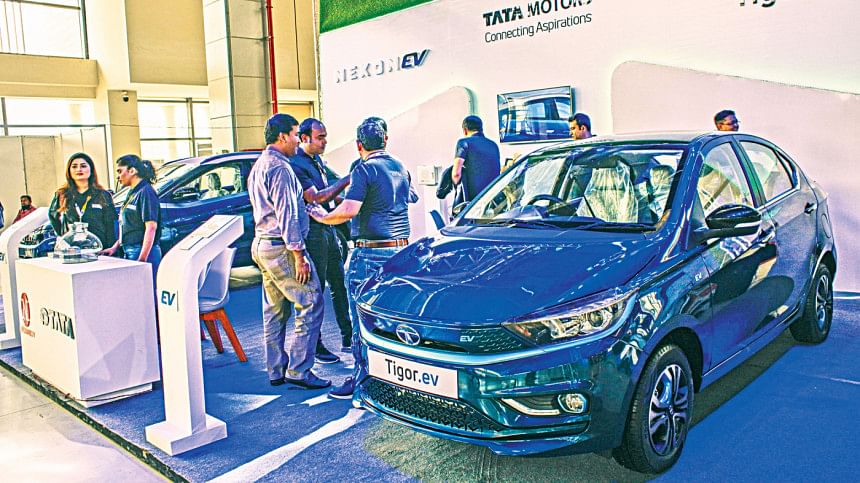 Electric vehicles (EVs), including plug-in hybrids, will one day dominate the automobile market in Bangladesh as the demand for cars run on alternative fuel is slowly gaining ground, according to importers and distributors.
Around 20 EVs of global automotive brands such as Tesla and Porsche have been registered with the Bangladesh Road Transport Authority (BRTA) since September 2022, when EV registration was first introduced.
Market insiders say around 50 to 60 per cent of all passenger car imports are now either plug-in hybrid or hybrid cars.
"I imported Tata EVs to display them at the auto show in Dhaka," said Abdul Matlub Ahmad, chairman of Nitol-Niloy Group, local distributor of Tata Motors.
Ahmad plans to eventually start manufacturing EVs at his proposed plant in Ishwardi upazila of Pabna.
He blamed the government for delaying the formulation of the EV policy while stating that an imported unit priced at Tk 29 lakh would cost around Tk 12.5 lakh if locally made.
"Huge foreign direct investment would come for manufacturing EVs if the policy provides favourable incentives such as tax holidays," Ahmad said, adding that it would help develop vendors for EV components as well.
Md Habib Ullah Dawn, president of the Bangladesh Reconditioned Vehicles Importers and Dealers Association (BARVIDA), said EV imports have not sped up for three reasons, namely complex registration process, lack of charging stations and higher price compared to fossil fuel cars.
Still, EVs will dominate the passenger car market as they are environment friendly and fuel efficient.
The National Board of Revenue currently exacts 20 per cent supplementary duty on EV imports while the customs duty is 72 per cent.
Against this backdrop, the BARVIDA president demanded the withdrawal of these taxes to reduce the price of EVs and thereby increase demand.
He also said EVs are at least 30 per cent costlier than traditional cars for their sophisticated technology.
"The time has come to welcome modern vehicles as the whole world will phase out fossil fuel cars within the next 15 years," Dawn added.
Sheikh Mohamamd Mahbub-e-Rabbani, director of the BRTA, said they consider the power capacity of an EV's battery when giving registration while it is the CC for fossil fuel cars.
He believes the number of EVs in the country will increase in the coming days, when the economy returns to normalcy.
Also, the BRTA is taking initiatives to set up infrastructure such as EV charging stations, Rabbani added.
According to BRTA sources, the "Electric Vehicle Charging Guidelines" have been prepared to provide a framework for establishing a wide network of charging stations across Bangladesh.
Meanwhile, the government is planning to launch electric busses for long routes. As a part of this effort, the Bangladesh Road Transport Corporation (BRTC) will procure 100 double-decker electric busses under an Indian line of credit.
Local manufacturing is on the rise though as the Bangladesh Auto Industries Ltd (BAIL) has set up its own EV production unit at the Bangabandhu Sheikh Mujib Shilpa Nagar in Chattogram.
BAIL aims to release locally manufactured EVs by this year.
The company will make two-wheelers, three-wheelers, sedans, hatchbacks and sport utility vehicles. It also has plans to produce pick-ups, mini-trucks and other multipurpose vehicles.
Almost 60 per cent of the components used in the cars will be made locally, including the lithium battery, electric motor, software, and chassis.
Besides, Walton Digi-Tech Industries Ltd, a concern of Walton Group, has launched Bangladesh's maiden electric bus for their staff, jumping on the bandwagon of a global shift towards eco-friendly transportation.