A suspicious BRTA diktat
BRTA must work collaboratively with all stakeholders to ensure road safety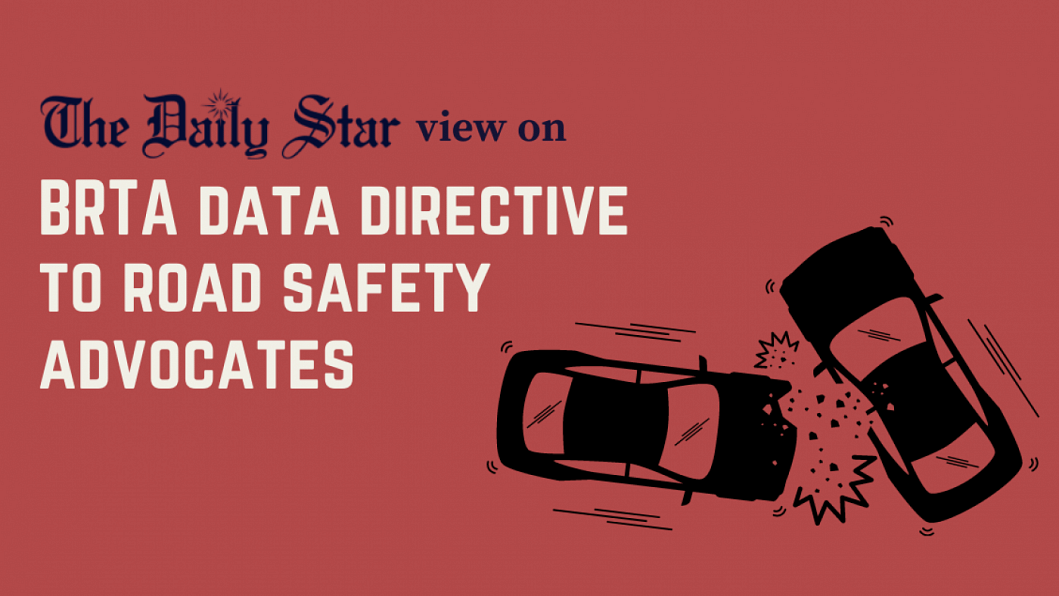 We are quite concerned to learn that the Bangladesh Road Transport Authority (BRTA) has asked four road safety organisations – Nirapad Sarak Chai, Bangladesh Jatri Kalyan Samity, Road Safety Foundation, and Save The Road – to inform it before releasing data on road crashes and casualties. At a time when the government's failure to prevent such incidents is being criticised from all sections of the public, particularly road safety campaigners, such an instruction is quite baffling. Reportedly, the BRTA has sent a letter to these organisations saying that their data on road crashes and deaths are creating "confusion" among people as they differ from each other. The organisation asked them to "check the information regarding road accidents on the ground."
We wonder whether the BRTA has given such instructions with an aim to ensure credible data on road crashes, or if it is just an attempt to discredit or intimidate the road safety campaigners, as we have witnessed in the past.
While it is true that there are some gaps in the data prepared by different road safety organisations – which basically prepare them based on various newspaper reports – the data prepared by the government are not reliable either. For example, recent road crash data prepared separately by the BRTA and Bangladesh Police did not match. While according to the BRTA, 636 people were killed and 752 others injured in 630 road accidents in January and February this year, police data say that a total of 542 people were killed and 420 others injured in 557 road crashes during the same period. Therefore, the accuracy of both sets of data can be questioned. Moreover, these numbers are much lower than those provided by the NGOs working on road safety. Clearly, the need for reliable official data cannot be stressed more.
The government has a plan to implement the National Road Safety Strategic Action Plan 2021-2024 to reduce 20 to 25 percent of casualties by 2024, and to halve the casualty number by 2030. The question is, what or whose number will that be? To achieve this goal, the government will need authentic data. And to ensure this, relevant government agencies need to work in coordination with not just each other but also with those private organisations. Therefore, it will be a mistake on the part of the BRTA to try to deal with them with an aggressive or combative attitude, or to vilify them for the work they do. We also hope that the government organisations, particularly the BRTA, will be open to discussions and suggestions on road safety issues so that they can plan and act properly.
Bangladesh has one of the highest road crash rates in the world. So, the government must stop treating the issue casually or victimising others for its own failure. It must work sincerely to develop a national database on road crash casualties and injuries with assistance from all the stakeholders. Only a positive approach from the government can help ensure safe roads in Bangladesh.