Avail more foreign fund for project financing: PM
Prime Minister Sheikh Hasina asked the authorities concerned at Ecnec meeting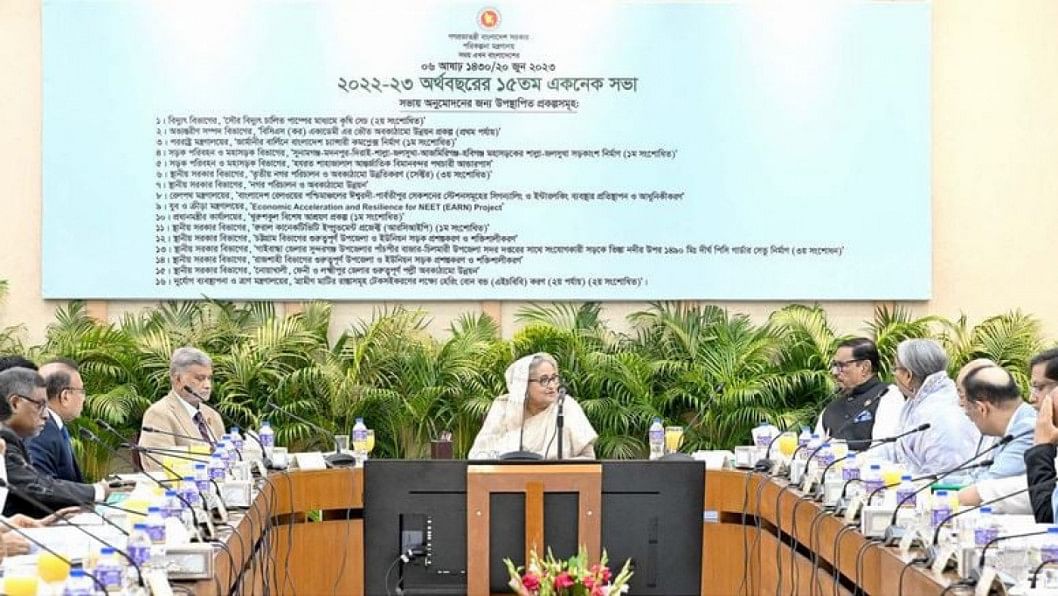 Prime Minister Sheikh Hasina today asked the authorities concerned, including the Economic Relations Division, National Board of Revenue and the Finance Division, to work on availing more foreign funds alongside local ones to ensure project financing.
More foreign funds will be disbursed if the trend on timely implementation of foreign-aided projects increases, which would also leave a positive impact on the country's foreign currency reserves, the premier said.
The prime minister gave the directive while chairing a meeting of the Executive Committee of the National Economic Council (Ecnec) at the NEC Conference Room in the city's Sher-e-Bangla Nagar.
Planning Minister MA Mannan shared the information at a press briefing after the meeting.
He also said development partners like the World Bank, the Asian Development Bank and Japan International Cooperation Agency are ready to extend more supports, including budget support to Bangladesh, but the government would take those as per its necessity and capacity.
More than $50 billion of foreign assistance is in the pipeline, said State Minister for Planning Shamsul Alam.
In today's Ecnec meeting, 16 projects were approved involving Tk 24,362.14 crore.
Of the total project costs, Tk 12,873.11 crore will come from the government exchequer, Tk 16.15 crore from the organisation's own fund and the rest Tk 11,472.88 crore from project assistance.
Of the approved 16 projects, eight are new while eight are revised projects.