Phones, laptops, internet turned pricier in 2022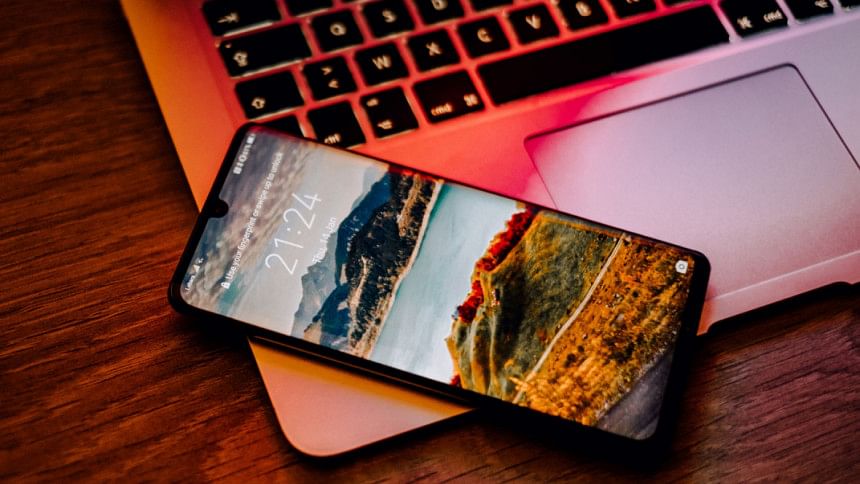 Bangladesh's steady embrace of digitalisation, spearheaded by a growing number of tech startups and rising software and IT service exports, has suffered a heavy blow from the imposition of new taxes this year. 
Broadband, smartphones, laptops and desktop computers -- all have turned costlier for the National Board of Revenue heavily taxing digital consumers and entrepreneurs either directly or indirectly.
This could also potentially slow down the government's realisation of a "Smart Bangladesh".
This year a 15 per cent VAT has been imposed on laptop imports, a 10 per cent advance income tax on broadband internet service and a 5 per cent VAT on mobile phone sales.
It compounded woes of consumers already having to deal with the pandemic-induced disruptions to supply chains, soaring US dollar and energy prices and the Russia-Ukraine war.
Md Islam, a private sector employee, said he had planned to buy a laptop about six months ago.
"But I couldn't do it as the price of the laptop has been spiralling, taking it out of my reach," he added.
The impact has been immense on users of laptops, a device widely used for freelancing and the IT business.
Even before the budget for this fiscal year was unveiled on June 9, laptop prices were already up by 10 per cent to 15 per cent in Bangladesh.
It was a result of rising costs of the US dollar and shipping and disruptions to global microchip supplies.
All these caused laptops to currently cost 50 per cent more than that a year earlier, said industry people.
Of two types of laptop configurations that sell the most, one has gone up in price to Tk 50,000 to Tk 55,000 from Tk 32,000 to Tk 35,000 a year earlier.
The other now costs Tk 70,000 to Tk 75,000 whereas earlier it was Tk 45,000 to Tk 50,000.
"The perception of digital device affordability has been completely changing," said Ahmed Hasan, managing director of Ryans IT, one of the country's top retailers of personal computers and laptops.
"General people were slowly becoming more inclined towards purchasing a computer for freelancing or f-commerce. But now they are abandoning plans," he said.
"The same government, led by the current prime minister, was earlier instrumental in popularising the computer by making it 100 per cent tax free," said Hasan.
Currently, overall government duties on laptop import stands at 31 per cent to 32 per cent.
Hasan thinks the duties are not justified and undermines the government's long-term efforts towards computerisation.
According to industry people, the sale of laptops in Bangladesh is poised to reach 450,000 units by the end of 2022. HP, Asus, Dell, Lenovo and Acer are the top-selling brands.
Local manufacturers, however, have been enjoying an opportunity to import raw materials for computer accessories paying only 1 per cent import duty since 2017.
A similar rate is applicable on purchases of raw materials for the production of printers, toners, tabs and notebooks.
The new VAT at the import stage and the concessional facility to bring in raw materials will benefit Walton, the country's lone manufacturer having a 30 per cent value-addition capacity, and a handful of assemblers.
However, they do not have the capacity to meet the local demand and business consumers want to purchase laptops with high configurations which can be solely ensured through import.
Laptop manufacturing is complex, dominated by five to six companies globally. It is very difficult to establish a laptop manufacturing unit ensuring good value addition from technological aspects, according to Bangladesh Computer Samity.
Meanwhile, the 5 per cent VAT on mobile sales pushed up its prices, slowing down smartphone penetration and wreaking havoc on the mobile phone manufacturing industry.
The industry is facing a hard time for the depreciation of the local currency against the US dollar, a shortage of the American greenback and limits imposed on opening letters of credit (LCs) for raw materials amid declining foreign currency reserves.
As a result, mobile phone manufacturing and assembling fell 1.25 per cent to 21.99 lakh units in October from that a month earlier, showed data from Bangladesh Telecommunication Regulatory Commission (BTRC).
A lower sales volume in recent months has forced manufacturers to cut production.
About 1.56 crore mobile phones were manufactured in the first five months of 2022. In the next five months to October, the number stood at 1.23 crore, a drop of 21 per cent.
"Sales of all types of phones have decreased in the last six months," Md Asraf Uddin, CEO of Anira International, which manufactures both smartphones and feature phones, told The Daily Star recently.
"Some months were so depressing that we were able to clock only one-third of our average sales," he said.
According to the industry people, the price of smartphones shot up by about 25 per cent in the last one year.
About three crore people in Bangladesh, aged 18 years or above, do not own a mobile phone and 6.5 crore do not use the internet, according to the new population census published in July this year.
In effect, it highlights the non-affordability of devices enabling connectivity and digital inclusion remaining elusive for many.
Of the population group aged five years and above, 44.13 per cent, or 6.6 crore, do not own a handset while more than 69 per cent, or 10 crore, do not use internet, sowed a preliminary report of the Population and Housing Census 2022.
"The government's tax policies on digital devices are detrimental to digital inclusion," said AKM Fahim Mashroor, chief executive officer of bdjobs.com.
"The government's Digital Bangladesh vision has mainly been achieved in the top cities of the country. If the government doesn't change its stance, its new vision of 'Smart Bangladesh' will also be city-centric," he added.