The next era: Joining forces for a Smart Bangladesh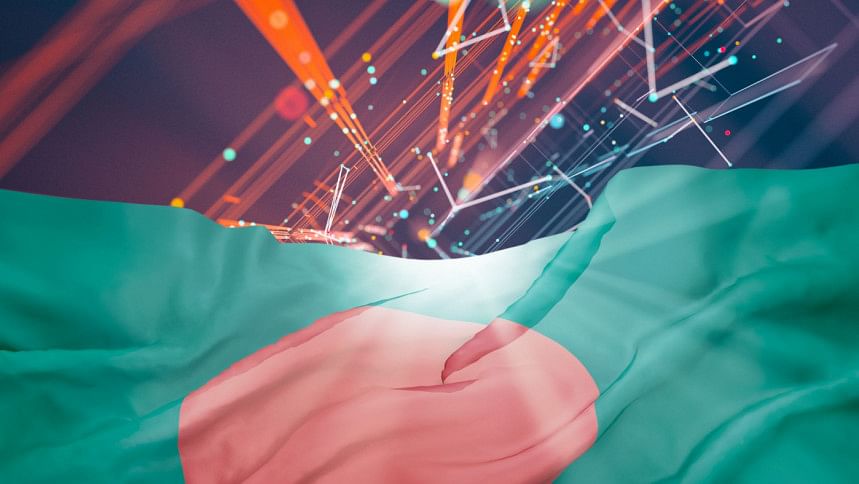 During the recent Bangladesh Business Summit, it was clear that the next era of growth will come from a collective and collaborative effort. Today, Bangladesh is one of the world's fastest-growing economies and is proudly building up to the trillion-dollar journey ahead. 
During the opening ceremony, the event's chief guest, Prime Minister Sheikh Hasina, invited the world to join hands and support Bangladesh's journey to fulfil the vision of 2041, becoming a developed high-income innovative nation, Smart Bangladesh. The course of this progress offers a fascinating model for the rest of the world. But, to advance people and accelerate business, the road ahead requires systematic digital adoption and progress.
Next wave of growth
While established sectors like RMG will remain at the forefront of growth, the Smart Bangladesh trajectory requires further diversification of business and investment opportunities. The next wave of exports from our country must include tech, digital services, manufacturing and IT-led businesses. 
Connectivity is a key enabler of the government's Smart Bangladesh 2041 vision, and a critical element as the country looks to broaden economic activities. It's an essential service for millions. And a recent Digital Lives Decoded survey that Telenor Asia conducted found that this dependence is only set to grow, with people expecting to increase the time they spend online in the coming years.  
Above all, the application of new technology, embracing digital efficiencies and bringing innovation into business is essential to delivering on the master plan. During the summit, it was encouraging to see policymakers welcome innovative investment avenues. An example can be found in the 100 special economic zones that will be established across the country which will give a boost to our economy, and open significant opportunities for more digital and tech-enabled businesses! I feel hopeful about the FDI landscape in the country and applaud such timely initiatives by the government. 
The potential of Bangladesh's digital capabilities 
The nation's digital backbone and infrastructure can enable and unlock new frontiers of digital and smart business opportunities. Bangladesh offers a stunning $100 billion investment opportunity and may become the next industrial and digital economy centre with a population of 170 million, 65% of whom are in the working age group! But technology alone cannot achieve such growth. The nation's young versatile population needs to be digitally upskilled to be fit for the IT and ITES industries in the making. 
There are many possibilities for a digitally skilled population. Today Bangladesh has the second-highest freelancer workforce in the world mostly working for foreign companies. Moreover, Bangladesh routinely ranked as one of the leading countries favoured by employers and was the 8th largest exporter of online labour in 2019, according to a Payoneer survey. They rely on connectivity to deliver these services and there is great potential to grow the US $150 million of yearly earnings they collectively bring into Bangladesh.   
Today academia, industries, and the public sector together are collaborating to equip them with new digital skills and critical competencies to help them for taking up the challenges within and beyond borders to achieve economic independence. 
New dimensions
There are many new dimensions that connectivity and telecoms infrastructure can enable. Conversations during the Summit between automobile and industrial manufacturers, technology companies, policymakers and experts brought the possibilities closer to building smart industries and hi-tech manufacturing in Bangladesh. 
For any new industry, achieving scale, efficiency, and leveraging technology are critical factors to success. Taking the automobile industry as an example, by leveraging technology we can unlock new opportunities for growth and innovation, making it a key driver of economic development in Bangladesh.
While Bangladesh is considering the next step in automobile, from assembling to manufacturing with global players like Hyundai, Mitsubishi, Proton, and local players in the country, there are big opportunities in this space. To stay ahead of the curve and compete on the world stage, in this growing stage, the incorporation of cutting-edge technologies like 5G, IoT, and AI into our manufacturing processes can give us a proper lead. 
By embracing these technologies, we can create smart factories that are highly efficient and connected, with optimised production processes and streamlined quality control. Our sister company in Norway has embarked on the journey of facilitating driverless cars. This is just one example of the potential to leapfrog through innovation and combining knowledge and expertise. Unique future possibilities can be created through collaboration and partnerships between local and foreign investors.
Smart technology, Smart government, Smart Bangladesh
Industry 4.0 can play a significant role in driving growth and development in Bangladesh. Adopting advanced technologies such as automation and digitisation presents exciting new opportunities for businesses of all sizes. For Bangladesh to leap from Digital Bangladesh to Smart Bangladesh will require innovative models, scalable partnerships and opportunities beyond. The next era rests on the existence of a good business environment with predictable policies that allow for cross-collaboration, shared contributions and enable the public sector to drive innovation.
It was amazing to see the warmth and keen interest in friendship among the foreign dignitaries and policymakers to sit and interact with potential B2B partners in Bangladesh. I would like to congratulate and express my sincere gratitude towards FBCCI for organising the three-day event. You not only helped highlight the economic and market potential of Bangladesh but established a strong network of local and global innovators and investors. Together we can truly accelerate our journey of becoming the Trillion Dollar Economy!   
The author is the Head of Social Impact at Grameenphone.