Nat'l highways should be off limits to bikes
Recommends the committee probing road crashes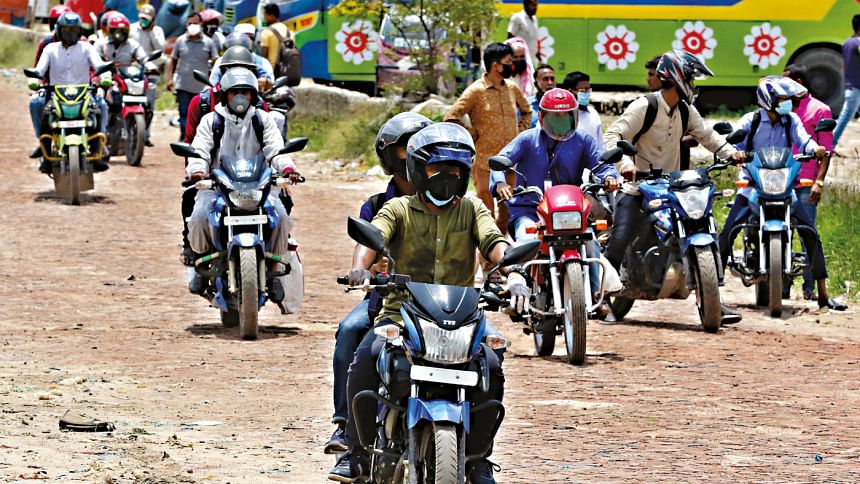 Motorcycles should be banned on national highways to reduce the number of accidents, recommended a committee that was formed by the government to probe road crashes.
The two-wheelers can be allowed only if the national highways have separate service lanes, added the committee.
Among some others, this proposal was placed as the committee found motorcycle accidents as a major reason behind the rise in fatalities during the last Eid vacation.
The recommendation was discussed at a meeting of the Road Transport and Highways Division yesterday.
The division was considering a ban on bikes for two to three days before Eid-ul-Azha, the meeting sources said.
Road Transport and Bridges Minister Obaidul Quader will take the final decision in this regard, they said.
Road crashes and deaths during the Eid rush saw a sharp rise this year compared to last year mainly due to an increase in motorbike accidents, two road safety organisations said.
Bangladesh Jatri Kalyan Samity says at least 416 people were killed in 372 road accidents in 15 days from April 26 this year.
Of them, 145 people were killed in 164 accidents involving motorbikes, meaning motorcycles were involved in 44.08 percent of the crashes and 34.85 percent of the deaths, it said.
Road Safety Foundation portrayed a similar picture.
The absence of adequate public transport, a hike in bus fares, and traffic congestion are pushing people to buy two-wheelers, which is considered as a risky mode of transport, experts said.
However, the number of registered bikes and issued licences are 36.50 lakh and 23.50 lakh in May this year, according to Bangladesh Road Transport Authority (BRTA).
In this given situation, the Road Transport and Highways Division formed a five-member committee led by its joint secretary Anisur Rahman.
As per the report, 38 people were killed and 92 injured in 27 accidents between May 2 and May 7.
They found several reasons behind the accidents including reckless and careless driving; illegal and risky overtaking; carrying extra passengers on bikes without wearing helmets, and violating traffic rules; operations of illegal and slow vehicles on highways.
They also gave recommendations including banning bikes on national highways. The country has some 4000km of national highway. Only 125km of it has service lane.
It is also recommended for banning human haulers, three-wheelers like Nasimon and Kamimon and easy bikes on the national highways.
However, the government imposed bans on such vehicles on 22 national highways in 2015.
In this situation, the number of deaths involving bike accidents has risen sharply, which was evident during the Eid rush.
Other recommendations include taking action against reckless driving and illegal overtaking; installing traffic signs and marking risky points.
Contacted, probe committee chief Anisur Rahman said the bike is meant for a short trip, not for long travel by highways.
"We gave the recommendations as bike accidents are on the rise and claiming many young lives," he said yesterday.
Road Transport and Highways Division yesterday held a meeting to prepare for the Eid-ul-Azha journey and reduce road accidents with its secretary ABM Amin Ullah Nuri at the chair in the capital's BRTA headquarters.
The meeting discussed the probe report and recommendations given by the committee on road crashes, Yousub Ali Mollah, an additional secretary of the division said.
"Banning bikes on highways at least two-three days before Eid was discussed and the final decision would be taken in consultation with the road transport and bridges minister," he told The Daily Star yesterday.