YABA out of control
Top crime-busters term it national crisis, opt to take different approach
It's now a national crisis. The influx of deadly yaba appears to have gone beyond control despite efforts by law enforcement agencies to contain it.
The crazy medicine is available everywhere -- from the capital city to remote villages, from slums to posh areas. It has penetrated the society's all strata -- students and professionals, the poor and the rich.
That's how some top officials of police, Border Guard Bangladesh, Coast Guard and Department of Narcotics Control describe the yaba epidemic in Bangladesh.
The seizure of the drug from every nook and cranny of the country corroborated the observation they made in a discussion organised by The Daily Star at its office on Monday.
Last year, law enforcers seized 4 crore pieces of the pink tablets. But the catch crossed three crore only in the first four months of this year.
It gives just a rough estimate of the pervasiveness of yaba as it is believed that only 10 percent of the drug is seized and 90 percent flows into the market.
---
Read all stories of "Yaba Invasion" series
---
The busting of more and more consignments of the crazy medicine has made the top brass of law enforcement agencies worried as the forces are struggling to stop the invasion of yaba through traditional measures.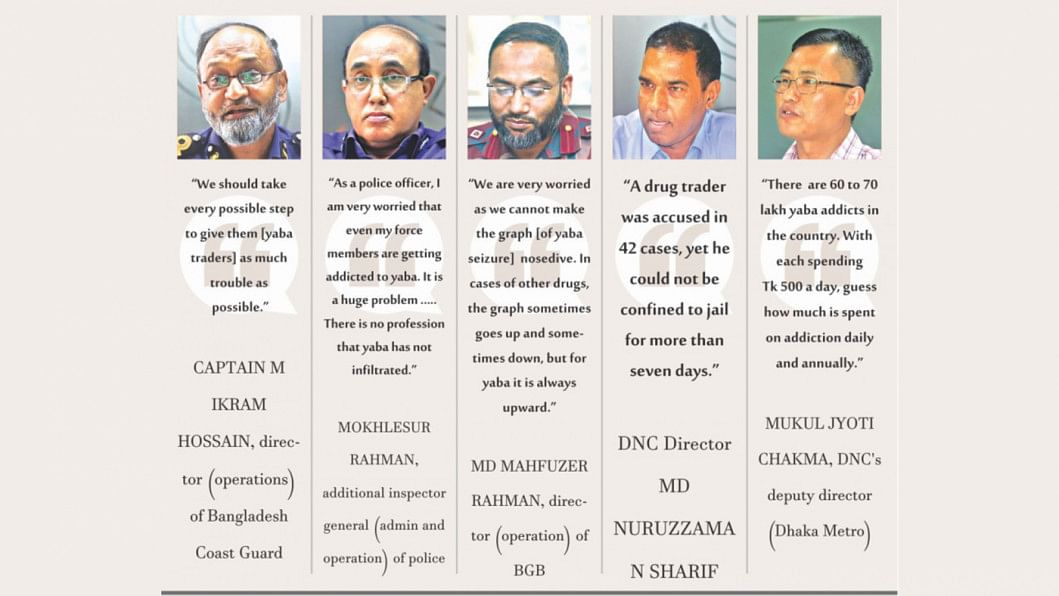 The officials unequivocally recommended that yaba has to be contained at entry points by putting up maximum efforts and spending as much money as required.
They underscored the need for highest coordination among government forces at the field level, especially to save the country's hope, the youth, from the curse of yaba. 
Over 52 percent of the population falls in the age bracket of 15 to 35 and it is the same prime group that is now getting addicted to the deadly drug, which gives them temporary happiness but in the long run destroys them both psychologically and physically. It causes anxiety and aggression and damages kidney, heart, liver and brain as well.
"It has become a national crisis. Yaba seems to have infected every profession," said Mokhlesur Rahman, additional inspector general of police (admin and operation).
"As a police officer, I am very worried that even my force members are getting addicted to yaba. It is a huge problem …. There is no profession that yaba has not infiltrated."
Stressing the need for containing yaba inflow right at the border, he said the drug crosses over into Bangladesh in small number of consignments and then spreads across the country in lakhs of smaller consignments.
"It gets very difficult to seize yaba once it spreads out. So we have to stop it at the border," suggested the additional IGP.
Lt Col Mahfuzer Rahman, director (operation) of the BGB, showed a photographic documentation which depicted vivid examples of yaba peddling. 
It shows the tablets are carried in mobile phones, secret chambers in cars, trucks or motorcycles, fuel tanks of bikes and even inside holy books. Carriers swallow capsules containing the pills and also hide those inside rectum.
Though the additional IGP spoke for checking yaba at border point, the task is not easy due to some major hurdles including non-cooperation of Myanmar, the main source of the mad drug.
The BGB cannot interact with its Myanmar counterpart very well as the latter responds to one in 10 calls. The Myanmar side cannot be reached at all in some bordering areas where the country's army is deployed, said Lt Col Mahfuzer.
There is no fencing in the border with Myanmar and it is very difficult to patrol 10km of it by a team consisting of only six members. Smugglers can pass yaba in between movements of the force members from one place to other, he added.
"We are very worried as we cannot make the graph [of yaba seizure] nosedive. In cases of other drugs, the graph sometimes goes up and sometimes down, but for yaba it is always upward. It is really alarming that it is going out of control."
He mentioned that incidents of smuggling through Indian border went down following fencing of 70 percent of the boundary. "There is no alternative to fencing the border."
Bangladesh and Myanmar share a 270km border, much of it is along the Naf River. Every day, some three lakh vessels of different kinds, beginning from small wooden boat to trawlers, ply this waterway.
To stop entry through borders, Captain M Ikram Hossain, director (operations) of Bangladesh Coast Guard, suggested a ban on fishing in the Naf River at night and tourism in St Martin's Island in April-May.
He further recommended mobile tracking of conversation in borders and engaging tax department to probe people who have palace-like houses in Teknaf and Shah Porir Dwip.
About non-cooperation of Myanmar, Additional IGP Mokhlesur echoed the views of Lt Col Mahfuzer. 
He said diplomatic and home ministry-level meetings with India worked while containing smuggling of Phensedyl. But the efforts to contain yaba smuggling failed.
"Bangladesh shares information with Myanmar but they hardly take any action. Even, the Myanmar military which control the border are even involved in yaba smuggling."
Yaba is a source of easy money, the official said, and bad guys are in all sectors including police force. That's why the police force has carried out dope tests in its last three recruitments, he added. 
Mokhlesur also said policemen found with yaba or even suspected of being involved in yaba trade are facing stern action.
Captain M Ikram Hossain said they have punished three Coast Guard members for involvement in yaba trade.
He stressed the need for breaking away from regular legal procedure, at least for an interim period, to tackle a crime of this nature. "Like the Philippines, we may introduce a model of very tough and instant punishment."
Captain Ikram said the Coast Guard is very understaffed. The force has 2,500 staff on deputation from Bangladesh Navy. Only seven to eight staff are posted at each station.
He also said they have no female staff to search female carriers. 
DNC Director Md Nuruzzaman Sharif said due to loopholes in the existing law, the accused in drug cases are coming out of jail on bail.
He said the amendment to the Narcotics Control Act 2019 removing the loopholes and increasing punishment is at the final stage.
Mukul Jyoti Chakma, DNC's deputy director (Dhaka Metro), said last year they arrested 11,000 people in narcotics cases, but only five percent of them are now in jail. Most of the listed traders are out on bail.
He said the DNC is understaffed and not adequately equipped with arms, equipment and technology. He demanded the power of mobile tracking.
In the discussion, the Rohingya issue also came up.
The BGB director said the refugee camps in Teknaf have turned into a drug zone where clashes are on the rise over money, narcotic and illicit relations.
He said apart from the Myanmar, some consignments of yaba pills are being smuggled into the country through Indian border. The BGB seized around 1,800 pieces in the border with India in 2013 while the number was 1.1 lakh in 2015 and 67,000 in first four months of this year.
The participants said they have a list of yaba godfathers, but they cannot take any legal action as they have to go though legal procedure. They suggested the media should do investigative reporting to unmask the godfathers.
---
The Daily Star Editor Mahfuz Anam moderated the discussion.