Yaba Invasion-3: Living in DRUG ZONE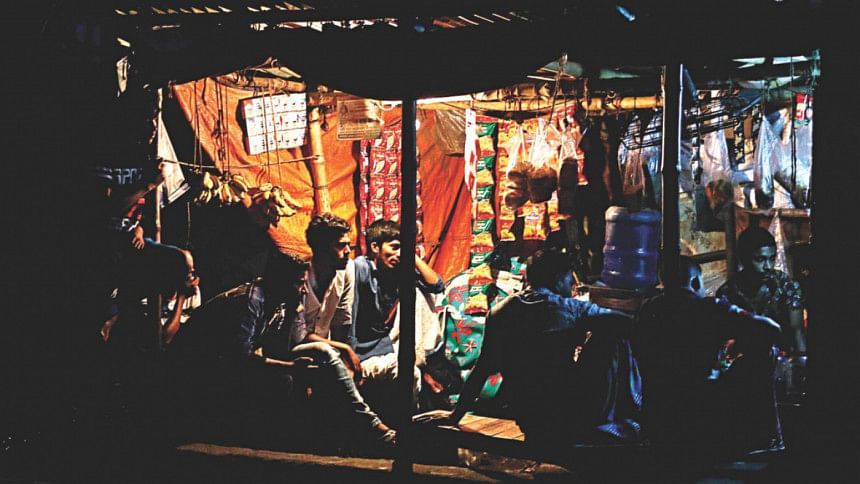 It's called crazy medicine. Produced in Myanmar with military support, the dangerous drug very easily crosses the border and reaches cities, towns and villages of Bangladesh through various channels -- sometimes in full knowledge of law enforcers. It now seems unstoppable and is poised to cripple the country's biggest hope -- the youth. Millions are now addicted to the pink pills. They take it as stimulant and end up with organ damage and mental derangement. The Daily Star has prepared a three-part series on the invasion of yaba and is running the third part today. 
---
When I was assigned to prepare a photographic documentation of yaba consumption and trade, I knew it was a cakewalk for me because I have grown up in a drug zone and seen the ins and outs of the trade. I have seen my friends getting addicted to all kinds of drugs from marijuana to Phensedyl to yaba. I have seen them debilitate and die, mostly in their sleep.
The area I am talking about is Peyarabagh, Nayatola and Modhubagh in Moghbazar. It was a happening neighbourhood in the 70s and 80s. An area with a lot of vive and social interactions. The youths used to hang out and play badminton in winter and football in summer. Sometimes, when they wanted a kick on the cheap, they would smoke joint.
Whenever they felt like, they would walk to Karwan Bazar along the rail line. The trains from Jamalpur and Mymensingh would bring in the stuff.
---
Read all stories of "Yaba Invasion" series
---
But then things started changing in the late 80s. Ershad's regime was coming to an end and there was a lot of political movement. The Jatiya Party was slopping money on the youths, taking them into its fold in the faint hope of quashing any opposing movement.
Suddenly the faces of the innocent fun-loving Peyarabagh youths changed too. Their attires changed. Their behaviour changed, they became arrogant and violent. They were no more the same guys I had known.
After the fall of Ershad in 1990, a new thing added to their daily consumption of cigarettes -- Phensedyl, a cough syrup from India.
The syrup spread fast among the youths and destroyed lives and families. The teenagers bunked schools and colleges and hollered with their parents for money. They would steal from their parents. They would sell their home furniture and valuables. It became a social disaster.
As consumption increased, their health deteriorated. They became disoriented. Many of them dropped dead in their sleep with massive heart attack. That spread the scare.
The younger son of a top political leader would often visit one such adda where Phensedyl would flow freely in 1994. The dark young man would come in a jeep and walk up to the rooftop apartment with a jerry can full with the stuff. He would slowly sip the liquid and leave after finishing two cups of the thing.
One day he passed out while having Phensedyl. That frightened the adda members. This guy was something really big and if something goes wrong with this man, everybody would be in trouble.
From then, the adda continued but they would avoid the politician's son, who later died abroad.
The drug became so popular that a top leader of a student organisation in the area whose name starts with the letter L had even set up a pseudo-Phensedyl plant in a house in the alley beside the passport office where various chemicals were mixed to produce something they sold as Phensedyl. This trade grew under the supervision of other top godfathers, including Murgi Milon (he was later killed), Auranga (he also got killed in a road crash), Hannan and few others.
After 2005, a new drug entered the area. Suddenly the druggies were all talking about this pink tablet that works wonder to put them high. Some youths started making weekend sorties to Chittagong and Cox's Bazar to bring bagful of the tablets.
The tablet proliferated. Now there was a regular supply chain established. Train running from Chittagong were bringing in loads of the tablets. Cars driven by influential people were carrying the tablets.
Now there were some main dealers in Dhaka in areas like Nayabazar, Mohammadpur Krishi Market, Gabtoli, Kamalapur and Badda who would bring yaba in bulks in hundreds of thousands of pieces. And there were some sub-dealers for each neighbourhood who would buy from the dealers in thousands. And there were local peddlers who would procure a few hundreds to meet the local needs.
In my area, there were five or six peddlers. Then the drug was uberised. The users themselves turned into sellers.
I saw the youths -- the teenagers, people in their 20s and 30s -- getting hooked to yaba. They would buy 10 yaba pills from the peddlers with the promise that if they could sell 10 of them, they would get one free. And that made good sense and good business. These youths started luring in more and more people because the more people they could lure into the drug world, the more free tablets they could get for their own consumption.
With yaba, they could share-consume like share ride because when you heat up a yaba tablet it produces smoke which the druggies inhale. One yaba tablet could produce enough smoke for 30 puffs. So two or three youths would sit together, heat up a tablet and all of them would inhale the smoke in turns. That way no smoke is wasted. The most economical use of yaba.
I knew almost everyone of the addicts of my area. I knew who is a peddler and who a user. I knew how they carry the tablets -- inside dummy mobiles. They would remove the battery and put yaba inside at no one's suspicion. I knew them personally and I saw them getting ruined by the drug. I knew a guy who died just within a few months of his marriage. I knew another guy whose wife would buy the yaba for her husband because she would not want him to go out and take the drug. I knew quite a few, some of them sons of rich people who eventually died.
I had been watchful of a kid for some time. I suspected he takes yaba. His tell-tale behaviour made me think like that. One day I point-blankly asked him: "Are you into yaba?"
The startled kid vehemently shook his head. "No, uncle. Swear on God. I do not touch it."
Then one night, I was sitting on my rooftop at night. I saw the kid pacing back and forth in the darkness of the alley and talking on the phone. I was curious. After a few calls, the peddler came. I know the peddler very well. The guy quickly pushed something in the boy's hand and vanished as quietly as he had appeared. The boy disappeared too. I sat stunned by the confirmation of my old hunch.
The revelation was too much to take. I drew up a list of 14 yaba sellers and dealers of my area and gave it to local Rab and police. I saw some raids taking place but that made no difference.
But one day, I was startled by the furious pounding on my door. I peeped through and found a horde of people, wielding sticks and machetes, ruthlessly striking on the door. They were shouting and calling my name.
I called the police who came quickly and the mob left. They were the yaba peddlers and dealers and their men who were infuriated by my list. Obviously somebody in the police leaked it.
Now when I was given the assignment to photograph the trade, I called one druggy-cum-peddler and told him my mission. He said: "Ok. Come to Moghbazar Wireless Gate. I will be there."
He was not there. I called him again. He said he is moving towards Moghbazar intersection. Half an hour later, he was not there. I again called him. This time he was in Malibagh Chowdhurypara.
I found him there, fidgeting with his mobile. He demanded Tk 250 to buy the tablet. I gave him the notes. He went away promising to meet me again the next day.
The next day he again played the same hide-and-seek, and popped up at Chowdhurypara. The first thing he said was he needed another Tk 250. After that we went to an apartment in Peyarabagh. Two more guys were waiting there.
He produced a tablet from inside the mobile set. Then he took out a foil paper from his pocket. He put the tablet on the foil and lit a lighter. As the tablet melted it gave out smoke. Now the guys were in action. They rolled a ten taka note and used it as a pipe to inhale the smoke.
In five minutes time, the whole thing was over. I walked away from the apartment with my camera full of pixels of a pixilated world.