Yaba Trade in Teknaf: Surrender has little impact
While drug lords in jail, family members, agents oversee narco business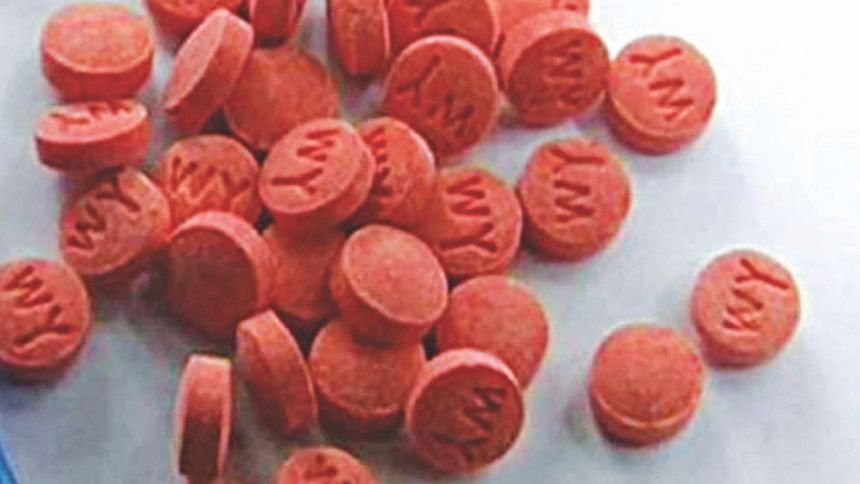 The surrender of 102 drug lords on February 16 now seems merely an eyewash as the yaba empire in Teknaf remains mostly intact with some of their family members and paid agents taking care of the illegal trade.
The Daily Star got the picture through an independent investigation in Teknaf, a coastal town bordering Myanmar, about one and a half months after the surrender of the yaba godfathers and dealers.
Take the case of yaba dealer Md Jubayer Hossain, 30. Previously wanted in half a dozen narcotics cases, he is now in Cox's Bazar District Jail.
Son of Md Osman Gani, Jubayer owns a luxurious mansion at ward-9 of South Jaliapara union of Cox's Bazar's Teknaf, on the west side of the Naf, a transboundary river marking the border of Bangladesh and Myanmar.
Osman has dry fish business but his sons are not interested in it. Jubayer's younger brother Iman, 21, now oversees his illegal trade.
Sources claim that Iman had earlier worked as an accomplice while his brother was in charge of the drug business.
Iman is hardly seen in public and some six armed bodyguards accompany him when he moves from one place to another, said a source who knows about his activities.
Talking to this newspaper on March 26, the source said Md Selim is the chief agent of Iman and looks after the trade at field level along with two close aides -- Mohammad Ullah, 28, and Jamal Hossain, 55.
The two, both residents of South Jaliapara, mainly supply the crazy pills to different buyers as per the directives of Selim.
Iman's gang members often apply unique and desperate ways to smuggle yaba from Myanmar to Bangladesh. They cross the Naf swimming with yaba pills inside poly bags, said a number of sources linked to the trade.
Nurul Bashar, secretary of Teknaf upazila Awami League, also came up with the observations that match with the findings of these correspondents. 
"The godfathers may have surrendered to police but their family members are taking care of the business despite action by the law enforcers against yaba smuggling," said Bashar on March 27.
"In Teknaf, any one gets Tk 5,000 to 10,000 a day delivering pills to Cox's Bazar or Chattogram," he added.
"We are trying to improve the situation by holding awareness meetings with the locals."
Regarding the new people in yaba business, ABM Masud Hossain, superintendent of police in Cox's Bazar, said they have got some information about those running the show now.
"We have got the names of some 636 people after the surrender of 102 top godfathers and dealers. We are now verifying their roles in the smuggling, and action will be taken soon," Masud told The Daily Star on March 28.
THE SHOW MUST GO ON?
The surrender programme in February did not make any difference for Nurul Bashar, like many others. 
Nurul is in jail now but Myanmar-based yaba suppliers still deliver the pink tablets to his residence just crossing the Naf. His house is on the river bank.
Md Rafiq, his 28-year-old son, is now taking care of the business, according to a source close to the family.
Law enforcement sources say Rafiq is wanted in a case filed over arms and narcotics with Teknaf Police Station last year. The Border Guard Bangladesh filed the case after Mostaq Ahmed Moshu, a drug dealer, was killed in a "gunfight".
Rafiq has been staying in Chattogram most of the time since then. 
Once the yaba consignments arrive in their house, Rafiq delivers those to different destinations. He mainly uses public transports for the delivery and often carries the pills himself.
The business of Md Didar, son of former Teknaf upazila chairman Jafor Ahmed, is now run by his cousin Sohel Mia, 29, who earlier worked as a carrier.
Sohel also involved his close relatives Md Dalim, 45, and Md Selim, 43, in the racket.
Ziaur Rahman, wanted in nine cases, and his brother Abdur Rahman, wanted in seven cases, are in jail after surrender. But their business did not stop for a single day, said sources. 
Their driver Md Javed, 27, who used to work closely with the two, is now taking care of the trade, they added.
Similarly, business is also good for narcotics dealer and hundi trader Mong Mong Sen, a cousin of former lawmaker Abdur Rahman Bodi.
His manager Omar Faruq, 55, now oversees the trade along with Hossen Ahmed, 53, a brother-in-law of Bodi and a resident of Chowdhurypara area of Teknaf.
Both of them had earlier worked just as the paid staff of Mong before his surrender, sources added.
After Kamrul Islam, a top narco and another cousin of Bodi, went to jail, his elder brother Md Abdullah, 32, emerged as the kingpin of his syndicate.
Abdullah is now operating the illegal business through some agents, sources added.
The Daily Star tried to contact the persons in question but they were not available as they were either hiding or staying out of Teknaf. These correspondents got some phone numbers which were found switched off.
2ND PHASE OF SURRENDER
Meanwhile, police are now drawing up a fresh list of people involved in the yaba trade for a second surrender programme.
"We have instructed the police to take initiatives for a second surrender programme in Cox's Bazar…" Habibur Rahman, deputy inspector general at the Police Headquarters, told The Daily Star earlier.
Some drug traders in Teknaf and Cox's Bazar have communicated with a private TV channel correspondent, who had acted as an intermediary between narcos and law enforcers before the first surrender programme, sources added.
Mir Md Akram Hossain, a reporter of Channel 24, told The Daily Star that he believes the illegal trade will come to an end with the surrender of all the drug kingpins.
Some top narcos in November last year first expressed to him their willingness to surrender. He forwarded the proposal to the district police and the 102 yaba lords surrendered in the first phase.
"Once again, I started to communicate with narcotics traders after police gave approval for the second-phase surrender," he said.
"In this phase, I am working to bring in 300 to 500 narcotics traders and I have already been able to communicate with around 300 of them," Akram said, adding that the surrender ceremony is likely to take place at the end of this month.
In October last year, some 43 bandits of six gangs in Kutubdia and Moheshkhali surrendered to law enforcers through mediation by Akram.
The journalist said he used to visit the bandits in jail after the surrender. During one such visit, some arrested narcotics traders and their family members said they too want a normal life.
He then started working with narcotics traders and sent a proposal to the district police officials.
Later, the Police Headquarters analysed related legal issues and bounced the proposal with the government high-ups. Getting the nod from higher authorities, the district police took initiatives for the surrender ceremony.