Cox's Bazar's 'Yaba Village': Paid agents now running the show
One would be mesmerised by the duplex mansions by the 13km road between Teknaf Zero Point and Shah Porir Island. Most of the mansions are in the middle of farmland, forest or just beside the road.
The owners of the luxury homes, in the so-called yaba villages, are not there anymore. They are either on the run or in a police-protected house in Cox's Bazar.
Yet it is business as usual in the villages -- Nazirpara, Moulvipara and Jailapara -- where agents are taking care of the assets and running the illicit trade of the house owners, claimed a number of locals.
The agents go about their business in guise of labourers, rickshaw pullers or tea sellers and update the yaba lords on movement of law enforcers, say local sources. 
"Everyone in the villages knows what they actually do but you will have a hard time making them talk," a shop owner in Noyapara Bazar of Teknaf, told The Daily Star.
"If someone is found to have leaked information, he or she could be targeted and attacked," he said, wishing anonymity. 
Sources say each yaba dealer and smuggler of the area has five to six agents who are paid Tk 10,000 to Tk 20,000 monthly for looking after the assets and "business" of the godfathers.
"Sit at a tea stall and you will be approached by yaba sellers," the shop owner said.
"Just a decade ago, there were only hovels and corrugated-iron-sheet houses in the area. People lived on fishing and salt enclosures. But now you see posh mobile phones and lavish cars.
"This miracle comes from tablet business. You won't see a beggar here."
The conversation with the shop owner was abruptly halted when a middle-aged man signalled him to stop talking to one of the correspondents.
Most people in the villages were not willing to open up during the correspondent's visit on Friday. People were found living inside the compounds of the mansions but they refused to talk.
A local, after being cajoled to talk, said about the house owners, "They went into hiding after the law enforcers started the anti-narcotics crackdown. Some of them might come back after their agents assure them that it is safe now."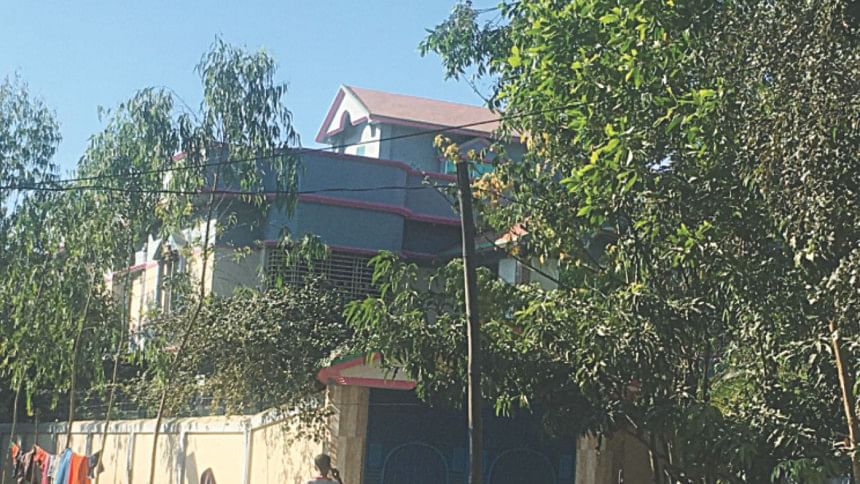 According to police sources, law enforcers in the last one month and a half demolished around 47 mansions in the yaba villages.
Sources said mansions of Ziaur Rahman of Nazirpara (killed in a gunfight in November), Md Jubayer (now in the police-protected house in Cox's Bazar Police Lines), Jiaul Haque and Mozammel Hoque of Jaliapara, and Saiful Karim and Nurul Haque Bhutto of Nazirpara, have been demolished.
Sources claim that law enforcers also set fire to 16 boats in Baharchhara Ghat and Mundir Dail area, which were reportedly used for smuggling yaba from Myanmar. 
Police, however, deny doing anything to the houses and boats.
Pradip Kumar Das, officer-in-charge of Teknaf Police Station, told The Daily Star yesterday that they did not demolish anyone's building and do not know who were behind it. No one even came to the police station to file a complaint.
"If anyone files complaints, they will definitely look into the matter," he said.
Pradip said locals were not happy with the yaba smugglers. "They might have demolished their houses after the anti-narcotics drive began."