Mega projects won't negatively impact economy: PM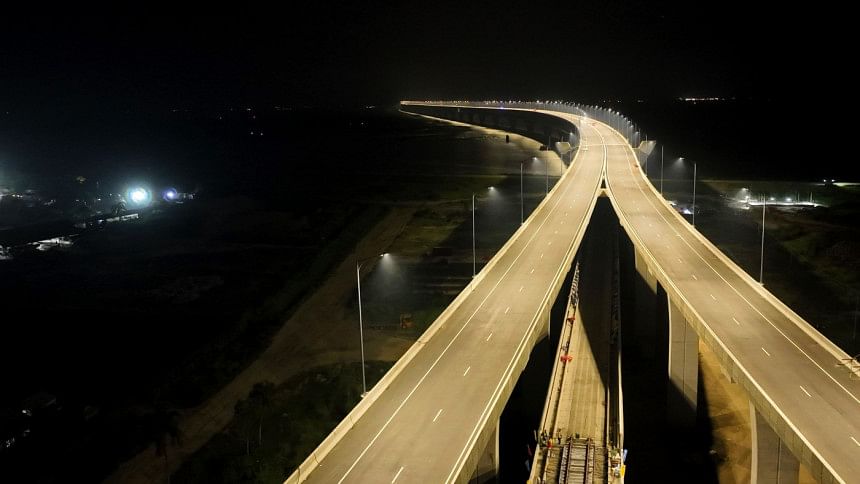 Prime Minister Sheikh Hasina has ruled out the possibility of any negative impact on the country's economy due to the implementation of the mega projects as these were undertaken following proper assessments.
In reply to a query from Jatiya Party MP Fakhrul Imam today (June 15, 2022), she said, proper financial and economic analyses were done before the mega projects were undertaken by the present government.
Saying that most of the mega projects were undertaken with foreign loans or grants, the premier said these are soft loans with comparatively very low interest rate, long repayment tenure, and long grace period.
"Moreover, no major complexity was noticed in the case of releasing the loan funds by the development agencies," explained Sheikh Hasina.
Hasina, also Leader of the House, gave details about the implementation progress and current status of 16 mega projects including Padma Multipurpose Bridge Construction Project, Rooppur Nuclear Power Plant and Rampal 1320MW friendship super thermal power project.
The other projects include Matarbari 1200MW coal-fired power project, Dhaka Mass Rapid Transit Development, LNG Terminal Construction and Gas Pipeline Installation Project, Payra Deep Sea Port, Padma Bridge Rail Link Project, and Construction of Single Line Dual Gauge Track from Dohazari to Cox's Bazar via Ramu, Payra Thermal Power Plant, Construction of Broad-gauge rail line from Bhanga Junction (Faridpur) to Payra port and Kuakata via Barishal, Cox's Bazar Airport Development Project, Establishment of Economic Zones, Ashrayan-2 Project, Multi-lane road tunnel under Karnaphuli River, and SASEC Dhaka-Sylhet Corridor Road Development Project.
The PM said huge employment has been generated and many backward and forward linkage industries and businesses have developed during the implementation of the projects.
"The country's progress is getting accelerated directly instead of getting hindered through the projects," she also said.
The projects are being undertaken as per the need to continue the trend of the country's development in economic, social, and other sectors, she said.