PM greets countrymen on eve of Padma Bridge opening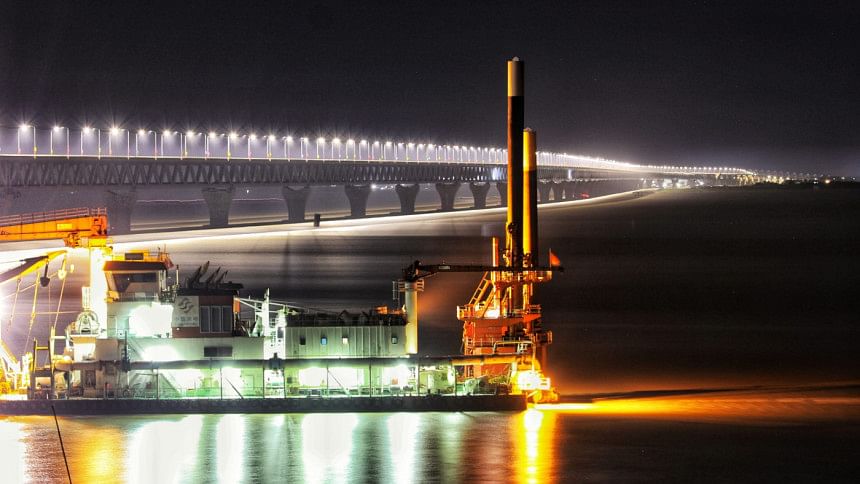 Prime Minister Sheikh Hasina today greeted all who were involved in the implementation of the Padma Bridge project as the bridge will be inaugurated tomorrow.
In her message, the prime minister said: "We greet all concerned, including local and foreign engineers, consultants, officers and employees, the army (involved in monitoring and ensuring security) and construction workers engaged in the implementation of the challenging project, Padma Multipurpose Bridge Project, for their contribution and tireless works."
The premier extended her gratitude to the people on both sides of the bridge for providing required lands and assisting in the implementation of the project in various ways.
The World Bank has filed a case alleging corruption in the Padma Bridge project, she said, adding that a Canadian court has ruled that all allegations made by the World Bank are false, fabricated and baseless.
All allegations of corruption have been proven false, she said, adding that later, the government decided not to take a loan from the World Bank.
She thanked the countrymen as the government received huge support from them when Bangladesh announced to build the bridge with its own funds.
The Bangalees have established them in the world as a brave nation free of corruption, she said.
She said the country has proved its ability by being inspired by this eternal message of the greatest Bangalee of all time, Father of Nation Bangabandhu Sheikh Mujib's historic speech on March 7, uttered in a thunderous voice – "You cannot suppress 7 crore people".
The construction of the Padma Bridge established uninterrupted, affordable and fast communication with the capital in 21 districts of the south-western parts of the country, she continued.
The importance of this bridge in the multifaceted development of this region with huge potential is immense, she said.
New doors will be opened for the development of the region, especially in the industrial and tourism industries, Sheikh Hasina added.
Both the president and the premier wished successful implementation of all mega projects in the country like the Padma Bridge.
Prime Minister Sheikh Hasina is scheduled to inaugurate the country's longest-ever 6.15-km Padma Multipurpose Bridge with double-deck rail tomorrow.