Larger ships to start arriving at Payra port from April
The port will open first terminal on first week of May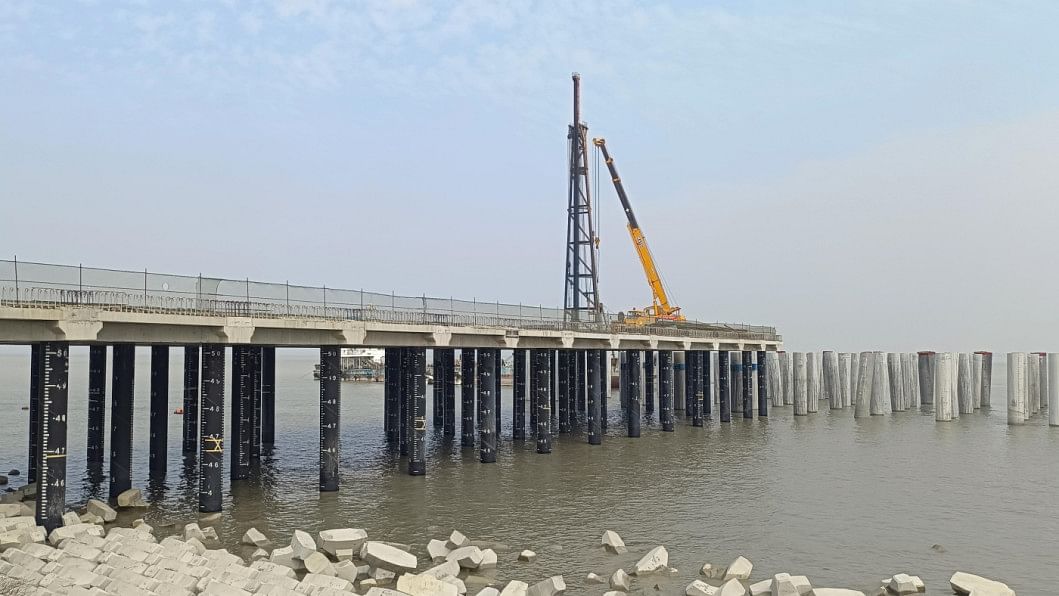 Bangladesh's third seaport Payra Port expects to see arrival of larger ships from the first week of April, the shipping ministry said today.
The vessels will berth at the jetty of Payra Thermal Power Plant situated next to the port.
And users will be able to load and unload the cargo to transport goods to their places.
From May, ships will be able to berth at the port after the completion of construction of the first terminal, the shipping ministry said after a meeting regarding the progress of the implementation of the projects under Annual Development Programme for 2022-23 fiscal year under the ministry.
State Minister for Shipping Khalid Mahmud Chowdhury chaired the meeting.
Shipping Secretary Md Mustafa Kamal, Chairman of Payra Port Authority (PPA) Rear Admiral Mohammad Sohail along with heads of other organiasations were present.
Contacted, PPA Deputy Director (Traffic) Azizur Rahman said large ship of 9.5 meters draft used to arrive at Chittagong port.
From next month, a bigger ship with 10.5 meters draft and 225 meters length will arrive at the Payra port.
Seven ships will arrive at the port that week, he said.
He said works to build the terminal at Charipara of Ravanabad channel is going on.
Once constructed, the terminal will have the capacity to accommodate three mother vessels of 200 meters at the same time.
Two more terminals are under construction at the port, he said.
Officials said capital dredging of the channel of the Payra port will be completed on March 26 while 1,000 acres of land has been filled with sand from capital dredging.
Marking buoy lamps are installed in inner and outer bars too.
Captain SM Sarifur Rahman, harbour master of PPA, said ships carrying mainly coal and stones are coming from Indonesia and United Arab Emirates. 
Officials said about 1,400 domestic and foreign ships have been unloaded (ship-to-ship) at Payra port since it started operation in August 2016.
Out of which 296 foreign cargo ships unloaded in outer anchorage. Out of this, 216 are thermal power plants. From this, about Tk about 800 crores of government revenue has been generated.
It is mentioned that, the Prime Minister Sheikh Hasina laid the foundation stone of Payra sea port on November 19, 2013.