Payra port channel now deepest in Bangladesh
Will handle ships of up to 10.5 metres draft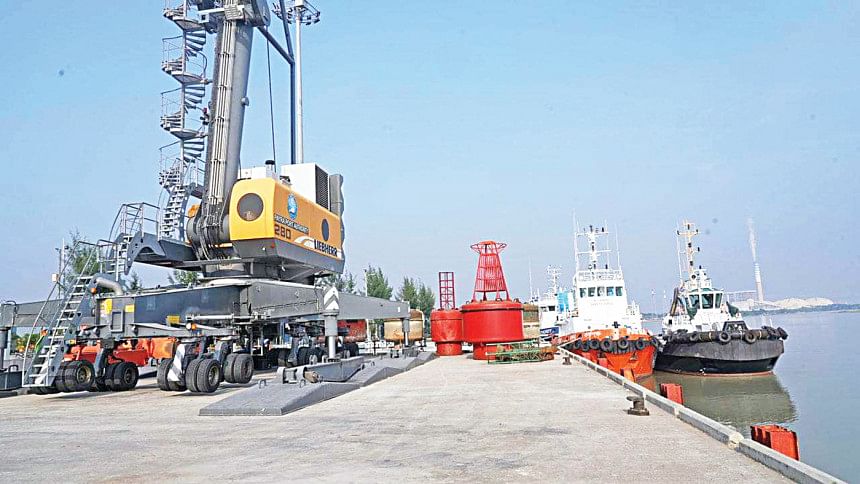 Larger mother vessels will now be able to load or unload their goods directly from the jetty of Payra port as capital dredging of Ramnabad channel is now complete, according to port officials.
Ships with a draft of up to 10.5 metres, ranging 225 metres long and 30 metres wide, can now dock at the jetty instead of having to load or unload their goods through lighter vessels further out, said Rear Admiral Mohammad Sohail, chairman of Payra Port Authority.
Belgium's Jan De Nul, a maritime infrastructure construction and maintenance company based in Luxembourg, yesterday handed over the channel to port authorities after completing the dredging works.
The project, which cost Tk 6,500 crore, was initiated in January 2021 in a bid to turn Payra port into a major shipping hub for the country by facilitating the access of larger vessels.
Port officials say Ramnabad channel now has the highest depth while Chattogram port, the biggest seaport in Bangladesh, only just recorded the berthing of a vessel with 10 metres draft in January this year.
Sohail then informed that a ship carrying 60,000 tonnes of coal from Indonesia is expected to arrive at Payra port within the next two days.
Other than that, seven more vessels will arrive later this week.
These ships will initially berth at a jetty of the Payra Thermal Power Plant, which is situated next to the port. Here, users will be able to load or unload cargo for transport all over the country.
But from May, vessels will be able to berth at the port itself after the construction of its first terminal is complete, the shipping ministry said last week.
Once work on the first terminal in the Charipara area of Ramnabad channel is complete, it will have the capacity to accommodate three mother vessels of up to 200 metres in length at the same time.
In addition, two more terminals are under construction, he added.
Having begun operations in August 2016, the seaport on the southern coast of Patuakhali mainly sees ships carrying coal and stone from Indonesia and the UAE. It handled about 1,400 domestic and foreign ships so far.
Of these, 296 foreign cargo ships were unloaded at the outer anchorage.
Port officials say that although capital dredging works are now finished, maintenance work is now ongoing to maintain navigability of the channel. The maintenance work will continue until April 2024.
Prime Minister Sheikh Hasina is expected to inaugurate full operations of the port after completion of the first terminal.