Some just can't accept country's development
Says the prime minister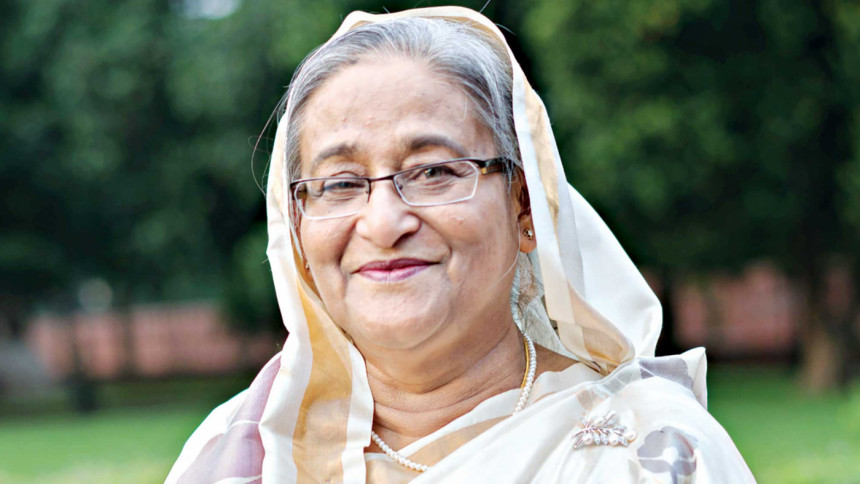 Prime Minister Sheikh Hasina has raised the question why some people just cannot accept any development and achievement of Bangladesh.
"Why do a group of people feel pain in their heart seeing the development of Bangladesh? Why can't they accept any attainment as an achievement of Bangladesh? Why do they suffer from this mental misery? Where is their problem?" she said.
The PM was addressing the leaders of Awami League and its associated bodies, who greeted her at the Gono Bhaban yesterday marking the 14th anniversary of her release from prison.
Hasina, also the AL president, said when many developed countries saw negative growth, Bangladesh could attain over 5 percent GDP growth during the pandemic as her party is in power.
On this day in 2008, the AL chief was released from a special sub-jail set up on the Jatiya Sangsad Bhaban premises after she spent nearly 11 months behind bars during the rule of the then military-backed caretaker government.
Hasina said the AL has to move forward defying all odds as a vested interest group is always there to pull the party and her backso that they cannot assume power.
Hasina said whenever she was arrested, she sent letters to the people, and party leaders and activists giving them directives.
She recalled that the then caretaker government was compelled to free her due to the movement and pressure from her party.
"It was only possible because of the Awami League, and no one else could do it. This is Awami League and people are our strength."As the BNP is talking about democracy, she questioned whether the party was born through the practice of democratic system.
Recalling her days in jail, Hasina said she noted down how the country would be governed and how the party would be run.
"I noted down how we will develop the country. As a result, every house is under electricity coverage now."
She said defying international obstacles the government has constructed the Padma Bridge with its own resources.
Hasina added that the government has formulated Delta Plan-2100 for the future generations so that they can get a prosperous life.