Sultana's Death In Rab Custody: 'Her home was under watch for two weeks'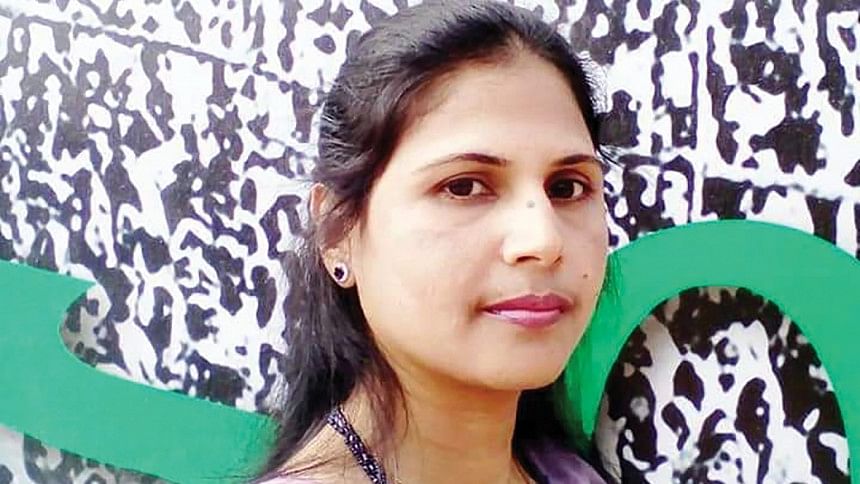 Sultana Jasmine's house in the calm and quiet Chalkdeb Janakalyanpara area of Naogaon town was under watch by a group of unidentified men for about two weeks prior to her arrest, said her landlord.
The group of three to five people used to sit on a concrete bench in front of his three-storey house and chit-chat until midnight, said landlord Delwar Hossain Dulal.
Sultana, a union-level land office employee in Naogaon, who died in the custody of Rab on Friday, used to live in one of the 650sqft flats on the second floor for a rent of Tk 4,200.
Her death triggered a barrage of criticism from human rights groups and the High Court yesterday questioned under what authority Rab picked her up since she was not accused in any case at the time of her detention.
"It was an annoyance in our area when some three to five young men started staying in front of my house at night," said Dulal who lives on the ground floor.
Around 11:00pm one day, the men knocked at Dulal's door and said they wanted to see the house as they wanted to rent it, he said.
"It appeared odd," said Dulal, adding that he refused to let the men in.
After several days, Dulal and some locals approached them and asked why they were staying there. "They then told us they are the people of the government and that we ought not to disturb their work," he said.
On March 22, the day Sultana was picked up, Dulal noticed that the number of people in front of his house increased since dawn.
He, however, left home for work around 9:00am.
Around 9:20am, Sultana called Dulal's wife Kohinur Begum and told her that she was feeling embarrassed to go out alone for work amid the gathering of those people, he said quoting his wife.
Sultana eventually left around 9:30am with a local woman who accompanied her up to Janakalyanpara intersection, about 300 yards away from the house.
The unidentified men followed them, Dulal said quoting the local woman.
Sultana got on a rickshaw from Janakalyanpara intersection when more men showed up and followed her rickshaw until she reached Muktir Mor from where she was taken into a white microbus, Dulal said quoting witnesses.
"Hearing about Sultana's phone call to my wife, I returned home around 10:00am and heard that she was detained," Dulal said.
He said they were clueless as to who detained her.
Dulal said locals identified at least three of the men, who stayed in front of his house at night, during Sultana's burial on Saturday. She was laid to rest in a graveyard near her home. Policemen and Rab members were present there.
This correspondent talked to at least five shop owners between Janakalyanpara intersection and Muktir Mor but none of them agreed to talk.
Sultana's colleagues at the Naogaon municipality-Chandipur union land office in Tinpatty area described her as a gentle, sincere, and punctual person.
"I have been here for eight months and I have never seen her miss a day at work," said Kazi Rafiul Alam, union assistant land officer.
He said Sultana was at work during office hours on March 19 as well.
In a case filed a day after her detention with Rajpara Police Station in Rajshahi, she was accused of conning people in front of the office of the divisional commissioner in Rajshahi on March 19.
Momena Khatun, union sub-assistant land officer, said she got worried after not seeing Sultana at work on March 22.
"I never saw her absent, she was so punctual," said Momena.
Momena was at work from 10:30am that day and she repeatedly called Sultana to know where she was. Her calls were not picked up.
She even called Sultana's son to know where she was. Sultana's son around 1:30pm told Momena that Rab took her to the hospital.
Yesterday, none of Sultana's relatives picked up calls from this paper.
This correspondent was, however, able to arrange a meeting with Sultana's maternal uncle Nazmul Haque Montu.
Montu changed the location of the meeting twice before seeing this correspondent inside a parking garage in Naogaon town.
"Since her death, our family members and I are living in constant fear of being picked up by law enforcers," said Montu, who served 27 years as a municipality ward councillor.