Custodial Death: Vital information crossed out
Cop feels 'embarrassed' over change in inquest report; magistrate 'can't talk about it'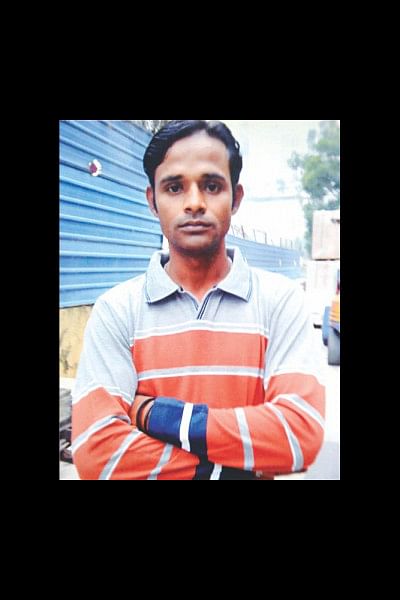 A line that read Majharul Islam, who died in the custody of Rapid Action Battalion in Naogaon, had injury marks on the head has been crossed out in the police inquest report.
The victim's family members alleged the move aimed at saving the culprits.
The police official, who prepared the report, claimed the change was made lawfully. He, however, refused to say why it was done.
For looking after his parents and their properties, Malaysian expatriate Majharul returned to his home in Kaibartapara of Naogaon's Manda upazila seven years back.
The 30-year-old was declared dead at Rajshahi Medical College Hospital in the morning of this September 9 after some Rab members had arrested him the previous evening.
Later, Rab filed an unnatural death case with Manda Police Station, claiming that Majharul was caught with eight bullets during a raid on his house.
His wife Shamima Akter Swapna filed a murder case with a Naogaon court on Monday against a Rab company commander, his 20-25 team members and eight locals.
Sub-Inspector Md Kamal Hossain along with constable Md Khabir Uddin of Rajpara Police Station prepared the inquest report on September 9 in the presence of an executive magistrate, said the SI.
Hours after it was prepared, this correspondent found a copy of the report having a line that read the deceased had "swollen injury mark" at the back of his head.
A few days later, the line, however, was crossed out in the report. There were signatures of the magistrate on that line.
Asked why it was done, SI Kamal said, "Please don't ask me any question about it. I am feeling embarrassed."
He advised this correspondent to talk to the magistrate instead.
Asked, the magistrate refused to make any comment on the matter. "I can't talk about it. I am sorry," said the magistrate.
Contacted, Rajshahi Zone Rab Director Lt Col Mahbubul Alam, who had earlier rejected the allegations against the Rab company commander brought by Majharul's wife, said he was unaware about the change made in the police inquest report.
He, however, said most of the injury marks mentioned in the inquest report "were not injuries at all by the definition of law".
The inquest report stated that there were injury marks on the middle of Majhrarul's forehead, sides of both eyes, on his lips and throat.
Injury marks were also found on his left chin, knees, toes, left hand, near elbows, waist and back.
Meanwhile, talking to The Daily Star yesterday, Hamidul Haque, a senior criminal lawyer in Rajshahi, said in many cases in the past, information was deleted from the police inquest reports. "I found such cases before. This is done to cover up crimes and save criminals".
A family member of Majharul said, "I want justice. The accused are powerful people. The change was made [in the inquest report] so that they can go unpunished."