How did Sultana Jasmine die?
There are too many unexplained gaps in the story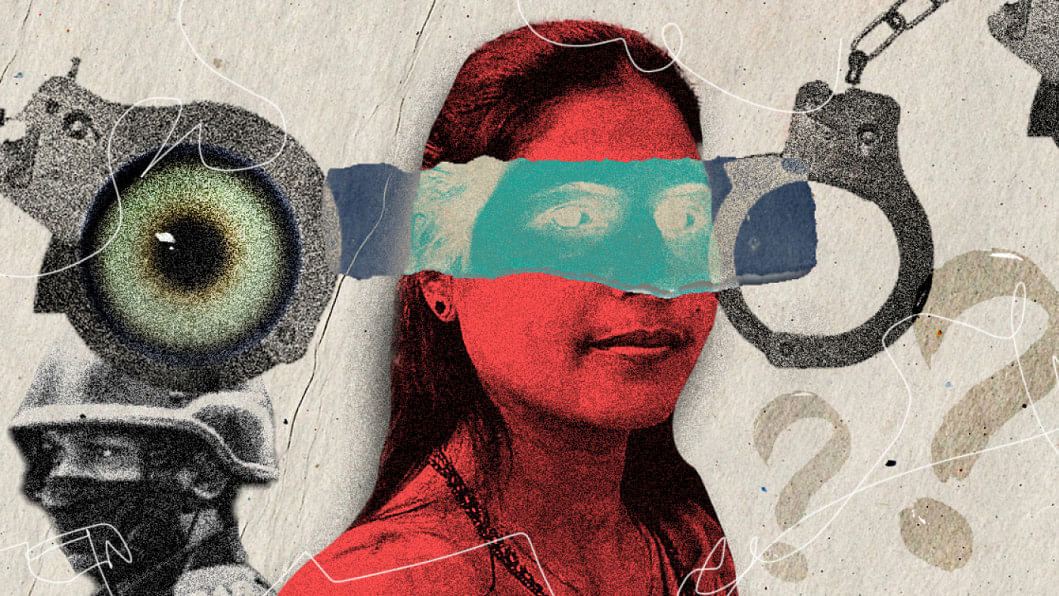 The medical certificate issued by Rajshahi Medical College Hospital mentions "irreversible cardio-respiratory failure due to intracerebral haemorrhage" as the cause of death of Sultana Jasmine, a union level land employee in Naogaon, who was picked up by a team of Rapid Action Battalion (Rab) and interrogated about being involved in an extortion scam. It was while in custody that Sultana allegedly "fell ill." By the time she was taken to a hospital in Naogaon, her brain was already haemorrhaging. After being taken to Rajshahi Medical College Hospital, she died from an apparent stroke while in Rab custody. There was an injury mark on the side of her head.
There are many unexplained gaps in the story. The actual Digital Security Act (DSA) case against Sultana was filed 31 hours after she had been taken into custody. How could Rab pick her up without even a case being filed against her? According to the plaintiff of the case, Enamul Haque, who is joint secretary at the office of Rajshahi divisional commissioner, it was when Haque came to Naogaon on official business that he came upon a Rab patrol team and told them how his Facebook account had been hacked and used to extort money with false promises of jobs, and that one of the individuals involved was Sultana Jasmine. Was it because of Haque's position that he could just get Rab to interrogate Sultana without any case filed against her? What kind of interrogation did the Rab members conduct that caused Sultana to have a "stroke" (as stated by the doctors) and fall, injuring her head (also stated by the doctors)? Was the bleeding in her brain due to the stroke or the fall, or both?
According to a report by this daily, the owner of the building where Sultana, a divorcee, lived with her son, said the house was being watched by a group of unidentified men. When the owner asked them why they were there, they said they were "from the government and that we ought not to disturb their work." We can only guess who these "unidentified" men could be and why they persistently watched the house, even trying to enter it, though prevented by the landlord. Three of these men were present at Sultana's burial on March 24; so were policemen and Rab officials. The antecedents of this death show that it was not just a spur-of-the-moment decision to pick up Sultana. Why, then, was the case not filed before she was picked up?
Even the High Court has questioned under what authority Rab picked up Sultana, as she wasn't an accused in a case at the time. The High Court bench asked what happened to her between the time of her detention (11:50 am, March 22) and her being taken to the Naogaon hospital (1:15 pm). Rab's official statement regarding Sultana is that she fell ill while being taken to the police station. But it was almost an hour and a half before she was taken to the hospital.
Sultana's death only re-emphasises just how helpless we are at the hands of law enforcement members. Does this mean that at any time, for any reason, anyone can be picked up from their home, office or on the streets, and whisked away in a microbus with no guarantee whatsoever of whether they will ever return to their loved ones?
According to Rab, after detaining Sultana, some of the members were busy printing documents from her phone at a nearby shop for an hour and a half. Rab has also stated that it conducted "primary interrogation and evidence gathering in (the) presence of the complainant and witnesses."
It will be hard to establish whether it was a stroke or a wound due to being hit on the head that led to a perfectly healthy woman to be dead within 48 hours of her being picked up. But the fact remains that she died in Rab custody, and this makes Rab accountable for her death. In Bangladesh, however, accountability of any security force is overwhelmingly absent, except in a very few number of cases.
Sultana's death eerily reminds us of the death of writer Mushtaq Ahmed, who was also accused under the DSA, picked up by police and sent to jail. He died at a high security jail in Kashimpur in February 2021, after over nine months of incarceration, during which he was denied bail six times. The harrowing account of Ahmed Kabir Kishore to The Daily Star, another accused in the same case who received bail after Mushtaq's death, gives details of the torture Kishore and Mushtaq were subjected to while in custody. It included electric shocks to the genitals. Mushtaq was declared dead when he was taken to the hospital after allegedly "falling unconscious" in jail.
It is a strange phenomenon that after the US imposed sanctions on Rab and seven of its former and current officials for alleged human rights abuses, the number of extrajudicial killings and enforced disappearances dropped to zero. But old habits die hard; barely two weeks ago, a 65-year-old man died when he was shot in the stomach at close range during a raid by Rab in Sonargaon. And now we have a woman dead in Rab's custody one and a half hours after being picked up. Even if we are to believe that she did have a stroke, it only reaffirms how terrifying it is when Rab or any other law enforcement agency picks up a civilian and takes them away. And what about the head wound that was mentioned, which the latest Rab statement seems to deny? "We did not have any information of injury," states a high official of Rab. Doesn't this contradict the statement of the leader of the medical board that conducted the autopsy a day after her death, that Sultana did have an injury to the head apart from the bleeding in her brain?
As civilians, we know that asking these questions will never bring any satisfactory answers. It may even be dangerous. But Sultana's death only re-emphasises just how helpless we are at the hands of law enforcement members. Does this mean that at any time, for any reason, anyone can be picked up from their home, office or on the streets, and whisked away in a microbus with no guarantee whatsoever of whether they will ever return to their loved ones? There are still many individuals languishing in jail, arrested under the notorious DSA that seems to have become a weapon of the powerful to "tame" anyone they consider their enemy.
The High Court has shown its integrity by raising the pertinent questions against Rab's arbitrary acts. A Supreme Court lawyer has filed a public interest litigation, seeking the court's directive to form a high-power committee to probe Sultana's death. We can only hope that the court's proactive intervention will bring to light what really happened to Sultana Jasmine, and if there has been any breach of her human rights, legal action will be taken against the officials involved.
Aasha Mehreen Amin is joint editor at The Daily Star.