Sultana's Death In Custody: She had head injury, cause still unknown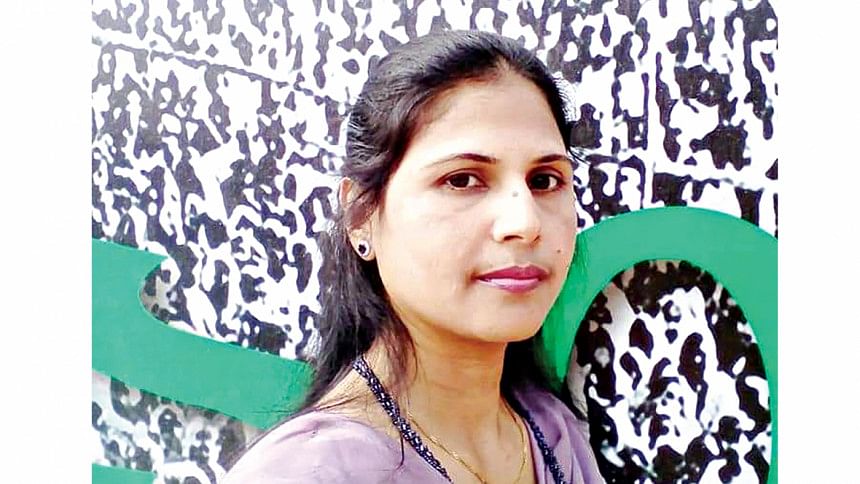 Sultana Jasmine, a union-level land employee in Naogaon who died in the custody of Rapid Action Battalion on Friday, had suffered a head injury along with brain haemorrhages but what caused it all remains unexplained.   
Forensic doctors at Rajshahi Medical College (RMC) conducted an autopsy a day after her death that triggered a barrage of criticism from human rights groups with the High Court asking questions.
"Sultana Jasmine suffered an injury to her head apart from haemorrhages in her brain," said Associate Prof Kafil Uddin, who led a three-member board formed to conduct the autopsy.
The team sent her heart sample to RMC's pathology department for a histopathological report.
"We will know the ultimate cause of her death after the report is available," added Kafil Uddin, head of forensic medicine department at the college.
Sultana, 38, an office assistant of Naogaon Municipality-Chandipur Union Land Office, was picked up by a Rab-5 patrol team on Wednesday while she was walking to her office from home.
Later in the day, she was taken to Naogaon Sadar Hospital and then to Rajshahi Medical College Hospital, where she breathed her last on Friday, according to hospital authorities. 
In her death certificate, the cause of death is stated as "irreversible cardio-respiratory failure due to intra-cerebral haemorrhage" and the time of death is 10:00am.
Meanwhile on Thursday, she was sued under Digital Security Act with Rajpara Police Station in Rajshahi city.
'BROUGHT UNCONSCIOUS' TO RMCH
Sultana was admitted to the Naogaon hospital at 1:15pm on Wednesday, according to Dr Zahid Newaj, superintendent of the hospital, which means she was taken there within one hour and 25 minutes of her detention.
She was then showing symptoms like dizziness, nausea, physical weakness and vomiting. At 3:05pm, her condition started deteriorating when she developed breathing problems, the doctor said.
Doctors then referred her to RMCH or Ziaur Rahman Medical College Hospital in Bogura at 3:55pm, and she was taken out of the hospital for RMCH at 7:00pm.
During her admission to RMCH, Rab officials stated that she had suffered a head injury from a fall, said hospital officials.
According to RMCH Director Brig Gen FM Shamim Ahmed, Sultana was brought by Rab officials in an unconscious condition at 9:20pm on Wednesday.
"She was unconscious and was immediately rushed to the neurology ward. From there, she was transferred to the intensive care unit because her condition continued to deteriorate. We did a CT scan and found multiple intracranial bleeds in her head," he said.
They also found an external bruise on her head and her health deteriorated too fast on Thursday, he said.
Sultana died in the ICU at 10:00am on Friday.
Though the RMCH director on Sunday said Sultana was brought to the hospital on Thursday, yesterday he told The Daily Star, "I stand corrected. I mistakenly said that. She was admitted on Wednesday." 
THE DSA CASE
A day before Sultana's death, Enamul Haque, the local government director at the office of Rajshahi divisional commissioner, filed the case under DSA.
Sultana was the second accused in the case while the prime accused was Al Amin, 32, of Chandpur. The case document says she was picked up at 11:50am on Wednesday.
The two were made accused of hacking Enamul's Facebook ID and using it to con people by luring them with jobs.
Enamul was present when a Rab-5 patrol team, led by Deputy Assistant Director Md Masud, detained Sultana.
Enamul in the case said he learnt from his assistant clerk named Md Jamal that the accused swindled some persons in front of his office in Rajshahi city on March 19.
He further stated that he went to Naogaon on an official tour on Wednesday.
On his way, he met the Rab-5 patrol team at the Naogaon Bus Stand and informed them that his Facebook ID was being used to swindle people.
Talking to this newspaper at his office yesterday, Enamul claimed he informed the Rab team that one Sheikh Arif of Barishal told him about Sultana's bank account.
And Arif was asked from Enamul's hacked ID to make a payment to that bank account for a government job.
The Rab team took Enamul with them and located Sultana at Muktir Mor in the town, read the case statement.
It also stated that Rab members interrogated her there and she admitted before Enamul, the officers and locals that she was involved in swindling people.
Rab also seized her smartphone in which evidence of transactions in her Sonali bank account was found, it added.
'TAKEN TO UNKNOWN LOCATION'
Although the case stated that Sultana was interrogated by Rab members at Muktir Mor, her family members said she was picked up from the spot and taken to an unknown location.
"We heard about her arrest between 9:30am and 10:00am. Then we checked with the police and detectives and looked for her for several hours. We then found her at the Naogaon hospital," said her maternal uncle Nazmul Haque Montu.
Montu said when he went to the Naogaon hospital to see her around noon, he found two female Rab members in uniform on both sides of her bed.
Rab men in plainclothes were surrounding her when she was unconscious and having breathing difficulty.
"She opened her eyes once but fainted soon after seeing the Rab members," he said yesterday.
Montu had asked the two female Rab officials why they were beside her bed. They told him to talk to their superiors.  A Rab member in plainclothes showed him a photo saying he is a high official named Enamul and Sultana used his Facebook ID to con people.    
"I left the hospital few moments later as I didn't dare stay there alone."
Montu said a sense of fear had been prevailing at Chalkdeb Jonokolyan Moholla in Naogaon town, where Sultana, a divorcee, lived with her only son in a rented house.
When a group of journalists visited the area on Monday, the house was found vacant. Even the house owner was unavailable.
None of the neighbours agreed to talk and Montu took the journalists to a distant location to speak with them.
He claimed to have received a call from a Rab official on Wednesday afternoon, and the caller asked him to visit her again at the Naogaon hospital.
He sent Aminul Islam, Sultana's brother-in-law, to the hospital, hoping to join him after evening prayers.
As soon as Aminul reached there, Rab members left for RMCH with Sultana and Aminul. "They were trying to show that the treatment was going on in the presence of Sultana's relatives," Montu said.
He also claimed plainclothes Rab members have been guarding their area round-the-clock since her death.
RAB VERSION
Meanwhile, Commander Khandaker Al Moin, director of the legal and media wing of Rab, told The Daily Star that they had arrested the woman based on specific complaints. "We have found proof of transaction of around Tk 20 lakh from the woman's account," he said.
"Soon after the arrest, she fell sick and we rushed her to the Naogaon hospital. Later, she was shifted to Rajshahi Medical College Hospital for better treatment. She was not even taken to the Rab camp after the arrest," he said.
She was provided treatment at the hospital under family's observation, the director claimed.
"Still, if any Rab members are found involved in any irregularities, we will take action following proper investigation," he added.