Welcome promise of ever-elusive 'justice'
Jasmine Sultana's case must not meet the same fate as countless others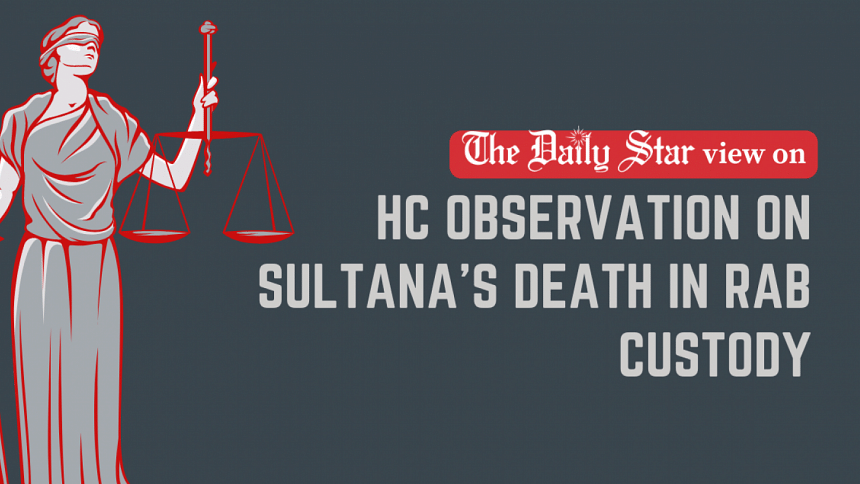 We welcome the High Court's assurance to deliver justice following a report in this daily of the death of Sultana Jasmine in Rab custody. Stating that the state has a responsibility to file a case if the family does not, the High Court bench, on its own initiative, raised questions as to why she was arrested, who arrested her, where she was taken to after the arrest, where and under whose presence she was interrogated, who interrogated her, whether she sustained any fresh injury after her arrest and whether any law was violated during her stay in custody. Given the deplorable track record of the state in holding law enforcement agencies accountable for deaths and torture in their custody, we can only hope that the court's intervention signals a marked departure from the way such cases have been dealt with in the past.
We have noted with increasing alarm the reluctance of the state to ensure systems of accountability for unwarranted deaths in law enforcement custody. In fact, faced with mounting criticism nationally and internationally over the years about the failure to independently investigate such killings, our government seems to have been more interested in defending the questionable actions of our law enforcement than instituting much-needed reforms. This has essentially given wholesale immunity to Rab, police and other law enforcement members to carry out unconstitutional and unlawful acts against Bangladeshi citizens – whom the former are mandated to protect – without so much as a slap on the wrist.
Almost a decade has passed since Bangladesh enacted the Torture and Custodial Death (Prevention) Act, 2013, but there has only been one known verdict against three policemen for the death of Ishtiaque Hossain Jonny. Even in this case, the verdict was only possible because Jonny's family could secure a judicial investigation, which is treated as optional under the law. Had the investigation been left to the law enforcement agency itself (which, unfortunately, is what the law mandates) it would be safe to surmise that the case would have met the same fate as countless others before and after it.
We are not confident that Rab, as the accused party, or police detectives for that matter, can act with courage or neutrality, especially when the government is so invested in proving Rab innocent in the face of US sanctions. We urge the court to initiate a judicial investigation into what really happened to Sultana and ensure a proper trial, thwarting any attempt to compromise it or slow down the proceedings. It must also guarantee safety for Sultana's family, who, if the past is any indication, are likely to be intimidated, threatened or harassed in the months/years to come. Finally, we hope that the court will ensure that a verdict is swiftly delivered. Without convictions, which are rarely witnessed in cases of custodial deaths, we cannot expect to put an end to extrajudicial excesses in Bangladesh.
As for the government, it must take urgent steps to institute long-needed reforms within law enforcement. We need not remind them that this is the second allegation of extrajudicial death at the hands of Rab in 10 days, and as such, need to be dealt with sensitively and urgently, if they are to prove their commitment to human rights with the whole world watching.