Fruity jams and jellies to preserve summer delights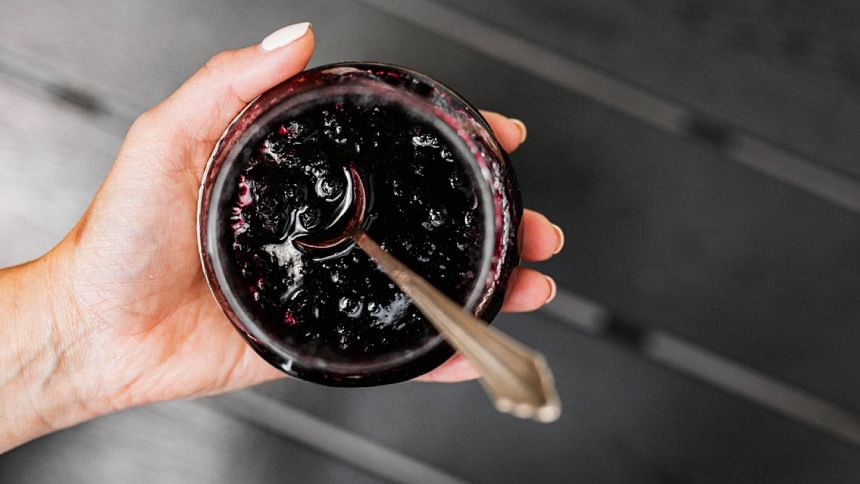 Have you ever wondered what is the difference between all the soft and delicious fruit spreads? They all might seem the same but each has different special features, and thus the different names. They are easy to make and hard to resist.
There are four main ingredients in all soft spreads: fruit, sugar, pectin and acid. The consistency of soft spreads varies from a firm set for jellies to a soft, honey-like consistency for preserves, and thus require slightly differing prep techniques.
Sweet spreads come in variety of forms and textures. The various types of soft spreads are as follows.
Jam
Jams are made by cooking crushed or chopped fruits with sugar until the mixture will round up on a spoon. Jams can be cooked with one or a combination or fruits. Jams are cooked until the pieces of fruit are soft and almost lose their shape. It should be firm but spreadable; jams do not hold the shape of the jar.
Jelly
Juice strained from fruit is used to make jelly. It is usually prepared in a way that keeps the juice transparent and shimmering with a bright colour. Jelly is gelatinised enough to hold its shape, yet jiggles when removed from the jar, and is soft enough to spread easily.
Marmalade
Marmalade is a soft jelly containing small pieces of fruit and rind (usually citrus) evenly suspended in transparent jelly. Marmalade is cooked in small batches and brought rapidly to (or almost to) the gelling point. Marmalades are similar in structure to jam.
Preserve
Preserve is known as 'Morobba' in Bengali. Fruit is preserved with sugar so it retains its shape. It is transparent, shiny, tender and plump. Preserves contain cooked fruit, sugar and sometimes pectin, and have a jam-like consistency, but with whole or large pieces of fruit. The syrup varies from the thickness of honey to that of soft jelly. A true preserve doesn't hold it's shape when spooned from the jar.
Conserves
Conserves are jam-like products made with a combination of two of more fruits, nuts and raisins. Conserves are cooked until they round up on a spoon. If nuts are used, they can be added during the last five minutes of cooking.
Fruit butter
Fruit butter is a smooth, thick spread made by cooking fruit pulp and sugar to a thick consistency that will spread easily. Butters normally use less sugar, and spices may be added to enhance flavour. Butters are cooked slowly until thick enough to round up on a spoon.
Pectin
A soluble gelatinous polysaccharide that is present in ripe fruits and is extracted for use as a setting agent in soft spreads.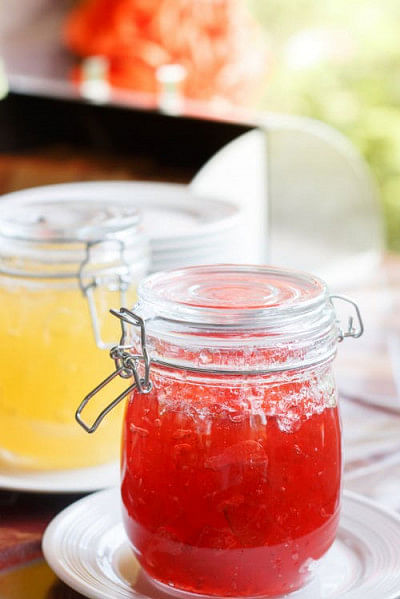 Jackfruit jam
Ingredients
500g ripe jackfruit
½ kg sugar
2 pieces lime
Pinch of salt
Method
Prepare the ripe jackfruit. Remove the seeds and slice the flesh into pieces. Separate 5-10 pieces of jackfruit and slice into very small pieces and set aside. Place the rest of the jackfruit into the blender and blend it until smooth. Place the jackfruit into the pot. Add sugar, lime juice and a pinch of salt. Bring to a boil stirring continuously on low to medium heat. When it becomes sticky and the consistency is like honey, remove it from the heat and let it cool. Place in a clean glass container and put it in the refrigerator.
Mango Jam
Ingredients
2 cups mango pulp
1 cup sugar
2 tbsp lemon juice
Method
Combine all the ingredients in a non-stick pan, mix well and cook on medium heat for 12-15 minutes or till the mixture thickens and turn glossy while stirring continuously. Cool completely and serve with toasted bread or store it refrigerated. 
Guava jelly
Guava jelly is made with sweet guava fruit. The guava fruit grows from evergreen guava plants. The fruit is a bright yellow hue and has a strong sweet smell. When the fruit boils and is strained with a muslin cloth, the juice left behind contains the key elements to make guava jelly. It is easy to make because it requires only few ingredients.
Ingredients
20 pieces ripe guava
10 cup water
5 tbsp lemon juices
5 cup sugar
Method
Wash and cut the guavas. Place in a large pan and cover with enough water so that the fruit is completely submerged in it. Cover and cook the guava till tender and water is reduced to half. Put this mixture in a muslin cloth and allow the juice to drip through it into a bowl underneath and leave it for 4 hours. Collect all the drippings into the bowl. Measure the liquid. For every cup of liquid add one cup sugar and one tablespoon of lemon juice. Put this mixture back on fire and bring to a boil. Cook on low heat, stirring constantly, till the liquid starts coating the spoon thickly and the juice/jelly drips from the spoon in jointed drops. Let stand for half an hour and pour into jars. Cover and seal.
Pineapple jam
Pineapple jam is great on breads, french toast, sandwiches, cookies and tarts.
Ingredients
1 pineapple
1 cup water
2 cups sugar
2 pieces lemons, juiced
Method
Peel the pineapple and grate the flesh. Put the pineapple and water in a small pan and cook over medium low heat until the pineapple is soft, about 30 minutes. Now add the sugar and lime juice and stir to combine. Cook until the mixture thickens, about 30 to 35 minutes. Pour the jam into a jar with a tight-fitting lid. Store it in the refrigerator for up to 3 months.
Orange Marmalade
Ingredients
4 large oranges
2 lemons
6 cup sugar
Method
Cut the oranges and lemons in half crosswise, then into very thin half-moon slices. Discard any seeds. Place the sliced fruit and their juices into a pan. Add 4 cups of water and bring the mixture to a boil, stirring often. Cook for 10 minutes. Remove from heat and stir in the sugar until it dissolves. Cover and allow to stand overnight at room temperature.
The next day, bring the mixture back to a boil. Reduce the heat to low and simmer uncovered for about 2 hours. Turn the heat up to medium and boil gently, stirring often, for another 30 minutes. Skim off any foam that forms on the top. Cook until the mixture is thick. Remove the pan. Pour the marmalade into clean jar and seal with the lid. Store in the pantry for up to a year.
Lychee Jelly
Ingredients
2 cup fresh lychees pulp
1 cup sugar
1 lemon juice
2 tbsp dried rose petals
Method
Remove the skin and seeds from the lychees. Add the lychees to the pan and simmer on low heat for 10 minutes, stir consistently to prevent burning. Add sugar and rose petals, cook for another 10-15 minutes or longer. Add lemon juice and mix well. Remove from pan and let it cool down before storing in an air-tight glass jar.