It's mango time in Rajshahi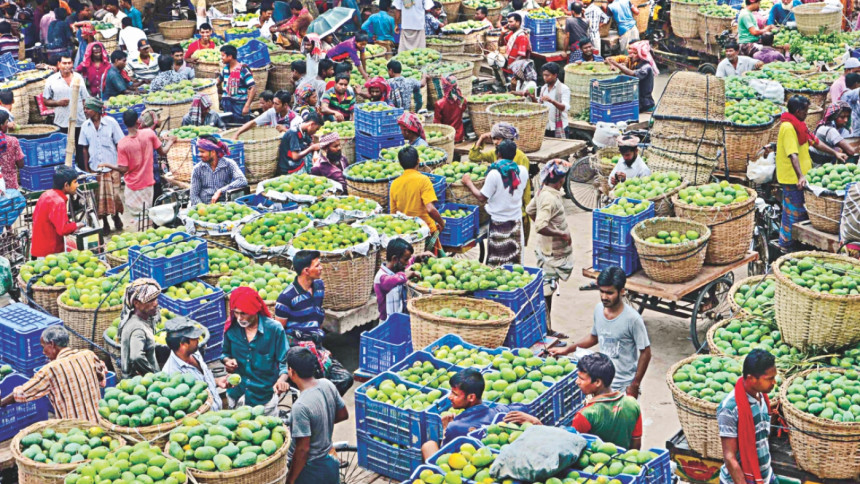 Sitting on a rickshaw-van, Abdul Jalil Mondol was watching his son, grandsons and labourers pluck mangoes from the trees at his orchard.
Despite his humble attire comprising of a lungi, a white vest and a gamchha (cotton towel) hanging over his shoulder, he looked happy and content.
Wiping off the sweat from his forehead with the gamchha, he said, "I made this orchard in my youth. Now I earn the most from it."
The day's harvest was almost done by 8:00am, when this correspondent reached the orchard at Dhadhas, about 18km from Rajshahi city. The orchard was near Baneswar Bazar, the second largest mango market of the northeastern region.
"Mango plucking begins at sunrise. Orchard owners try to complete the job by noon to take the fruits to the market," said Jalil, adding that trading of the delicious fruit goes on all night and day in the market during the harvest season.
The labourers pluck mangoes with a "kota", a locally made tool consisting of a net, tied to bamboo sticks.
Jalil's son Moklesur Rahman was picking mangoes from the ground while his two sons helped him collect those in baskets.
The festive mood of plucking, picking and collecting mangoes, prevails over the otherwise quiet mango orchards in the area during the harvesting season, which starts from mid May and lasts until early August.
At daybreak, the orchards become alive with the footsteps of mango growers and labourers. Often their family members, including women, children and relatives join them.
In the orchards of Rajshahi and Chapainawabganj, the two districts famous for the best quality mangoes and produce 78 percent of the country's mangoes, everyone plucks the fruits together, separates the ripe mangoes from the green ones, and piles those into baskets. The lengthy and tiring job becomes fun when some mangoes are shared with relatives and visitors, while the rest are taken to the markets.
This year, Ramadan and Eid added to the festivity.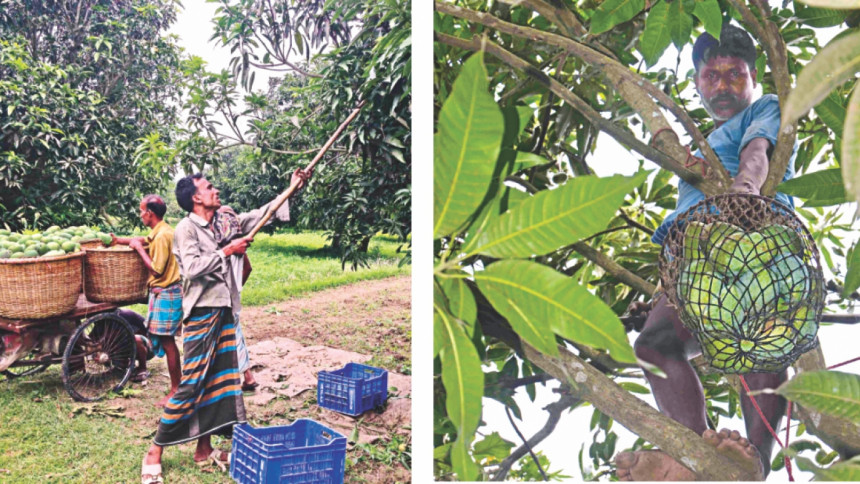 "We harvest Gopalbhog mangoes first, then Khirsapat, Langra, Fazli and Ashwina," said Mokhlesur. This year, they were harvesting all types of mangoes together in an attempt to get good prices before the Eid, he added.
"Because of Eid, the prices of mangoes are good. That's why I am harvesting all types of mangoes together with a few days' gap," he explained.
Mokhlesur said the production was average this year.
He said he sold mangoes between Tk 900 and Tk 1,000 per maund when trading began in late May, and now the prices are hovering between Tk 1,300 and Tk 1,500 per maund.
From the orchards, the festivity flows into the mango market. Growers take mangoes in rickshaw-vans to Baneswar market and wait for buyers.
The sweet fragrance of mangoes even attracts visitors and passersby as they walk past the market.
Mango traders stand on both sides of Dhaka-Rajshahi highway, even occupying one lane of the two-lane road. The Baneswar union land office premises turns into a makeshift mango market during the harvest season.
"Farmers are taking care of the mangoes like gold because of the high prices, which are almost double the last year's prices," said mango trader Yasin Ali at Baneswar Bazar.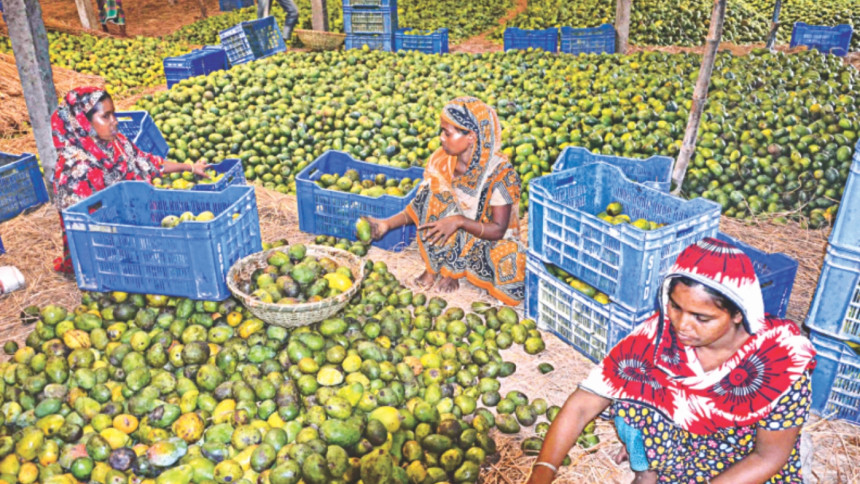 "Laukna mangoes were sold at Tk 600 per maund last year. This year the price rose to around Tk 1,300 per mound," he said.
As there was a bumper production of mangoes last year, their prices were lower, he added.
Muktar Hossain invested around Tk 9 lakh for buying mangoes. He sells those to traders from Dhaka and Chittagong. Another trader from Chandpur, Muhammad Babu, went to Baneswar to buy more than a dozen truckloads of mangoes. "I came here as I get the best quality of mangoes".
Even truckers and basket-sellers were doing brisk business as those are essential for transporting the fruit.
"Mango brings money to all kinds of people in Baneswar," said mango trader Nazrul Islam, adding that even a labourer earns Tk 600 to Tk 1,200 per day during the season.
"I normally earn Tk 500 a day as a farm hand. But during mango season, my income increases by at least Tk 200. Moreover, I do not have to buy mangoes, as orchard owners provide us with enough mangoes after every harvest," said Abdul Aziz, a labourer of Jhalmalia.
Many rural women also make nearly Tk 150 to Tk 200 a day from sorting out green and ripe mangoes, said Asma Begum, a female labourer.
"Mangoes bring blessings for poor people like me. We can eat mangoes, and also earn some money," she said.