Amsotto: Turning pulp into profits
Chapainawabganj women make the most of the mango harvest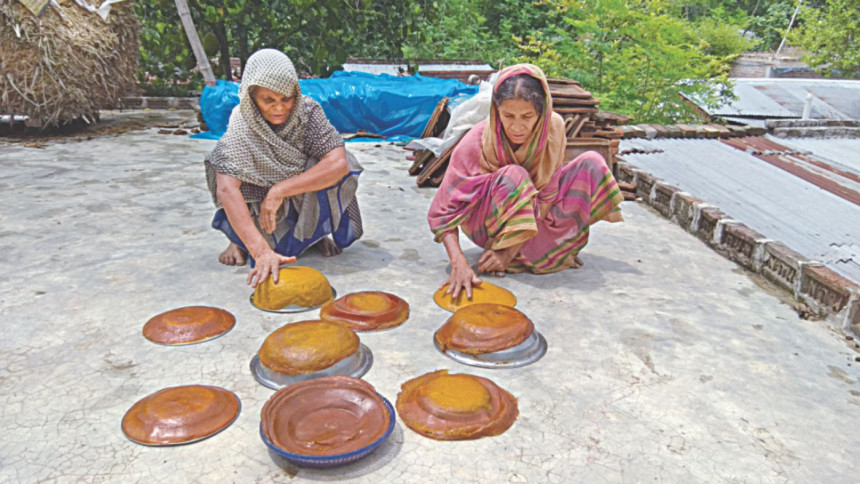 Locally known as Amta or Amsotto, dried mango pulp has been a relished Bengali delicacy for longer than anyone can remember, a treat enjoyed more or less since the first mango fell from the tree. In Shibganj upazila in Chapainawabganj, village women are busy at this time of year. With the mango harvest in full swing, they take the opportunity to bolster household earnings by making Amsotto.
"After I finish the housework I make Amsotto in my leisure time," says Hazera Khatun from Rajpara village. "It's additional income for our family."
Bogi Khatun, from nearby Chhatrajitpur village, says, "I've already sold Tk 5,000 of Amsotto this year. I expect to earn around Tk 10,000 more."
From Jalmachhmari in Shibganj municipality and like many of her fellow students, Rekha Khatun too combines her usual study with making Amsotto. "Women of all ages are involved," she says. "Amsotto fetches up to Tk 50 per kilogram in the market."
The product isn't difficult to make, explains Habiba Begum from the Kansat area of the town. First, women and children source ripe mangoes, either from an orchard or the market. The mangoes are peeled to extract pulp, which is cut into small pieces before being ground into a paste. Juices are squeezed out by hand. After straining the pulp it is spread out evenly to dry, at first on a stove and then by the sun. Gradually the pulp solidifies. The best amsotto retains the original flavour, in all its tangy sweetness.
Amsotto making is particularly popular with women from economically struggling families, as they have ready access to mangoes and can easily sell the finished product, either to door-to-door traders or at the Kansat wholesale market.
It's a seasonal industry that provides opportunity for traders too.
"Actually I am a farmhand," says Abdul Mannan from Tikori village in Mobarokpur union. "But for the last eight years I have earned good money selling Amsotto, but only during the three months of the mango season." He collects around a hundred kilograms of the product from village households daily, to sell at the market.
Buyers like Mohammad Rumon arrive at the Kansat wholesale market from as far away as Shyambazar in the capital. "I've been coming to Kansat for several years. The Amsotto sold here is the best for colour and flavour. I send up to forty maunds per day to Dhaka."
"Amsotto is a reliable investment," says another wholesaler, Anarul Haque. "Consumer demand is always increasing. I send Amsotto to Dhaka, Sylhet and Comilla each season, for a handsome profit."
The deputy director of the agriculture department in Chapainawabganj, Monjurul Huda, notes that the amsotto business is particularly helpful for women, with profits benefitting their families. "If we further promote this product, more women will have the opportunity to earn extra income during the mango season," he says.
While Kansat may be the largest wholesale market, there are around twenty Amsotto trading points across Chapainawabganj, up to thirty kilometres from the district town.