6 mango desserts that you must try this summer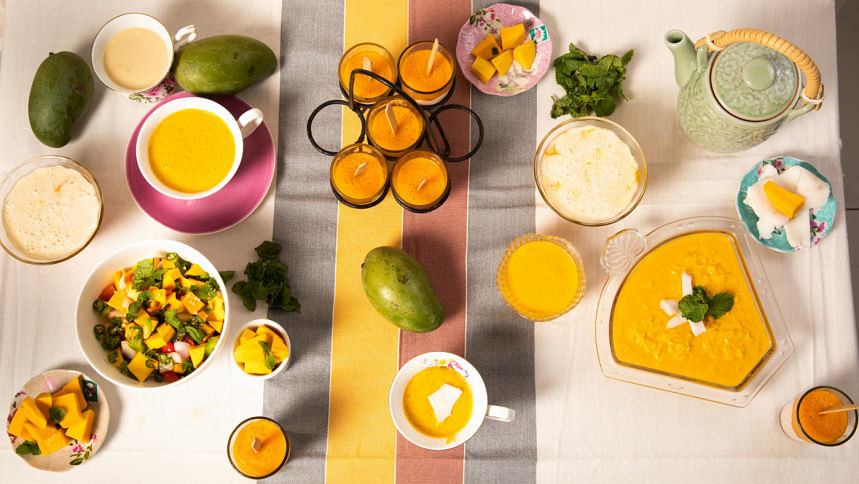 The real joy of eating a mango is peeling off the skin and eating it right away, with delicious juice runs down your hand; it might be offensive to many, but a true Bengali would love to eat it that way. However, the civilised way to eat a mango would be to slice it into pieces and have the pulp with a fork. Now that the season is over and we have satiated most of those cravings, we can safely shift our attention to chilled sweet mango desserts for this scorching summer. Mangoes are high in calories; hence, everyone will ask you to keep your mango count in check. But, if you pair it with cool foods like yoghurt, you can have that extra one too. So, no reason to stop the mango binge.
Mango Kheer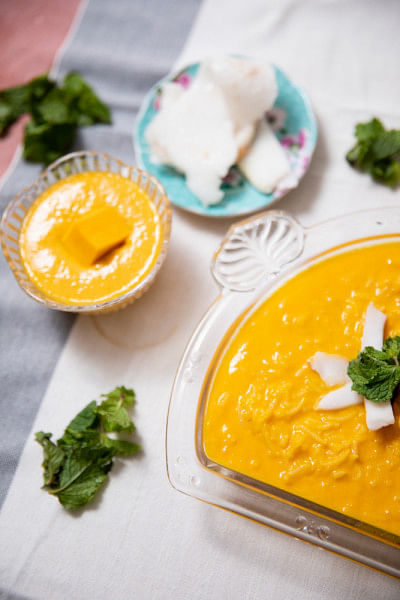 Ingredients
2½ cups milk
1 cup basmati rice
3 tbsp powdered sugar
Pinch of saffron
1 cup mango puree
7-8 almonds, chopped
10-15 raisins
Almonds, for garnishing
Method
In a saucepan, stir milk and thicken its consistency, boil basmati rice and sugar together. Add saffron strands and stir gently, making sure that the rice doesn't break. Once this mix has boiled, add the mango puree. Throw in the almonds and raisins. Stir it all together, cover the pan and let the rice cook on low heat. Transfer the mix to a bowl, garnish with almonds and let it cool in the fridge. Serve cold.
Mango Cheesecake
Ingredients
For biscuit base —
1 packet digestive biscuits
30g salted butter
For filling —
100g mango pulp
100g cream cheese
250g cottage cheese (chhana)
100g whipped cream
40g powdered sugar
Method
Blitz the biscuit into fine crumbs in a food processor. Add butter and blitz again. Pour the mix into a prepared cake pan and press down firmly. Place in a preheated oven at 180° C for 7-8 minutes. In the meantime, in a mixing bowl, mix the powdered sugar, cottage cheese and cream cheese until there are no lumps. Add the mango pulp. Pour the mix into the prepared cake pan and whip the cream with sugar until medium-stiff peaks form and layers the top of the mix. Chill for 4-6 hours. Garnish with fresh mangoes.
Mango salsa
Ingredients
3 semi-ripe mangoes, diced
1 medium red bell pepper, chopped
½ cup red onion, cut in rings and soaked in vinegar
¼ cup whole mint leaves
1 green or red capsicum seeded and diced
1 large lime, juiced (about ¼ cup lime juice)
¼ teaspoon salt, to taste
Method
In a serving bowl, combine the prepared mango, bell pepper, onion, cilantro and capsicum. Drizzle with the juice of one lime.
Using a large spoon, stir the ingredients together. Season to taste with salt, and stir again. For best flavour, let the salsa rest for 10 minutes or longer.
Mango Lollies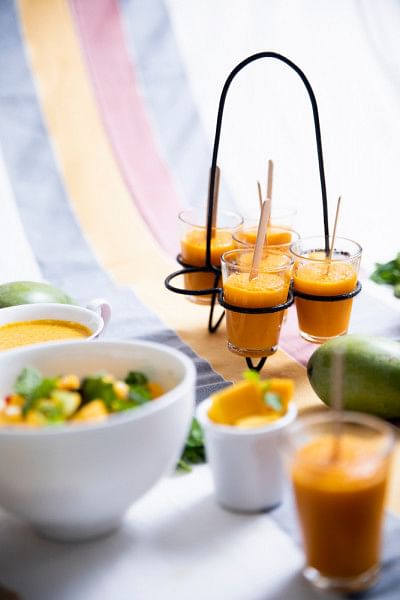 Ingredients
3 cups diced mango
3 tbsp lime juice
4 tbsp sugar
Method
Assuming you are using fresh mango, remove the mango flesh from the stone by cutting through the mango, on both sides, then scoring the mango halves. Trim remaining mango from around the stone.
Put the mango flesh, lime juice and sugar in a blender and blend until smooth. Pour into popsicle moulds, leaving a slight gap at the top. Put in the sticks and carefully transfer to freezer, keeping upright. Allow to freeze — at least four hours.
Remove from moulds — put the mould under warm water if they don't come out easily.
Mango Pudding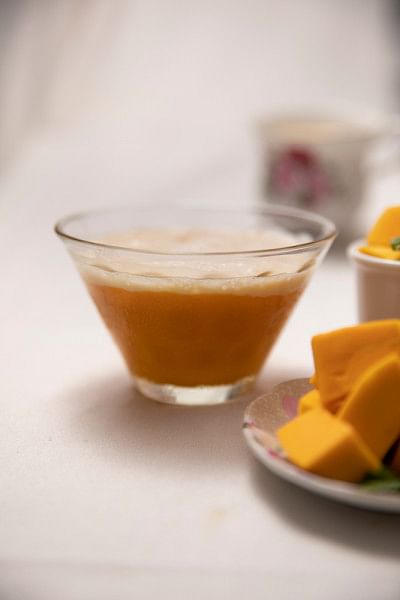 Ingredients
½ cup boiled hot water
1 tbsp unflavoured gelatine
½ cup granulated sugar
250ml coconut milk, evaporated milk, or table cream
1 cup mango puree
Some diced mangoes and shredded coconut, for garnish
Method
In a medium bowl, whisk together the gelatine and boiled hot water until no lumps remain.
Whisk in the sugar until dissolved. Stir in the coconut milk or cream, then mango puree until mixture is smooth. Pour into 4 ramekins or small bowls. Cover and chill for at least 2 hours before serving.
Mango Cream
Ingredients
3 ripe mangoes
1 tsp orange zest
2 tbsp cane sugar, divided
1 cup heavy whipping cream
1½ tsp vanilla extract
Mint leaves, for garnishing
Method
Peel mangoes then cut around the pit. Reserve half of one mango for garnishing later. Chop the remaining mango and place in a food processor. Add 1 tablespoon of sugar and orange zest. Blend into a smooth paste.
Place cream in a bowl. Add the vanilla extract and sugar. Whip using a hand mixer until stiff peaks form or about 3 minutes.
Place the mango puree and the whipped cream in cups in layers. Dice the mango and place on the cups. Garnish with mint leaves if desired. Serve immediately or chill for at least 30 minutes before serving. Best enjoyed chilled.
Caramelised Mango
Ingredients
⅓ cup sugar
¼ cup water
1 tbsp unsalted chilled butter, cut into small pieces
4 large mango wedges, with skin on
Method
Grill the mango wedges on the side. Combine sugar and water in a large, heavy skillet over medium-high heat; cook until sugar dissolves. Continue cooking 3 minutes or until golden and do not stir. Add butter to pan and stir to blend. Reduce heat to medium. Add mango to pan, tossing gently. Cook 5 minutes or until mango is lightly browned and coated with caramel, stir frequently. Serve with lime wedges, if desired.
Food and Styling: RBR