Must-try monsoon mango recipes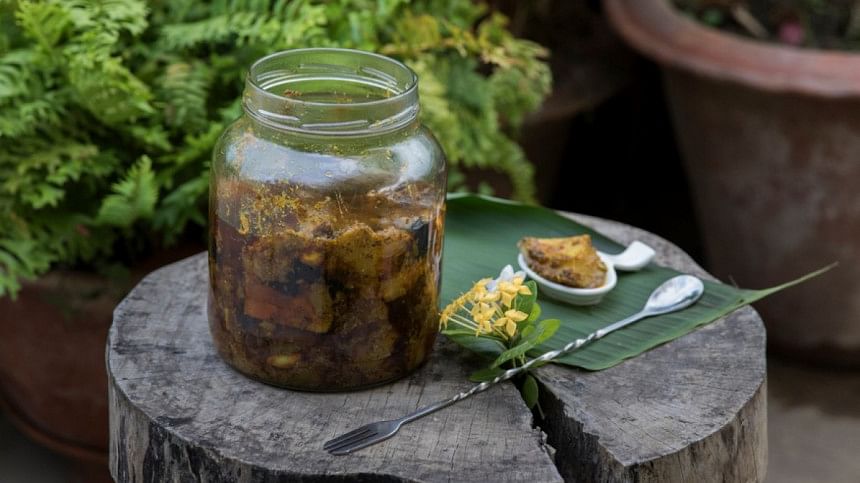 Mangoes are simply irresistible. Some can devour five of them in the time it takes you to count to four. And they are just as irresistible once you involve them in recipes, some of which has become iconic enough to be considered a staple monsoon dish. Here are just some ways you can take advantage of this delicious fruit in some recipes for this monsoon.
Tok Daal (Sour Lentil)
Ingredients
1 cup masoor daal 
1 green chilli, chopped
1 dry red chilli, chopped
½ tsp turmeric powder
½ tsp sugar
½ tsp mustard (whole)
4-5 pieces of raw mango (peeled)
1 tsp oil
½ cup water
Method
Wash the daal and put it on the stove in a pressure cooker. Cook it until completely soft, then beat with a whisk break the grains into a smooth consistency. In a separate pan, heat up the oil, and add green chilli, red chilli, the raw mango, and sauté. Add this to the daal, add turmeric, sugar, salt and water. Cover the pan and cook for 4-5 minutes to bring to a thorough boil. The quantities of sugar, and salt can be adjusted to personal preferences. 
Mango Kashundi
Ingredients
350g raw mango,  
3 tbsp black mustard seeds
½ tsp paanch phoron (5 spice mix)
½ tsp cumin, whole
2-3 red chillies
300ml vinegar
1 tsp rock salt
2 tsp sugar
2½ tsp Salt
4 tbsp mustard oil
Method
Wash, dry, and peel the raw mangoes. Cut into small cubes, and thoroughly coat in salt and turmeric powder. Leave at room temperature or in the sun for about an hour. 
Dry roast the mustard, paanch phoron, red chilli, and cumin, and add to the mango. Add mango cubes along with the dry roasted spices, 1 teaspoon rock salt, and half of the vinegar, and blend until smooth. Take in out in a mixing bowl, and let rest until completely cool. 
Now, add 1 teaspoon rock salt, 2 teaspoon sugar, rest of the vinegar, and 4 tablespoons mustard oil and mix well. Store in a sterilized glass jar, and let it sit in the sun for at least 2 weeks to let settle. 
Raw Mango Bhorta
Ingredients
1 medium (mostly) raw mango
2-3 cloves of garlic
1-2 green chilli
1 tbsp mustard oil
Salt, to taste
Sugar, to taste
Method
Simply chop the sweet-sour mango into small pieces, add a few cloves of garlic, some green chillies, salt and some sugar, and a little mustard oil, and grind to a mush. Drizzle a little oil on the top.  
Raw mango with brinjal
Ingredients
1 medium brinjal, cut into 2-inch pieces
1 small raw green mango
1-2 green chillies
1 tsp turmeric powder
1/2 tsp red chilli powder
2 tbsp yellow mustard seeds
1 tbsp black mustard seeds
7-8 green chilies, split lengthwise
2-3 dry red chillies, whole
1 tsp honey
3 tbsp mustard oil
salt to taste
Method
Wash, peel, cut raw mango, add green chillies and blend into a coarse paste. 
Coat the brinjal with a pinch of turmeric and salt. Let rest. 
Let 2 tablespoons of yellow mustard seeds and half tablespoon of black mustard seeds in warm water for about 15 minutes. Strain the mustard, add 3-4 green chillies, a pinch of raw rice, a pinch of turmeric, and blend into a smooth paste.
Now, fry the brinjal in 1 tablespoon hot oil until light brown. Keep aside on a kitchen towel. Add another 1 tablespoon oil to the same pan, add half tablespoon black mustard seeds and the red chillies, let splutter. Now add 1 tablespoon of green mango paste, and cook until the oil separates, then add the mustard paste and stir for a couple of minutes. Add the fried brinjal, rest of the green chillies, and toss gently. Cover the pan and cook for a few minutes. Add a dash of water if needed. Add honey, adjust salt. More mango paste can also be added. Drizzle the mustard oil on top before serving.
Shol fish (snakehead murrel) with raw mango
Ingredients
4-6 pc shol fish
1 tsp turmeric powder
½ tsp nigella seeds
4 green chilies, split lenghtwise
½ tsp cumin powder
1 ½ tbsp black mustard paste
3 tbsp mustard oil
2 tsp sugar, or to taste
salt to taste
2 green mangoes, peeled and sliced into quarters
Method  
Wash and dry the fish pieces and rub half a teaspoon of turmeric and some salt on those. Let rest for 15 minutes. 
Heat mustard oil in a wok, and fry each fish piece for 20 seconds on each side. Keep fish aside. In the same oil, add nigella and 2 green chillies, sauté until they release arome. Add green mango, stir, add salt and remaining turmeric powder, a dash of water, and cook covered until mango softens.
Now add the mustard paste, a cup of water for the gravy, and add the fried fish. Let simmer for a few minutes. Adjust salt and sugar, add green chillies and bring to a boil. Serve with steamed rice.
Mutton with raw mango
Ingredients
1 kg mutton, with bone
1-2 green mangoes, peeled and sliced 
2 tsp garlic paste
1 tsp ginger paste
1 tsp turmeric powder
½ tsp cumin seeds
A pinch of fenugreek, whole (methi-dana)
½ tsp red chilli powder
1 large onion, thinly sliced
2-3 dried red chillies
2 tbsp mustard oil
2-3 tsp sugar
salt to taste
1 ½ cup water
Method
Marinate the mutton with turmeric powder, ginger-garlic paste and one tablespoon of mustard oil. Let rest for a few hours.
On low heat, dry roast half a teaspoon of cumin with a pinch of fenugreek. Roughly crush these in a manual mortar. Keep aside.
In a pressure cooker, heat mustard oil and break the red chillies into the oil. Once it starts spluttering, add the meat and fry, until the oil separates and the meat looks brown. Now add the mango slices, onion, salt, sugar, red chilli powder and the roasted spice powder. Keep stirring the meat, add a bit of water as and when required.
Once the oil separates, add one and a half cup of hot water and bring to a boil on high heat. Adjust the salt and sugar for personal preference. Now cover the pot, lower the flame, and let cook. Before serving, garnish with green chillies and a dash of mustard oil.