Finding quality mangoes in Dhaka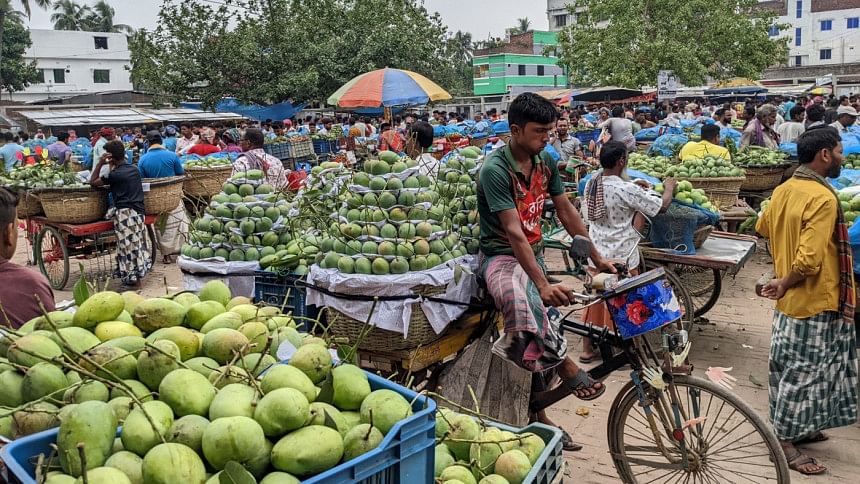 Summer in Bangladesh is a special time for anyone who likes fruits, especially for the variety of mangoes, jackfruit and all other local sweet fruit varieties. Starting off in May, fruit markets all over Bangladesh are now flooded with mangoes of various types, qualities, and varieties. If you among the lucky who can access mangoes straight from the hubs like Rajshahi, Chapai Nawabganj, and Satkhira, great!
But for the rest of us living away from the mango heaven, here is a simple guide to shop for mangoes, particularly in the capital.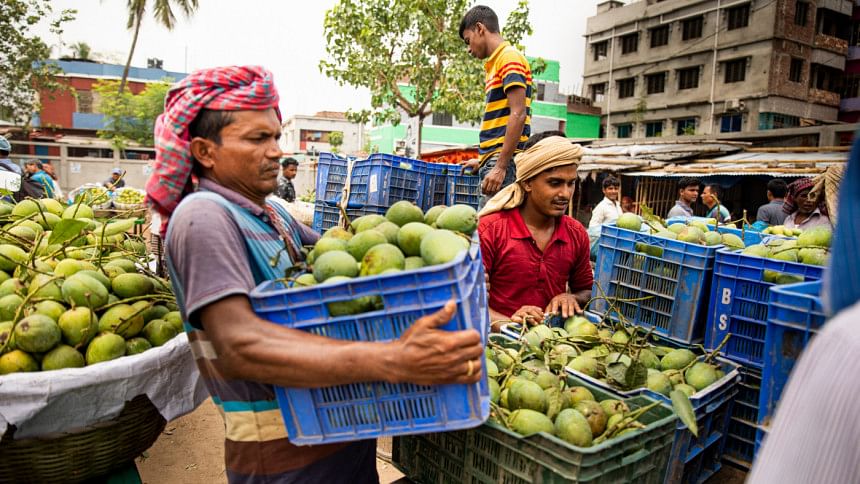 The colourful 'aamer mela'   
The 'aamer mela' becomes a common sight on numerous pavements and nooks of the city during the mango season. These basically comprise of traders either sourcing mangoes directly from the gardens, or from the wholesale markets in Kansat, Naogaon and Satkhira, and saving the buyer the hassle of travelling to these places themselves.  
"I have always wanted to buy mangoes from different areas from one place as I am not sure if regular roadside fruit sellers sell quality mangoes. So, it is great to find different varieties and buy them easily from the stalls at the so-called mango fairs," said Salma Mitu, a student of ULAB.
You will see banners like, "Rajshahi Aamer Mela: Straight from the orchard" on roadside stalls that are different from typical fruit selling places, with colourful panels and lights giving it a festive look. These stalls can be found in places like Dhanmondi, Mirpur Road, New Market areas and many other places in Dhaka, mainly operated by businesses, some seasonal, who collect mangoes from either their own orchard or from wholesale markets like Kansat in Chapai Nawabganj.
"We have mangoes from places like Rajshahi, Chapainawabganj, Meherpur, Kushtia in our stalls, with many varieties, among them are Himshagar, Lengra, Haribhanga, Gopalbhog, Gobindbhog. Our mangoes are free from any formalin so there's no compromise on food safety," said one salesperson of a stall in Dhanmondi.
The booming online marketplace for mangoes
Convenience of online marketplaces has made it easier for mango enthusiasts to look for ways to buy them online. This has also become an opportunity for tech savvy sellers who saw a demand for mango selling online, resulting in various Facebook pages.
"We source our mangoes from farmers who cultivate organic mangoes under the supervision of Department of Agricultural Extension and certified by the local agriculture officer. So far, our most sold varieties are Gobindobhog, Lengra, Himsagar, and Totapuri, among others," said Md Shiplur Rahman, Sales Executive (B2b) at Leisure Innocent, an online shop specialising in organic foods.  
Ordering mangoes, whether a few kilograms or in crates, it's normal to worry about the delivery process taking place accordingly. Chapai Mango Lovers, based in Chapanawabganj, can provide the mangoes at your doorstep on time.
"We have three branches with our own orchards in Bangladesh— in Chapai Nawabganj, Naogaon, and Khagracchari. Depending on the size of the online orders, we deliver through couriers, buses, or trucks. This year, online demand is a bit lower than previous years, but still people are ordering good quality mangoes after seeing low quality goods in local markets," said E H Zaman Alif, owner of Chapai Mango Lovers.
Traditional fruit vendors
Last but not the least, there are the traditional fruit sellers in various bazaars. Street vendors also sell mangoes right on the footpath, although they lack in variety compared to the fairs and the online resources available.
Hawkers are also seen carrying mangoes in vans around the neighbourhoods of the city. "I hardly do the groceries, but every Friday after the weekly prayers at the local mosque, I never fail to pick up seasonal fruits from the vendors selling them. However, not being a seasoned buyer, I am often handed inferior quality products at higher prices," said Shubhro Haque, an employee of a local media house.
Essentials —
Leisure Innocent Facebook page: https://www.facebook.com/leisureinnocent
Chapai Mango Lovers Facebook page: https://www.facebook.com/chapaimangoloverss
The Mango's Home Facebook page: https://www.facebook.com/themangohome46