Shopping in traffic: Top 5 things to buy at a traffic signal in Dhaka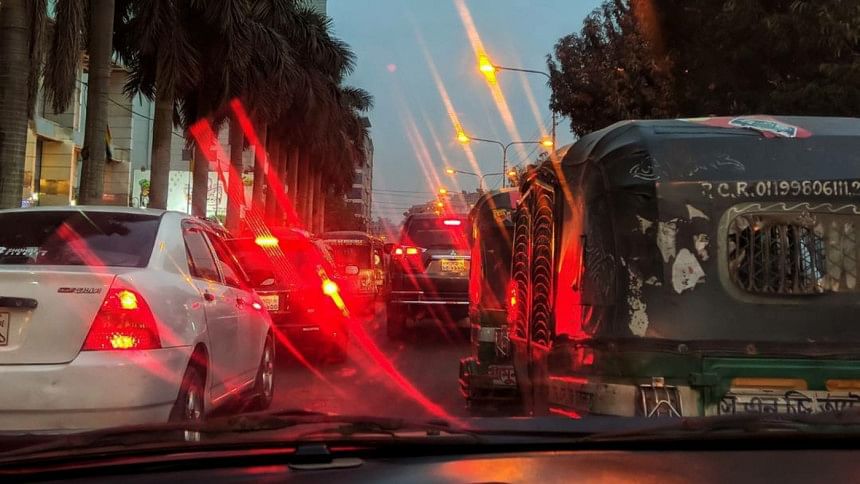 Being stuck at a traffic signal is not ideal, but it is a great opportunity to check out the various items being sold by street vendors. From refreshing beverages to the latest novels, there is a multitude of items one can buy while sitting in the annoying Dhaka traffic.
However, buying things right off the street can be a little risky. You always run the possibility of purchasing faulty products or being misled into buying something that does not quite work as advertised.
Nevertheless, down below you will find the top 5 things to buy while stuck in a traffic signal.
Books
Needless to say, sitting alone in traffic can get pretty boring. A simple solution to this is to get some reading done. If you do not have a book on you, not to worry because there are a number of vendors selling books on the streets often. These are usually locally printed editions you can find at Nilkhet or at a nearby bookstore.
From bestselling young adult fiction and self-help books to famous Bangla novellas, the roaming book vendors will usually carry books that are the most in demand. But this is not necessarily a good thing.
"I was in luck when I stumbled upon the newest Hunger Games book on my way to university. But if I want to buy something less mainstream, I will still have to go to Nilkhet and look for it myself," says Neha, an avid reader and student at North South University.  
An important thing to look out for when buying books at a signal is if the entire book was printed properly or not. A common probably with locally printed books is the various missing pages and horribly printed text. It's advised to always check the book before buying it.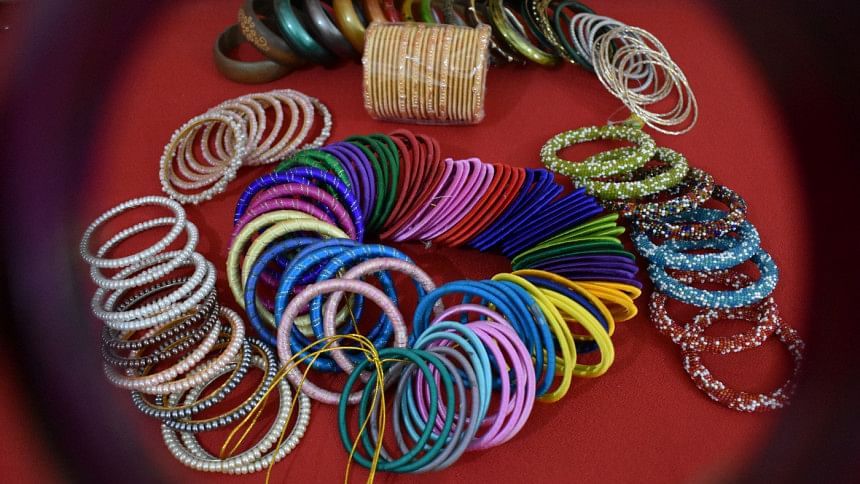 A new fashion piece
If you are interested in jazzing up your attire, look no further than your next traffic signal. Hawkers will go from vehicle to vehicle showing off the assortment of accessories they have. Wristbands, necklaces, rings, etc. are often the most common accessories sold by the street hawkers.
These are usually much cheaper than the ones you can buy online or at a local store. However, it is also important to note that most of these accessories are made of cheaper materials and are not as likely to stand the test of time.
But the numerous wristbands or bracelets you can buy at traffic signals will also have a multitude of different designs.
"I was pleasantly surprised by the selection of wristbands. One of the vendors were even selling fancy signet rings," says Sumaiya, an O-level student and ardent pop culture enthusiast. "I've even seen them selling anime and K-pop style wristbands," she adds.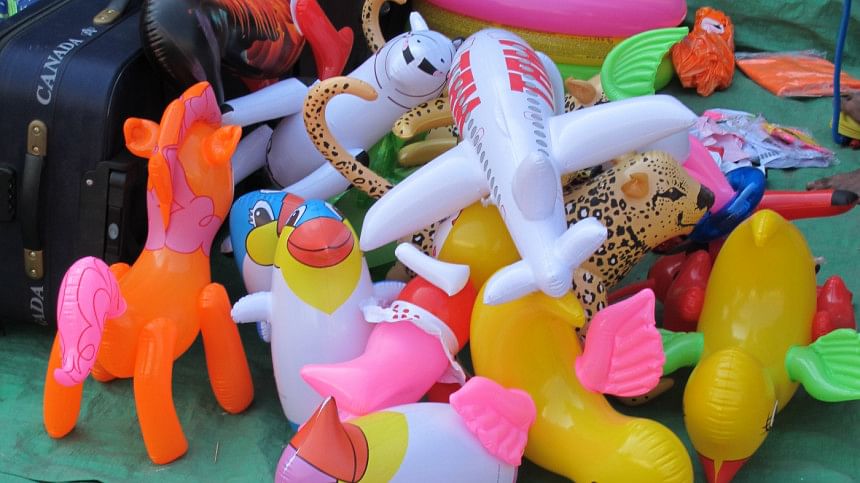 Children's toys
One of the most common street vendors you will find are children's toy sellers. They are usually seen carrying a large collection of toys and trinkets. Most of the toys are cheaper and of a lower quality but they do make great gifts for toddlers and young children.
Other than the usual dolls and toy cars, these hawkers will also sell stickers, balloons and a myriad of other knick-knacks. Many will also sell unique hand-made toys like wooden figures, paper flowers and spinning tops, the indigenous cousin of Beyblades.
"Most of these toys are pretty cheap and it shows," says Mariam Akhtar, mother of two small boys. "They last at best a month and are quite flimsy. Nevertheless, buying them something from the hawker at least calms the children down for a while."
While the collection of toys sold has largely remained the same for the past few years, there have been some newer additions. Fidget spinners, Rubik's cubes and Uno cards are just some of the newer toys that have rapidly grown in popularity over the years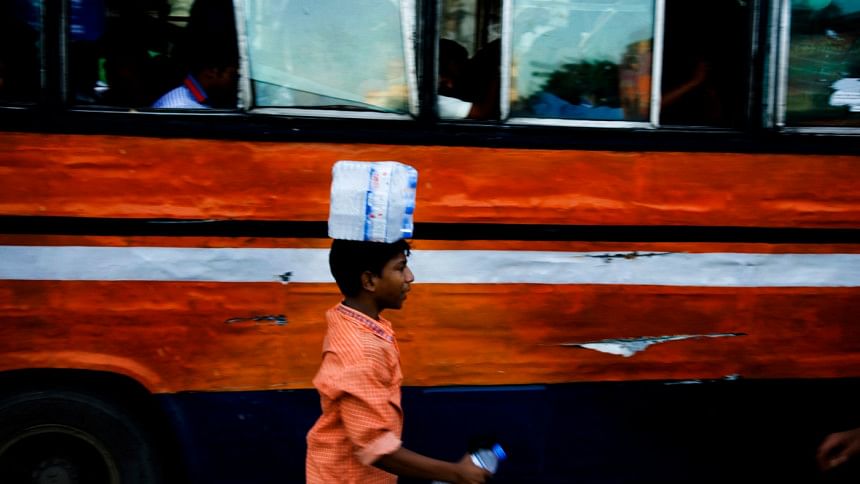 A refreshing drink
Easily the most popular item bought at traffic signals, bottled water gives commuters their well-deserved relief from the sweltering urban heat. Usually, you can spot street hawkers selling bottled water and other beverages when stuck in traffic. However, it should be noted that water is sold at a higher rate at traffic signals (Tk 20 compared to the usual Tk 15).
"You'll notice that many of their soft drink bottles don't have the plastic seal on them. This means they've been opened before," says Sarfaraj, a college student who spends most of his commute stuck in traffic at Bijoy Sharani.
"If you see a soft drinks bottle without a plastic seal around the mouth, there is a chance it's been tampered with. Better to only buy beverages that still have the plastic seal," he adds.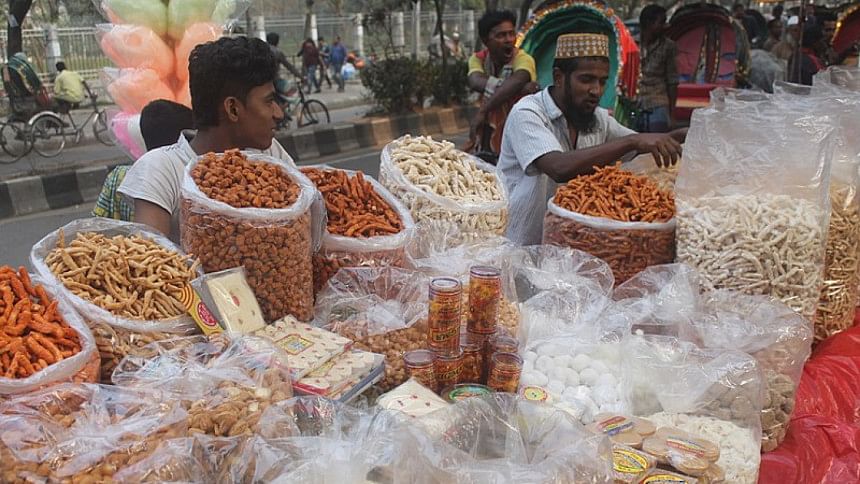 A quick bite
Being stuck at a traffic signal can be stressful, and it's not uncommon to get a case of the munchies. Luckily enough, traffic signals are the perfect place to buy some of your favourite snacks.
If you want to go for the childhood classic, potato crackers and ring chips are still incredibly popular and are sold by almost every food vendor on the streets. They might also sell the less popular locally made chips which come in clear packets.
If you are not in the mood for chips, many vendors will also sell peanuts or salted cashews. Cotton candy is also a popular delight for those of us with a sweet tooth.
Another extremely popular snack is the "amra" or hog plum. The fruit is peeled, cut into a flower shape and served on a toothpick. It's a spicy and tangy treat that's just perfect for an exhausting afternoon. But not everyone is in favour of this tasty snack.
"Call me paranoid but I try to avoid handmade street food. If I'm stuck in traffic, I'm going to avoid snacks that might give me an upset stomach" says Sarfaraj. "I'll usually either go for chips or peanuts."
Buying things at a traffic signal comes with its own rewards and challenges. With the staggering number of items being peddled at traffic signals, it's quite hard not to make a quick purchase. But now having read this, you can also make that quick purchase a smart one.