4 great guava recipes to prepare at home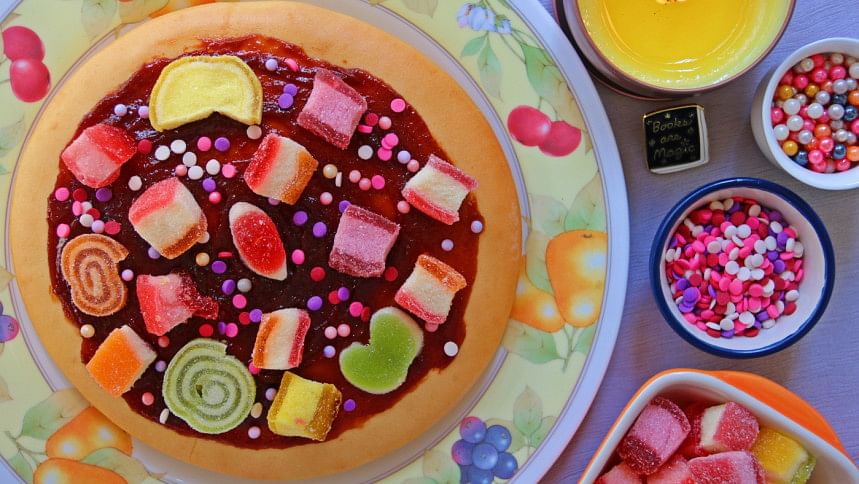 Summer in Bangladesh may be unbearable at some point, but we are indeed very lucky to live in a country with a tropical climate, because we are blessed with an abundance of delicious fruits. Guava is one such seasonal fruit that we wait for throughout the year, and we are glad guava season is now in full swing.  There are many ways we can use guava to create delightful recipes. Other than the usual savoury street food that is made with a spicy mustard sauce and other condiments, there are several other ways to go about it.
GUAVA JAM
Making guava jam every season has become a tradition in many households. This can be enjoyed with bread or used as a filling in pies, cookies, jam bars, and cakes.
Ingredients
300g ripe guavas
2/3 cup sugar
1 tbsp lime juice
Water
Red food colour
Method
Grate the guavas finely and add them to a pan with enough water to cover them entirely. Then, cook this on medium heat for about one hour until the guava pieces change colour and become soft. Place a cheesecloth on a large sieve and pour the cooked guava over it. Squeeze out all the guava water and boil this with sugar.
Cook the guava water by stirring continuously and once it is in full boil, add lime juice and red food colour. After about 15 minutes, check by pouring a little amount in a bowl of water – if it does not mix then it is ready, but if it mixes with water cook for another five minutes.
Boil a glass jar for five minutes to sterilise it and then wipe it dry with a clean cloth. Pour the guava jam in it while it is still hot and let this cool in room temperature for eight hours or overnight. After that, you can store this in the refrigerator.
GUAVA MOJITO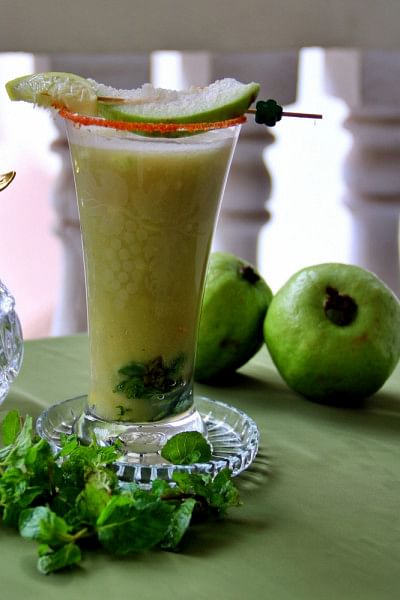 The freshness of guava and a spicy kick from the chilli powder makes this mojito a truly sensational drink.  
Ingredients
1 large guava
2 tbsp sugar
1 tsp black salt
1 lime
½ cup water
250ml soda water 
1 tsp red chilli powder
1 tsp salt
A handful of mint leaves 
Ice cubes
Method
Cut the guava into cubes and blend with a little bit of water, sugar, and black salt to make a fine puree. Pass this through a fine-mesh sieve to get a smooth puree and get rid of the seeds. Rub a lime wedge on the rim of a glass and in a plate, mix chilli powder and salt, and dip the rim of the glass in it.
Muddle a lime wedge and some mint leaves together in the glass and add a few ice cubes. Pour in the guava puree and then add in soda water. Gently mix these together, this is ready to drink! To uplift your presentation, in a skewer, add a lime wedge and half-moon guava slice and place it on top of the glass for added edge.
GUAVA PUDDING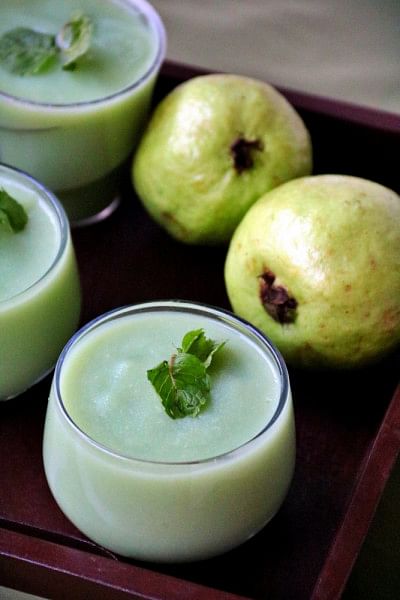 This is a quintessential summer dessert that is soothing to the taste buds and stomach, which will leave you craving for more with every mouthful.
Ingredients
2 medium-sized guavas
¾ cup water
1/3 cup sugar
¼ cup corn flour
¼ tsp black salt
Few drops of green food colour (optional)
Few mint leaves
Method
Dice the guavas into little cubes and blend them with water to get a puree – pass this through a sieve to make it smooth. To this, add sugar, black salt, corn flour, and green food colour. Mix everything together until it is one homogenous mixture and cook it on medium heat. Stir and cook until the mixture thickens and bubbles form.
Remove this from heat and let it cool. Once cooled, pour this into individual serving bowls and top each one with a sprig of mint. Let this cool in the refrigerator for two hours before serving.
GUAVA IN COCONUT CREAM
This refreshing dessert is one of a kind. It is creamy and refreshing with sago pearls, and the tartness of the fruit provides a refreshing balance to the sweetened coconut sauce.
Ingredients
1 can coconut milk
1 cup water  
½ cup coconut cream
½ cup sugar
½ cup sago pearls
3 small ripe guavas
A pinch of salt
Method  
Cook the sago pearls in boiling water until they are translucent and puffed. Once cooked, drain the starchy water and leave this aside. Next, in a pan, add the coconut milk, sugar and salt, and bring this to a simmer. Cut the guavas into wedges and add them into the coconut milk mixture and cook this for about five minutes in low heat.  
Add the sago pearls into this and stir until slightly thickened. Once thickened, remove from heat and let this cool at room temperature before chilling in the refrigerator. Serve this chilled with a drizzle of coconut cream. 
 
Food and Photo: Fariha Amber