Railway offers parcel services to transport mangoes at reduced rates
BRTC lowers transport cost for trucks by 50pc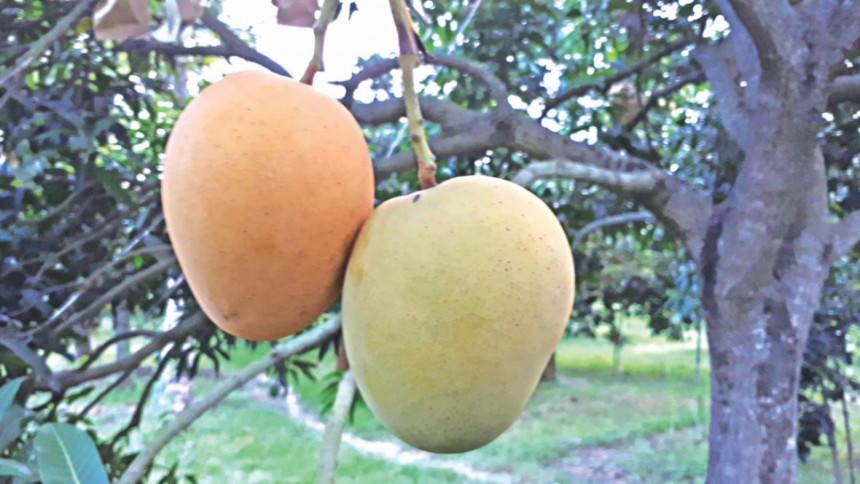 Apart from couriers and trucks on roads, mango producers of Rajshahi and Chapainawabganj will be able to use parcel services of the railway at reduced rates for transporting mangoes to other districts this season.
After a meeting with stakeholders today, Rajshahi Deputy Commissioner Hamidul Haque told The Daily Star that the decision in this regard came following a directive of Prime Minister Sheikh Hasina for easing transport distress amid the coronavirus situation.
Mangoes can be transported by trains at a rate not more than Tk 3.10 per kg including its handling and porters' charges, while the average cost for existing mango transport on roads varies around Tk 5 per kg, the DC said.
"But the decision is applicable for destinations that fall on the rail route to Dhaka from Chapainawabganj," he said.
The railway authorities are considering lowering the mango transport cost before the harvest season begins at end of May, said Mihir Kanti Guha, general manager of Bangladesh Railway's West Zone.
He said the traders can use Amnura, Chapainawabganj, Rajshahi, Arani, Gopalpur and Abdulpur stations for loading mangoes.
Mangoes can be also transported by using the trucks of Bangladesh Road Transport Corporation at 50 percent lower rates, the Rajshahi DC said.
BRTC has lowered its rate for long distance transport of mangoes to Tk 45 from its normal rate of Tk 90 [per km] following a request of Department of Agricultural Marketing, said Sukdev Dhali, deputy general manager of BRTC.
BRTC can engage around half of its total 500 trucks for transporting mangoes as others are engaged in emergency work -- for transporting relief materials and agricultural inputs, he added.
For the private couriers, the Rajshahi DC said, it was decided in meeting for sending request to different courier authorities for lowering their transport costs. At present, different courier services are offering a rate between Tk 10 and Tk 15 per kg for transporting mangoes to Dhaka and other cities.
The DC also said that mango traders can take proper authorisation from Department of Agricultural Extension and travel to districts for purchasing and selling mangoes amid shutdown.
Mango farmers and traders in the cities and towns were elated at the decisions.
However, many of them, who hail from distant upazilas, said they would not be able to avail the government facilities.
"Private trucks usually collect mangoes from my orchard and carry those to my desired destination. If I choose to use the trains, I will face losses since I will have to spend extra money of around Tk 3 per kg for transporting mangoes to the railway stations and then send those to the destinations paying train charges," said Shafiqul Islam, a mango producer of Rajshahi's Bagha upazila.
He also said that most railway stations do not have proper infrastructure for handling huge quantity of mangoes.
"I alone transport around 50 tonnes daily during the season. Where will I unload such quantity of mangoes at Kamalapur Railway Station?" -- he asked.
Shafiqul Islam further said the government mechanisms for transport of perishable goods like mangoes are slow.
"The government systems aren't efficient enough to suit our requirement. I will be using private trucks," he added.