The other summer fruit— Jaam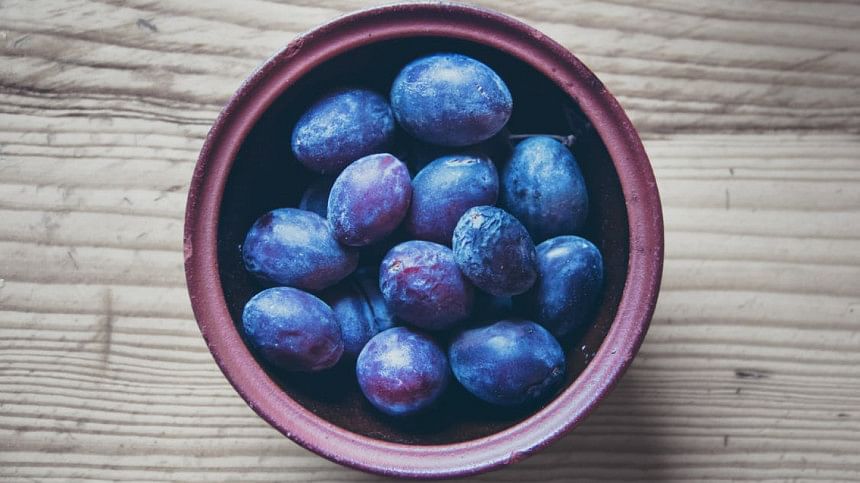 While mango has cemented a spot as the king of summer fruits, in its many varieties it also easily overshadows our other seasonal favourites like jaam or the java plum. The festivity around mangoes often makes for a lacklustre season for other bounties of summer. 
This dark purple, bordering on burgundy, lozenge sized fruit is fleshy, juicy with a hard seed and stains everything it touches a deep purple, including your mouth. The colour is so iconic, even our favourite Bengali folklorist, Palli Kabi (Pastoral Poet) Jasimuddin has penned thus, 'Paka Jaam er modhu r roshe rongin kori mukh' (which reads something like the sweet juice of the ripened plum colours your mouth).
The tangy sweetness of this brilliant summer gem is compared to none; yet the fruit remains forever relegated a runner up behind mangoes, lychees and jackfruits in every summer fruit competition.
This year I intentionally went all out for jaam, (and also because of my other sugary reasons to avoid mangoes that I would rather not elaborate on). Late May, during one of my morning walks I saw a house guard selling the season's first jaam that he had plucked from a tree in his backyard. He wanted to make few quick bucks and asked an exorbitant price of Tk 400 for the handful and I did not hesitate to pick it all up.
His morning was made and so was mine; a dash of salt, slivers of green chilli and a firm shake in a covered container, my jaam bhorta was ready. Some like to add a dash of sugar too, but it is absolutely unnecessary, as a properly ripened jaam is divinely sweet.
Ever since that morning I am buying jaam in kilos almost every alternate day and my after-office snack is a bowlful. It not only is low in calories but also aids in digestion and promotes natural bowel movement. Jaam juice has bioactive phytochemicals that is said to minimise the risk of liver disease and cancer. The seed when eaten, though bitter, is known to be effective against diabetes.
I might have made jaam sound like a panacea pill for old people, but in reality, it is an extremely tasty local fruit that has the shortest season— of maximum four to five weeks. You can preserve the flesh of the plum and make a cooling juice during off-seasons, or you can make conserves and compotes for your tarts and muffins and cheesecakes. The preserve adds an extra oomph to your bakes.
Java plum jam
Today, I would share a simple jam recipe for jaam. The season is almost coming to an end, so try to enjoy the fruit as much as you can. A special footnote I want to add is that you can use sugar and can also do without, there is no hard and fast rule in my cheat code recipes.
Take about one and half kilograms of java plums, washed and sorted in a sieve to clear out the seeds and extract juice, and blend it to a smooth paste. Place the mashed pulp along with the juice in a heavy bottomed pan, on medium heat and boil it till it simmers. Continue stirring it and check for the consistency to thicken. Make sugar syrup in a separate pan and add the syrup to it. Allow it to make dark burgundy blobs of crystals. This is when you add juice of one whole lemon to act as preservative and a dash of zesty ginger to take it a notch up. I do not use pectin, but the lemon juice does its magic. The tinge of ginger gives the perfect peppery and spicy addition to the sweetness of the plum, and the tanginess of lemon complements the sweetness.
Spread it on crackers or hot toasts and scones and eat it with a complementing sip of steaming tea; remember only summer evenings are made of such delights.