Rejuvenate your soul with refreshing iced tea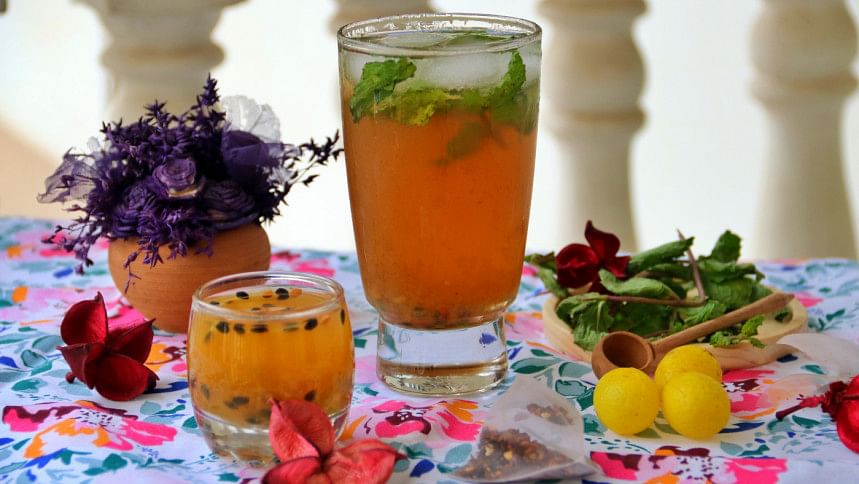 What can be a better thirst quencher than a glass of chilled and refreshing iced tea in this hot and humid weather? Nothing beats the heat better than a rejuvenating glass of iced tea. Here is an array of fruity, soul replenishing iced tea recipes for you to enjoy this summer.
PASSION FRUIT ICED TEA
Ingredients
400ml water
½ cup passion fruit pulp
3 tbsp loose tea
2 tsp sugar
1 lime
A handful of mint
Method
Seep the loose tea in warm water for a few minutes and then strain it. In a pitcher, add to the tea, passion fruit pulp and sugar, and mix it well. Store this in the refrigerator for 2-3 hours. Before serving, bruise the mint leaves slightly and add in lime wheels for freshness.
BLUEBERRY LEMON ICED TEA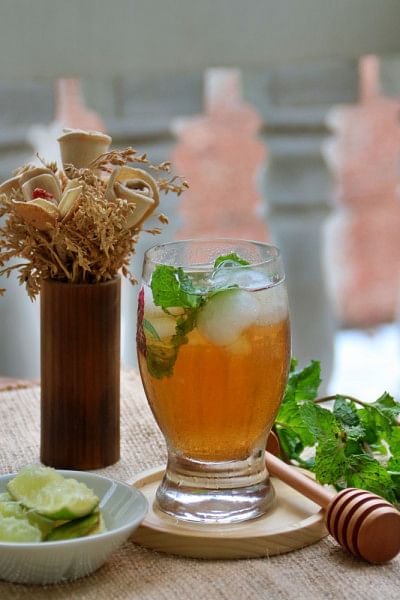 Ingredients
500ml water
3 green tea bags
1 whole lemon
200g blueberries
1 tbsp honey
Method
Boil water and drop tea bags in it. Let this seep until all the green tea flavour is mixed with water. Add honey and stir it in and allow it to come to room temperature. Using a peeler, peel the rind of a lemon, careful to avoid the white parts and drop them in the tea. Slightly mush the blueberries and drop the clumpy liquid in.   
Stir everything together and let this chill for a couple of hours. Once cold, cut the lemon into wheels and add them in as well. To serve, fill three-quarters of a glass with ice cubes and pour in the refreshing blueberry lemon iced tea.
ORANGE MINT ICED TEA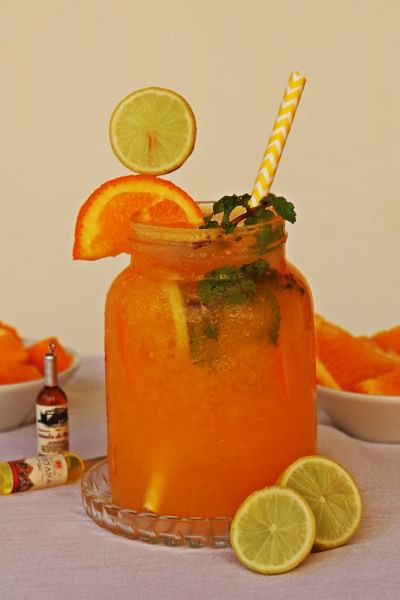 Ingredients
500ml water
4 earl grey tea bags
2 oranges
3-4 sprigs of mint
Method
Boil the water, remove from heat and add tea bags in. Once all the flavour has been extracted from the teabags, let this come to room temperature. Once there, remove the rind and squeeze out the juice of one orange — mix these in. Give the mint leaves a little bashing to extract the natural oils and add this in with the iced tea mixture.
Let this sit in the refrigerator for a couple of hours. Before serving, slice the other orange into wheels and drop them in. Serve with a glass full of iced tea and fresh mint leaves for best taste.
BERRY ICED TEA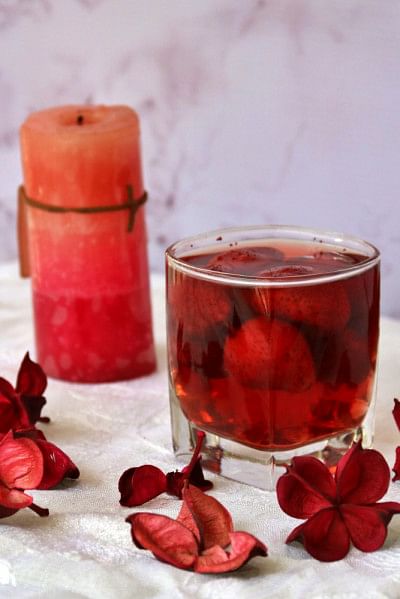 Ingredients
500ml water
3 berry tea bags
300g mixed berries
1 tbsp simple syrup
Method
Add the teabags to boiled water and let the flavours seep. Freeze half of the berries to make berry ice cubes and mush the other half to get berry juices. Add in the berry juices to the prepared tea along with the simple syrup. Stir everything together and chill in the refrigerator until cold. While serving, use the frozen berries instead of ice cubes and enjoy!  
Food & Photo: Fariha Amber