Cherishing mangoes and lychees in my last summer in Bangladesh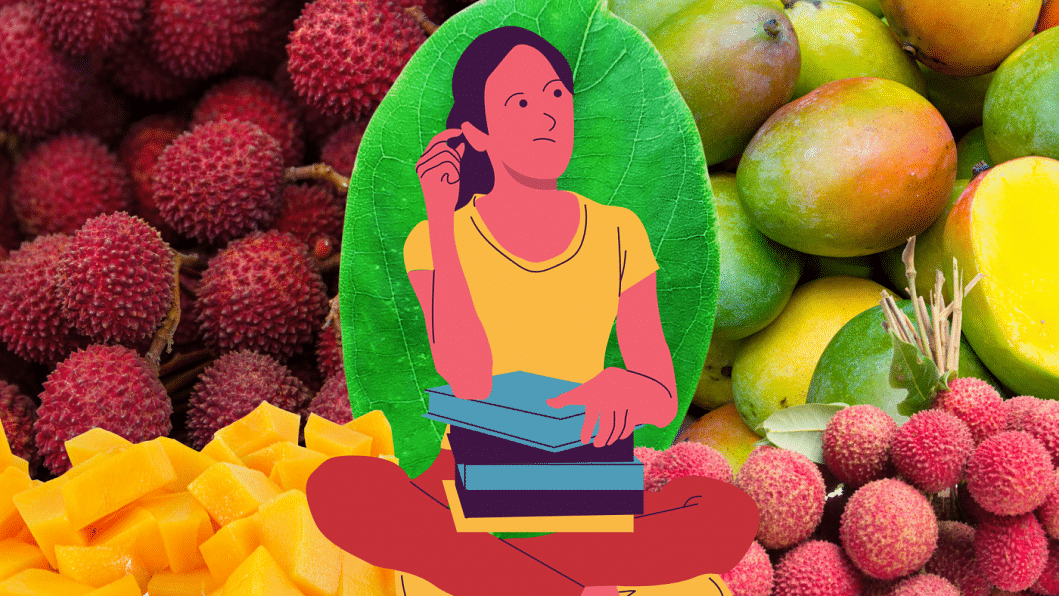 Apricots, peaches and raspberries simply do not compare with luscious mangoes, lychees and papayas. As the monsoon rains continue to wash the local landscape, crates of mangoes and bouquets of lychees emerge as a highlight of our summer. Every glance at these fruits in the street vendors' carts or bazaars signals a reminder to make the most of this season.
Given the high probability that I am moving for higher studies and will not be in the country for the next four summers, I pay extra attention to memorise the scrumptious taste of these summer delights.
Oh, where do I start?
The scene of a family member entering the house with lychees is always met with happiness. Everyone in the house gravitates towards the bouquet of fruits and, upon forming a circle, start cherry picking their way into the centre, the red ones being eaten first.
Lychees are best enjoyed as a group activity. I will remember the concentrated faces of friends and family deshelling lychees just as much as the plump flesh of the fruit. This season is short lived and I usually find myself missing these the moment they are gone.
The tart and spicy concoction of raw mangoes is the perfect prequel to the ripened mango season. The richness of Bangladeshi mangoes is second to none. Simply peeling and eating it is heavenly, so much so that the brain forgets that the stomach is full. Even when not eating mangoes, I can stare at them and be emotionally satisfied.
'Tis the season to have mangoes for every meal of the day. It is also when the classic combination of doodh-kola-bhaat becomes aam-doodh-bhaat. Himshagar, in my opinion the best among all mangoes, begins ripening at the end of May, while Fazlee, Langra and Amrapali linger on till the end of summer. Given some time, aam shotto and aam er achaar will be prepared in many households – not only for preservation, but also because they are delicious that way.
As distributors circulate mangoes from Rajshahi, Naogaon, Chapainawabganj, Dinajpur and Satkhira to all corners of the country, they become infused with formalin, a strong solution of formaldehyde. Even after hundreds of tonnes of mangoes were squashed under the wheels in recent years as part of food safety drives, chemicals continue to be used.
The people harvesting mangoes in rural areas who are struggling to make a living are left to deal with demand, amidst overworked fields that get drained of soil nutrients and untreated use of groundwater.
It is my personal opinion that instead of denying chemical poisoning or destroying truckloads of fruits, it is necessary to identify the root causes of this recurring issue. 
We are all slaves of our stomachs, especially when it comes to these fruits. Ripened lychees and mangoes grace the markets like twilight graces the sky. A sceptre made of an eternal branch of mangoes might sound like a dream. However, how I feel about missing out on Bangladeshi summer fruits, in short, is: I can't have my mangoes and eat it too.
Bianca is trying to watch more documentaries. Send her recommendations at [email protected]