Naogaon new hub for mango, Pabna for litchi
Naogaon has overtaken Chapainawabganj as the mango producing hub of Bangladesh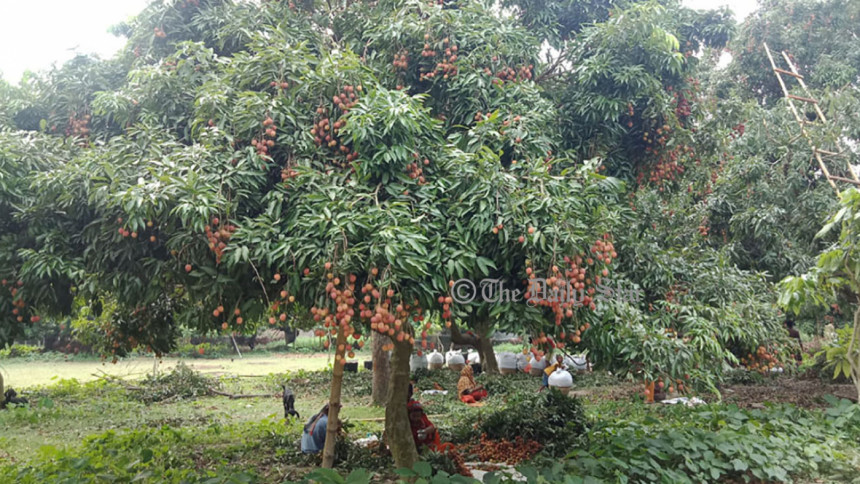 Chapainawabganj is no more the dominating hub for producing mangoes in Bangladesh and neither is Dinajpur for litchis.
Naogaon is now the country's prime hub for mango harvest and Pabna for litchis – in terms of production of the two highest sought fruits in scorching Bengali summer.
But whether Chapainawabganj and Dinajpur have been stripped off their decades-long reputation in terms of quality and taste remains open to opinion.
Statistics from Bangladesh's Department of Agricultural Extension shows that mango production in 2017-18 fiscal stood at over 23.7 lakh tonnes.
Naogaon alone produced over 3.33 lakh tonnes among them, far more than Chapainawabganj's production of 2.74 lakh tonnes and Rajshahi's 2.13 lakh tonnes.
Just a year before, in fiscal 2016-17, Chapainawabganj was the top producer with 2.44 tonnes. Naogaon was behind, producing only about 1.62 lakh tonnes.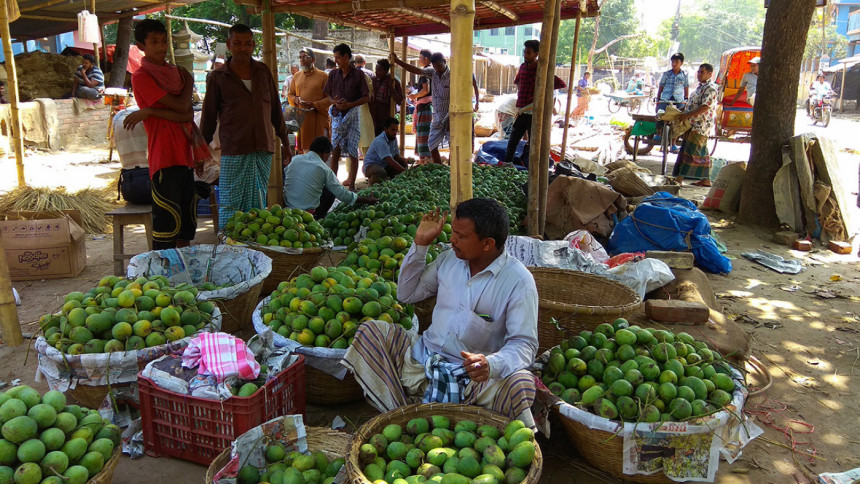 Mehedi Masood, director of a DAE project on round-the-year fruit production, told The Daily Star that all the mango trees in Naogaon are young and high yielding hybrids. "Hence the surge in production."
"On the other hand, in Rajshahi and Chapainawabganj, the mango orchards are old with older and of local varieties which bear fruits every other year. In Naogaon, most of the mango orchards are Amrapali variety which bears fruit every year," he said.
The fruit expert also said, orchards in Rajshahi and Chapainawabganj typically have trees planted 10 yards apart but they are closer in Naogaon, just about 2.5 yards from each other.
In case of litchi, the situation began to change around 2007 when Pabna's production began to rise above that of Dinajpur.
According to DAE, the total litchi production was more than 2.24 lakh tonnes with Pabna accounting for 48,800 tonnes and Dinajpur producing 29,046 tonnes.
Ketab Ali Mondal, one of the largest litchi producers of Pabna, told The Daily Star that commercial cultivation began in 1984, but became widespread since 2000.
"You will find at least one litchi tree at every house. Farmers are interested because of high profit. A single tree could earn at least Tk 1 lakh, which is not possible with any other crop," he said.
Azhar Ali, deputy director of Pabna DAE, said litchi production is increasing every year. "This year around 5,000 hectares are under litchi cultivation. The estimated production for this year is 51,000 tonnes. But it is likely to be 20-30 per cent higher as the production is good."
Mehedi Masood said Pabna litchis are of high yielding, whereas those in Dinajpur are traditional varieties. Currently, there are around 10 varieties of litchis being grown in Bangladesh.
Litchis from Pabna ripen faster than other areas and are available for longer as well. The main advantage of Pabna litchis is that the soil is perfect for it and there are fewer harmful pests and insects, he said.