Sugar-free desserts for Eid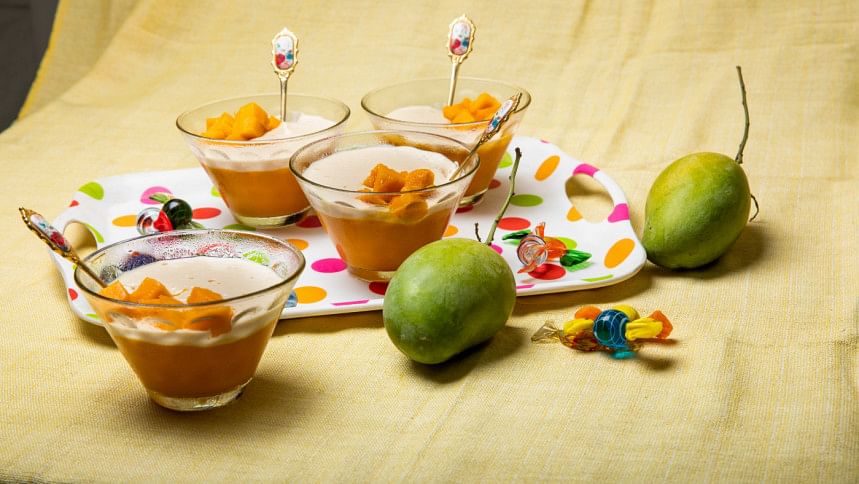 Eid is, above all, a celebration, and those who observe it know how difficult it is to steer clear of sweets around this time. From vermicelli at breakfast to lunch palate cleansers, from evening snacks to a little something to polish the dinner off with, desserts are unavoidable, and quite frankly, irresistible. For diabetics with a sweet tooth and for those who prefer their desserts very mildly sweetened, here are three sumptuous after-meal treats that will fill your soul without hurting your body.
Mango Shrikhand
A seasonal delight that needs no sweetening.
Ingredients
2 mangoes (sweet)
3.5 cups of Greek yoghurt or homemade yoghurt (not too sour)
4-5 crushed green cardamoms
8-9 strands of saffron
Method
De-seed and puree the mangoes in a blender. Once you have smooth pulp, add Greek or homemade yoghurt, crushed green cardamoms and saffron in the mixture. Give it a few spins and add to decorative glasses. Chill in the refrigerator for an hour. Garnish with chopped nuts before serving for a royal and lip-smacking end to your meal.
Summer Fruit Bonanza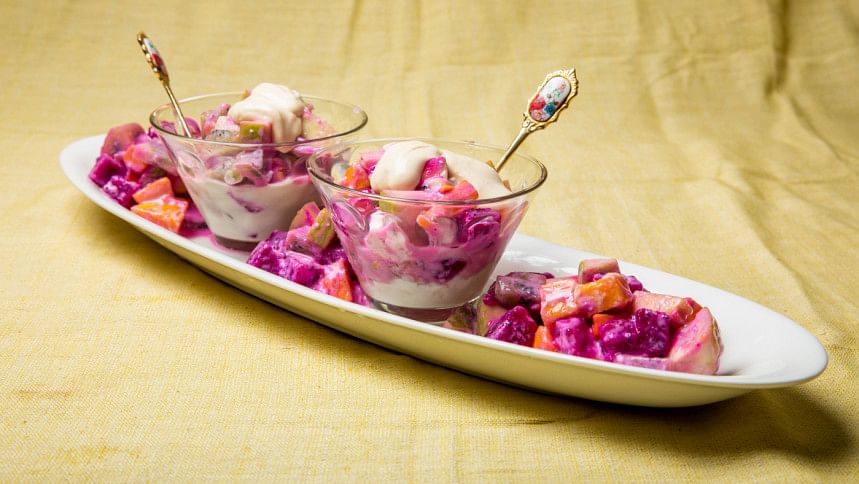 A fine fiesta of summer fruits.
Ingredients
Meat from 2 tender coconuts, 2 to 2.5 cups
2 medium ripe mangoes, cubed
2 medium ripe bananas, sliced
2 medium ripe kiwis, peeled and cubed
2 cups Pomegranate pearls
6 dates, de-seeded and soaked in hot water
2 tbsp of raisins, soaked in water and drained
Vanilla essence
Method
Chop up the fruits and coconut meat, and chill in the refrigerator for half an hour. Next, blend the coconut, dates, a quarter portion of the bananas and a few drops of vanilla essence into a puree to make "cream." Cool the mixture in a fridge. Layer the fruits, raisins and the cream on top of each other before serving. Garnish with mint sprigs and some pomegranate pearls for a dessert that looks as colourful as it tastes!
Chocolate Biscuit Pudding with a Twist
A bowl full of childhood memories.
Ingredients
2 large eggs, yolks only
2 tbsp corn starch
2 cups of whole milk
Sugar alternates or date sugar, based on taste
¼ cup of unsweetened cocoa powder
¼ tbsp salt
2 tsp of vanilla extract
Method
Whisk egg yolks in a bowl until the colour changes to light yellow and the eggs become fluffy. Whisk in ¼ cup of milk and all of the corn starch gradually to thicken. Set aside once smooth. In a saucepan, add the rest of the milk, sugar alternates, cocoa and salt and bring to a simmer until you see little bubbles forming on top. At this point, remove the pan from heat and gradually pour the hot cocoa mixture into the eggs and corn starch. Whisk briskly and continuously. This stage is called tempering and it is done so that the heat from the cocoa does not scramble the eggs. Now, pour the entire mix into the saucepan and cook on medium high heat. Continue whisking. Once the contents of the saucepan come to a boil, reduce the heat to a simmer but do not stop whisking until the pudding thickens to your desired consistency. Now, turn off the stove and stir in vanilla extract. Pour the pudding into a bowl and cover the surface with cling wrap so a skin doesn't form. Refrigerate for two hours. Before serving, crumble graham crackers with a tbsp of butter. Mix together and press on the bottom of serving glasses or bowls for a buttery, biscuit bottom. Top off with the chocolate pudding, garnish with some dark chocolate shavings and serve chilled.
Food and Styling: RBR