"We are committed to achieving net zero emissions"
In conversation with Mashrur Arefin, Managing Director & CEO, The City Bank Limited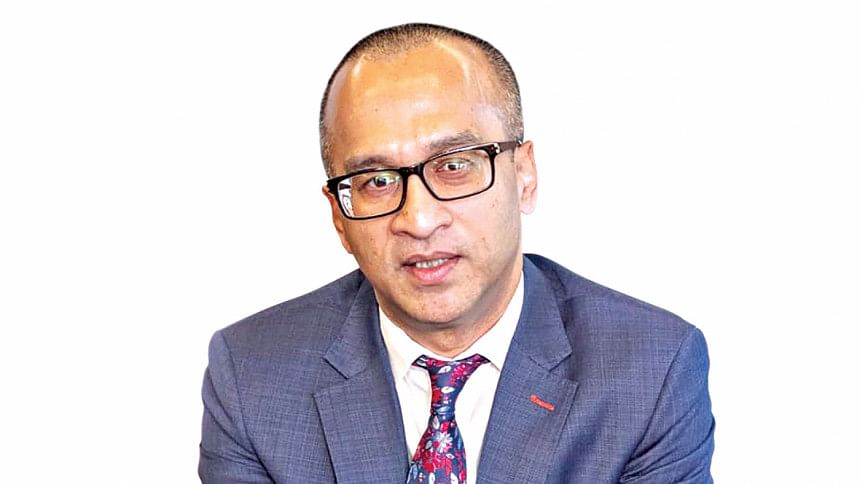 The Daily Star (TDS): Your bank has been recognized as one of the Top Banks and Financial Institutions in the 'Sustainability Rating 2022' by the Bangladesh Bank. What are the most innovative and impactful sustainable financing products or strategies you have adopted to achieve this recognition?
Mashrur Arefin (MA): Our commitment to green financing is a vital step in safeguarding the environment. In the year 2022, we at City Bank disbursed Tk 490 Crore under Green Finance. In addition to such Green Financing efforts, we directed BDT 6,132 Crore towards sustainable agriculture, sustainable CMSME (Cottage, Micro, Small and Medium Enterprises), and various other sustainability-focused initiatives throughout the year 2022.
During the fiscal year 2021-2022, we disbursed BDT 526 Crore to 84,774 farmers in rural areas. Over the past eight years, we have also allocated approximately BDT 96.5 Crore to a diverse range of CSR initiatives which aim at noble causes like ensuring access to safe drinking water, tree plantation, healthcare facilities, climate-induced disaster management, etc.
City Bank Capital Resources Limited managed the issuance of Bangladesh's first-ever green Sukuk bond. These funds were instrumental in the development of two large-scale solar power plants with a combined capacity of 230 MW.
TDS: How does your bank assess the creditworthiness and risk associated with sustainable financing projects compared to traditional projects?
MA: We maintain a rigorous approach to evaluating loans' creditworthiness and associated risks, upholding the same stringent standards applied to traditional projects. We adhere to the established practices outlined in Bangladesh Bank guidelines. Additionally, we conduct assessments of the environmental and social risks associated with any project.
It's worth noting that sustainable projects typically exhibit lower levels of exposure to environmental and social risks. It's important to highlight that our Non-Performing Loan rate for sustainable projects consistently remains below 1%.
TDS: How are you utilizing the Green Transformation Fund and the green refinancing programs that Bangladesh Bank offers?
MA: Using the central bank's cost-effective refinance schemes, we actively extend our support to our clients in their green transformation. As a result, City Bank stands as one of the foremost beneficiaries of Bangladesh Bank's Green Transformation Fund.
We use the Refinance Schemes offered by Bangladesh Bank to facilitate our clients in installing energy-efficient machinery, establishing eco-friendly green factories, implementing effluent treatment plants, and other environmentally beneficial initiatives. Consequently, these funds contribute significantly to our national commitment to meeting carbon emission reduction targets.
---
Keep Reading - 
---
TDS: What is your plan for the future to guide your bank with this sustainable spirit?
MA: My vision is to position this bank as the top sustainable bank in Bangladesh. We have proudly joined the Net-Zero Banking Alliance (NZBA) and are committed to achieving Net Zero emissions from our internal operations and lending portfolios by the year 2050.
Currently, we are measuring carbon emissions from our internal operations and the activities of our borrowers. We are also actively training our clients to enable them to initiate measures that reduce their carbon footprint.
We have taken proactive steps to foster awareness and commitment among our employees through training sessions led by distinguished environmentalists who have shared their insights on environmental responsibility. Additionally, we conducted a successful week-long "Environment Week" initiative to educate further and engage our employees in environmental consciousness.
TDS: What do you expect from the government to make the banking sector more sustainable?
MA: The government can serve as an intermediary between the banking industry and multilateral development banks (MDBs). This intermediary role would facilitate banks in directly accessing low-cost green funds from Development Financial Institutions (DFIs), thereby enhancing support for green projects. Giving access to green funds such as the Green Climate Fund (GCF) to the banking industry would significantly bolster the green finance landscape of Bangladesh.