Sustainable finance for greener future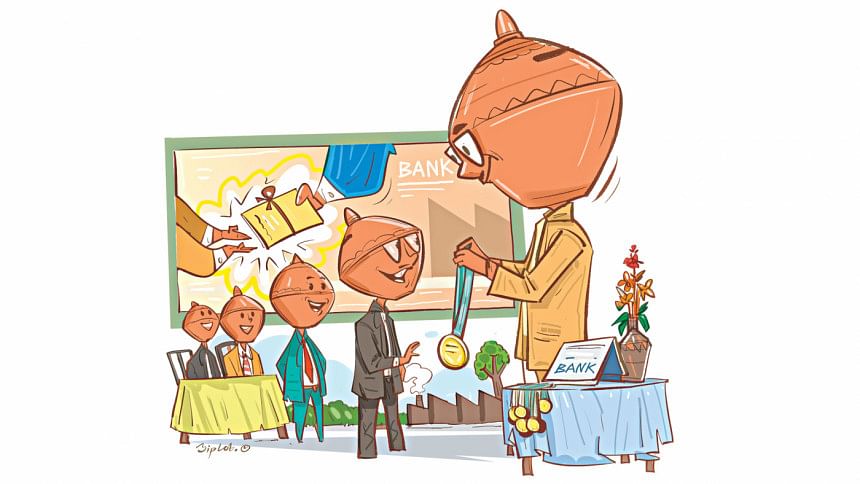 Due to its geographical susceptibility, Bangladesh faces significant vulnerability to climate change. Consequently, the importance of sustainable finance, encompassing a suite of financial regulations, standards, and products aimed at environmental objectives, has grown significantly in recent years.
The phrases "green banking" and "sustainable finance" began to gain traction when Bangladesh Bank issued policy guidelines for green banking in February 2011, applying to both banks and non-bank financial institutions (NBFIs).
However, the BB commenced its endeavors in 2008, and these efforts were further expanded with the introduction of the Sustainable Finance Policy initiative, aligning them with the global targets established by the Paris Agreement and the broader United Nations Sustainable Development Goals (SDGs).
The proactive initiatives of the central bank have motivated both the country's banks and NBFIs to channel their investments into sustainable and green projects, including sustainable agriculture and eco-friendly products.
Sustainable finance encompasses environmental, social, governance, and economic aspects, while green finance specifically addresses climate finance but excludes social and economic aspects.
As of March, this year, banks have provided Tk2,775 crore to green initiatives such as improving energy efficiency at factories and eco-friendly brick kilns, up from Tk1,689 crore the previous year, according to central bank data.
NBFIs had also contributed Tk839 crore to these green initiatives by March, up from Tk409 crore during the same period the previous year.
A good portion of green finance is directed toward energy efficiency initiatives in textile factories and the establishment of green factories, as exporters aim to reduce carbon emissions to attract international buyers, according to a senior official from the central bank.
He noted that the banking sector is a significant source of financing for industrial projects such as steel, paper, cement, chemicals, fertilizers, power, textiles, etc., which are major contributors to carbon emissions.
This is why banks and NBFIs can play an intermediary role between economic and social development and environmental protection to promote environmentally sustainable and socially responsible investments, as per the BB official.
---
Keep Reading - 
---
Regarding sustainable finance, banks had disbursed Tk35,387 crore to sustainable projects by March, up from Tk25,290 crore the previous year.
On the other hand, NBFIs disbursed Tk1,306 crore by March, up from Tk859 crore during the same period the previous year.
A BB report on sustainable finance indicated that 56 out of 61 banks and 13 out of 34 NBFIs have exposure to sustainable finance.
Eleven banks and NBFIs were named as the top banks and NBFIs in the central bank's Sustainability Rating for 2022 for their performance in sustainable finance and green finance.
The banks include Brac Bank, Jamuna Bank, Prime Bank, Shahjalal Islami Bank, City Bank, Trust Bank, and United Commercial Bank.
The leading NBFIs are Agrani SME Financing, Bangladesh Finance, IDLC Finance, and Lankan Alliance Finance.
Mirza Elias Uddin Ahmed, managing director of Jamuna Bank, stated to The Daily Star that sustainable banking is growing steadily thanks to the central bank's proactive initiatives.
He also mentioned that sustainable and green finance have become more accessible to banks because the banking regulator assists them through refinance schemes.
With people becoming more environmentally conscious, environmentally friendly projects and initiatives have seen an increase in popularity.
The head of Jamuna Bank also noted that undertaking eco-projects or initiatives with bank loans can be challenging for customers due to the time-consuming nature of the process.
"Our vision is to position this bank as the top sustainable bank in Bangladesh," said Mashrur Arefin, managing director of the City Bank.
He mentioned, "As pioneers in Bangladesh, we proudly joined the Net-Zero Banking Alliance (NZBA) under the United Nations Environment Programme (UNEP FI)."
"Through this alliance, we have committed to achieving Net Zero emissions from both our internal operations and lending portfolios by the year 2050."
Arefin continued by stating, "Currently, The City Bank is measuring carbon emissions from our internal operations and the activities of our borrowers. We are also actively engaged in providing training to our clients to help them initiate measures to reduce their carbon footprint."
He emphasized that exploring additional avenues for accessing affordable green financing remains crucial. Arefin added, "To this end, the government can play a pivotal role as an intermediary between the banking industry and multilateral development banks (MDBs)."
Chowdhury Liakat Ali, director of the Sustainable Finance Department of the Bangladesh Bank, mentioned that the regulator has taken several policy initiatives to encourage banks and NBFIs to disburse loans for sustainable initiatives.
He explained, "The central bank has rolled out four refinance schemes from its own fund to offer clients green loans at low-interest rates."
BB has introduced several refinance schemes, such as the Technology Development Fund (TDF), Green Transformation Fund (GTF), and Refinance Scheme for Green Products and initiatives aimed at enhancing investments in green and environmentally friendly products.
Liakat Ali also mentioned, "Banks are given targets to convert at least 5% of their portfolio to green finance and at least 20% to sustainable finance."
He added, "Banks and financial institutions are instructed to allocate 10 percent of their CSR Budget to the Climate Risk Fund. BB introduced Sustainability Rating for Banks and non-bank FIs in 2020 to motivate them."