"Pro-people, pro-planet, and pro-society"
In conversation with Selim R. F. Hussain, Managing Director & CEO, BRAC Bank Limited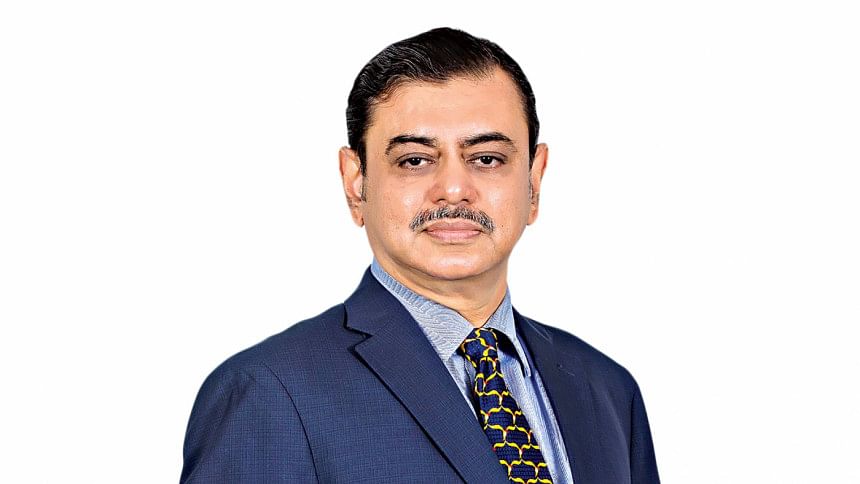 The Daily Star (TDS): Your bank has been recognized as one of the Top Banks and Financial Institutions in the 'Sustainability Rating 2022' by the Bangladesh Bank. What are the most innovative and impactful sustainable financing products or strategies you have adopted to achieve this recognition?
Selim R. F. Hussain (SRFH): We are honored to receive recognition as one of the leading sustainable banks three years in a row. We conduct banking with a conscience, keeping values at our core. Our Pro-People, Pro-Planet, and Pro-Society mission ensures that we take cognizance of customers and the planet while working towards collective prosperity.
Some of our Sustainable Financing solutions include green financing focused on environmental advancement, sustainable agriculture tailored to promote agricultural strategies, sustainable CMSME (Cottage, Micro, Small & Medium Enterprises) financing by incentivizing sustainable business methodologies, socially responsible financing resulting in positive social changes, and digital financing by harnessing technology to grant micro-loans for renewable energy ventures and augment financial inclusion.
TDS: How does your bank assess the creditworthiness and risk associated with sustainable financing projects compared to traditional projects?
SRFH: Sustainability does not necessarily equate to compromising profitability or increasing risk. Our dedicated Sustainable Finance Unit and Credit Risk Management (CRM) scrutinize projects, emphasizing their environmental and social repercussions, alignment with sustainable development objectives, and resilience against environmental and societal challenges.
After meticulous scrutiny and impact assessment, we partner with projects with clean ecological bills. This creditworthiness assessment, maintaining international benchmarks, helps us keep the non-performing loan (NPL) ratio below industry standards. Many of our green financings went to top-tier RMG companies, our trusted customers with excellent payment behavior, assisting us in keeping NPL in check.
TDS: How are you utilizing the Green Transformation Fund and the green refinancing programs that Bangladesh Bank offers?
SRFH: Our primary objective with Bangladesh Bank's refinancing schemes is to facilitate the textile and garment sector's transition to eco-conscious and energy-saving technologies. In 2022, BRAC Bank disbursed 23% of its total disbursement in sustainable finance against our target of 20% set by Bangladesh Bank, whereas the industry average is 12%.
BRAC Bank is also doing exceedingly well in meeting disbursement targets in green financing. We disbursed around 6% of our total long-term loans in this segment, particularly in energy-efficient machinery, green industry, renewable energy, and waste management areas. This manifests BRAC Bank's standing as an implementation partner of the Green Transformation Fund and green refinancing schemes.
---
Keep Reading - 
---
TDS: What are your future plans to guide your bank with this sustainable spirit?
SRFH: BRAC Bank recognizes its responsibility to use its banking and financing interventions responsibly to contribute to the sustainable development journey of the country. By fulfilling the United Nations Sustainable Development Goals (SDGs) and promoting women's empowerment, BRAC Bank strives to reduce its carbon footprint and contribute to society's value. Our sustainability ambitions include augmenting our sustainable financing offerings, unveiling groundbreaking digital avenues to amplify green financing, intensifying collaborations with stakeholders to rally a unified shift towards sustainability, integrating sustainability more intrinsically into our operations, and epitomizing greenness from our branches to backend procedures.
TDS: What do you expect from the government to make the banking sector more sustainable?
SRFH: BRAC Bank wants to nurture sustainability in its everyday banking operations. To expedite the progression to sustainable banking, we urge the government to expand all the refinancing schemes, roll out enhanced incentives and subsidy programs for green and sustainable initiatives, and issue lucid, exhaustive regulations and directives on sustainable banking.
Additionally, the government can intensify public outreach regarding sustainability, escalating the demand for eco-friendly offerings, cultivate public-private synergies for R&D in sustainable technologies, and launch training initiatives for the finance sector, ensuring adeptness in steering the green shift.