Fizz's return on track
The Bangladesh Cricket Board (BCB) will have a better idea regarding Mustafizur Rahman's recovery by the end of this week. The pacer, who had undergone a shoulder surgery in August this year and is expected to be fit in time for the New Zealand series in December, will take a bowling test this week that will help determine exactly how much he has progressed.
Speaking to reporters regarding the left-armer's progress, Bangladesh bowling coach Courtney Walsh said: "So far, he is progressing okay. There is a slight stiffness in his shoulder, but that's nothing major. At the moment we are just trying to get him back into action by changing his intensity levels. He has been performing at different intensity levels and the highest he has gone so far is 60 [per cent].
"So, tomorrow [Monday] will be a good day to see where he is at. This will be the first time, if he bowls tomorrow, that he will bowl two days straight. But we won't be doing too much bowling tomorrow. And then, I am looking at the 9th or the 11th to have a good test and know exactly where he is at," added the West Indian.
At the moment, Mustafizur is in the third stage of his rehabilitation process. According to BCB's sports physician Debashish Chowdhury, this is the stage where he will start working on 'functional movement' and begin to work on his bowling skills.
"He has no pain right now and after analysing his status we provided the green signal for him to start working on his skills. The third stage generally takes one month.  So from that aspect, we expect him to be ready for the New Zealand series. In terms of recovery, he is slightly ahead of schedule actually," Debashish told The Daily Star yesterday.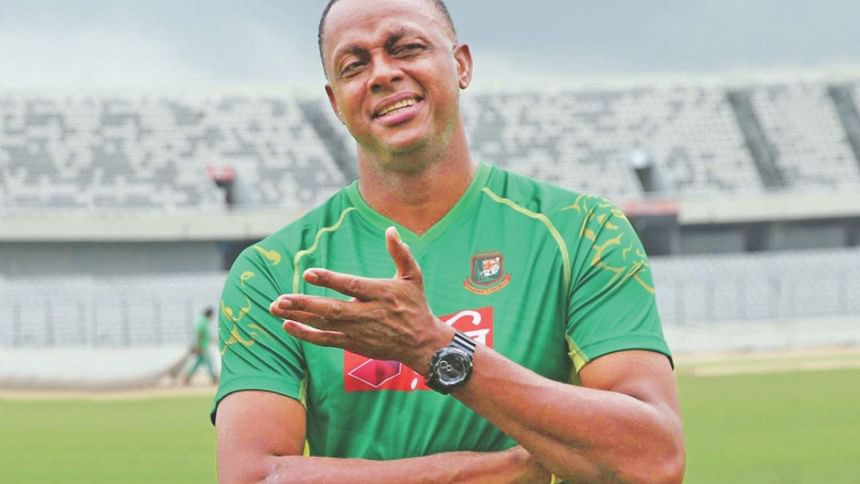 Despite the positive news, the team management will not take any chances. That's one thing that Walsh repeatedly emphasised while speaking to reporters at the Sher-e-Bangla National Stadium in Mirpur yesterday.
"You don't want to rush him back to competitive cricket if he is not going to be fully fit. I mean he is too good an asset [for us] to take any chance or risk. I am hoping that on the 11th or the 13th we will have a proper assessment, but he seems to be doing good.
"He is going to feel a bit of discomfort or shock from time to time until the shoulder gets accustomed to what it used to do before. We have to make sure that he is looked after well," explained Walsh.
"He is a very crucial member of the setup and he is a very special bowler from what I have seen. So he is someone who you want to play as soon as possible but we don't want to rush him back if he is not fully fit. Once he gets fit, we can start doing some work with him. The physios are doing their work, to get him into bowling and let the muscles get accustomed to bowling again. That's what we are working on," he added.
While Walsh didn't seem to have a lot to do during England's tour of Bangladesh, mainly because Bangladesh depended a lot on their spinners, he knows that it will be a completely different scenario in New Zealand.
"When we go to New Zealand we will get a good test. We will have the full quartet [of pace bowlers] to look at and to work with and I am excited. I am planning for that series. Hopefully it will go well," said Walsh.