Homesick Fizz seeking a break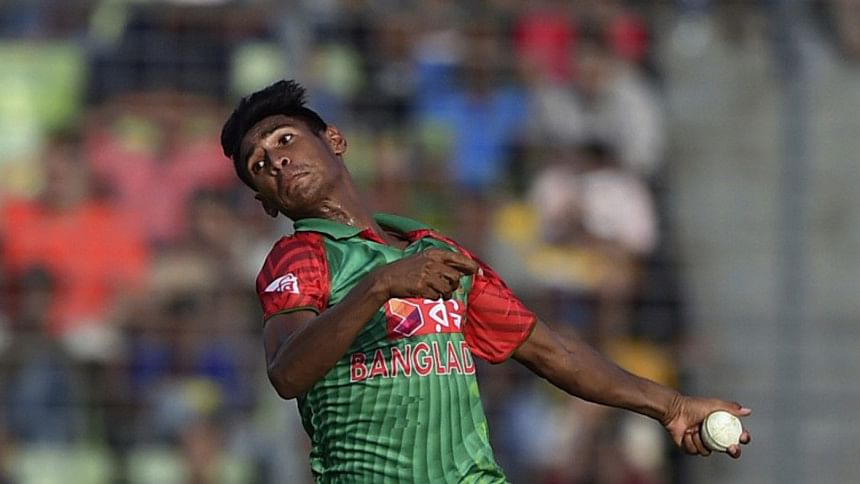 Homesick Mustafizur Rahman is desperately looking forward to return to his village after his Indian Premier League (IPL) stint ends to spend time with his beloved family members.
After the IPL, Bangladesh's young pace sensation is supposed to fly to England to play for county side Sussex. But according to sources within his family the 20-year-old bowler has been seeking a break from cricket for a while as he has been suffering from a minor leg injury and, most importantly, he wants to put an end to his longest period away from home alone.
Read: 'IPL has made Mustafizur more aware'
Before leaving for India to play in the IPL, he vehemently said that Tetulia is next to heaven for him and nothing is more pleasing than spending time in the tranquil village with his beloved family members and friends.
Now, staying away from home has created some stress on Mustafizur and it is apparently affecting his performance, which is why family members believe that another tour may create a problem in his career.
Also read: The Grip that gripped IPL
They do not want to create any pressure on Mustafizur, who is very sensitive and emotional. It is not just the stress; they are also concerned about his physique as they believe that too heavy a workload may hinder his progress in international cricket.
Coach Chandika Hathurusingha said in a recent interview with this newspaper that he would prefer that Mustafizur play for Sussex. "We have to see how he pulls up after the IPL. I am aware of his Sussex contract and I am in good touch with the officials there. We keep discussing. If he is fit enough and has no injuries, playing for Sussex will be very good because we have the Champions Trophy in England and getting exposed to those wickets will be good for him," he had said.
Read: Went through lots of video analysis to be able to counter Mustafizur: Chris Morris
Bangladesh Cricket Board's (BCB's) director and development committee chairman Khaled Mahmud also echoed the sentiment. "Yes, he has minor injury problems which I believe will be okay with a few days' rest. Mental fatigue and homesickness can be an issue but I definitely want Mustafizur to play in England because it will help him a lot in building up his future career," opined Mahmud, who also hinted about Mustafizur's reluctance to play for Sussex.
Chief selector Faruque Ahmed also has no difference in opinion about the need to experience English conditions for a young pace bowler, but he placed equal importance on Mustafizur's fatigue and fitness.
Also read: 50 wickets up for Mustafizur in T20 cricket
"I must say that playing in typical English condition will add huge value to Mustafizur's career. Playing one season in England means you get four seasons' experiences. Anyway I don't know anything about Mustafizur's wishes but no way can we overlook the fatigue and fitness issue. Our board president (Nazmul Hassan Papon) already made it clear that the board will take care of this special talent in the best possible way," said Faruque.
"You see, when a foreign club or team ropes him they will try to get the best out of him but for us we need to handle him carefully," he added.
In the final analysis, what path he takes will depend wholly on Mustafizur.