'Went through lots of video analysis to counter Fizz'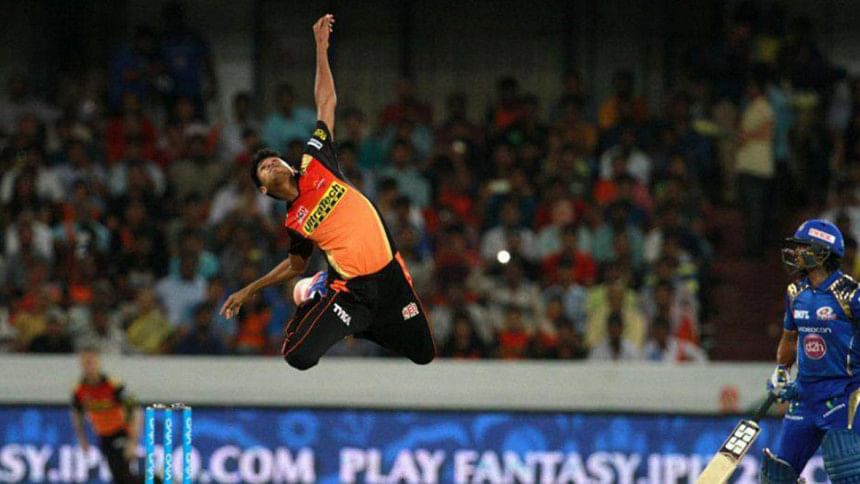 When an ashen-faced Quinton de Kock was forced to walk back due to an umpiring howler in the 10th over, Sunrisers Hyderabad would've had their tails up. Delhi Daredevils were cruising in their chase of 147, largely thanks to the South African's fine form, until he was wrongly-adjudged caught-behind by umpire Marais Erasmus.
Daredevils were down to 78 for 3 at the halfway stage, needing 69 from the last 10 overs. The situation was still not alarming for the visitors, but the hosts rallied around their stroke of luck, hoping to unfurl another late bowling masterclass to take their winning streak to five games.
While the experienced likes of JP Duminy and Chris Morris watched from the dug out, tyros Sanju Samson and Rishabh Pant put on match-winning partnership, characterised by unwavering confidence under pressure.
Read: The Grip that gripped IPL
When Mustafizur Rahman returned for his second spell, the equation was down to 53 off 42 balls. Still highly gettable in this era of outrageous hitting, but the Bangladesh pacer's knack of turning games around in the death overs kept Sunrisers in the game.
It was massive test of temperament for Pant and Samson, one that they aced rather convincingly. After two singles of the first two balls, Pant spotted an off-cutter and chanced his arms. No top-edge, no swing and miss, Pant connected as best as he could and Warner could only watch the ball sail into the stands.
Mustafizur regained composure and sent down two good deliveries for a single each. A good end to the over would've still helped Sunrisers, but that was not to be.
A low full toss on middle stump was masterfully whipped to the mid-wicket fence. There was a hint of madness to Pant's approach, but Chris Morris, the Daredevils all-rounder, conveyed the idea behind it.
Also read: Mustafizur and Bhuvneshwar lift Hyderabad
"I think we took a little bit of time, obviously, watching the videos of how Steven Smith played him. And then how Ashwin played him in the last game. Specially, for right-handers," Morris said, in the post-match press conference on Thursday (May 12).
Less than a month ago in Hyderabad, Rising Pune Supergiants' Steven Smith did exceedingly well to render Mustafizur ineffective, carting him for four fours in the two overs he played off him.
Smith managed to read the ball off the bowler's hands to accordingly nullify the impact of his variations. When these two teams met for the second time, in Visakhapatnam on May 10, Ravichandran Ashwin used the ploy of shuffling across and stepping down the track off the few deliveries of Mustafizur that he faced.
Thursday's outing was only the third time in 11 games that Mustafizur finished wicketless. Morris had a few words of praise for the youngster and how a few behind-the-scenes analysis helped Daredevils combat the threat posed by the multi-skilled bowler.
"He's an unbelievable bowler at the age of 20. It's scary to see. So for a guy who's doing so well in the IPL, his first IPL especially, we've got to pick up the box to try and combat what he's putting down. There's a lot of hard work that goes on behind the scenes that lot of people don't know. We analyse quite a lot and come up with game plans. And fortunately, it worked today," Morris said.
Read: The Fun in Fizz
In the few opportunities that have come by, Pant has showcased his strength of being a fearless batter, irrespective of the bowler at the opposite end.
On Thursday, his unbeaten 26-ball 39, and a 72-run stand for the fourth wicket with Samson paved the way for Daredevils. Morris lauded their efforts after de Kock set the game up with a fine display of batting in the first half of the innings.
"Look, I think when you've got Rishabh Pant, who's an unbelievable talent - he just comes in and 'see ball, hit ball'. It doesn't matter who the bowler is. It's unbelievable to watch. I thought he played outstandingly. We'll take a lot of confidence out of this win," Morris said.
Also read: Sussex want Fizz to play
"I think the key was we played cricket shots. You know, there wasn't slogging. There was genuine genuine cricket shots. Quiney [de Kock] showed us today how to play a ball that's swinging. You'v got experience in Nehra and you've got Bhuvi, who swings it both ways. So I thought it was excellent from the way they played today. I take my hat off to Pant and Sanju, because they played outstanding knocks today," Morris added.