Terrific Twosome: Fizz and Bhuvi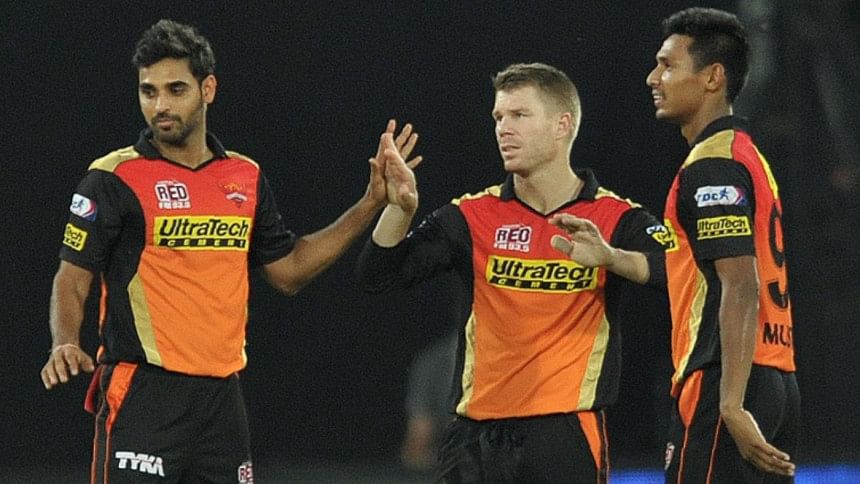 Mustafizur Rahman, the 20-year-old cutter master of Bangladesh and Bhuvneshwar Kumar, the leading swing bowler of India have formed a deadly duo, and drove their team Sunrisers Hyderabad to the fourth spot in the Indian Premier League's 2016 standings after eight matches only.
The consistency with which Mustafizur Rahman and Bhuvneshwar Kumar have delivered blows in the power-play and end overs has been key to Sunrisers Hyderabad's success this season, reports Firstpost.com. 
Hyderabad have won four out of their last five games, with 12 wickets for Bhuvi and 10 for Fizz respectively.
READ MORE: Fizz impresses again
"In the success of their bowlers, Sunrisers have not only redefined their fortunes, but have also served to remind us that bowling remains a vital asset even in the shortest form of cricket."
According to the report, the lanky pacer from Satkhira, Bangladesh has been a revelation and his acquisition has made the Sunrisers management look like clairvoyant oracles, with every single match.
Just as he did in their previous match against Royal Challengers Bangalore when Virat Kohli was dismissed, Fizz struck in his very first over against Gujarat Lions. Introduced in the sixth over, the crafty cutter master nearly took a wicket off the first ball. Shikhar Dhawan juggled before he spilt the opportunity to remove Brendon McCullum.
However, two balls later, the other opener Dinesh Karthik was sent back to the pavilion as Kane Williamson took a brilliant one-handed catch at backward point. In his last over, the 19th of the innings, Mustafiz outfoxed Ravindra Jadeja with his lethal slower cutter, which the left-hander lofted to mid-on. Fizz finished with 2 for 17 from his quota of four overs.
As accolade and praise pile on the left-arm pacer for his exploits with deadly cutters, Mustafizur showed he could quite easily crank up his pace, and delivered a searing 144 kmph yorker to Aaron Finch at the death. The commentators on air, especially Mr. Cricket Michael Hussey was simply awestruck at Fizz's ability to outsmart batters with pace, or the lack of it!
READ MORE: No luck for Fizz's female fans
Fizz and Bhuvi have combined to take 22 wickets in eight matches at less than seven runs per over. According to Firstpost's report, majority of those wickets came at decisive moments, significantly affected the flow of the match to play the definite role in shaping the eventual result of the contest.
With Fizz and Bhuvi firing on all cylinders, Sunrisers fans will be optimistic about the chances of lifting their maiden IPL trophy this season. For that, the batting department must not undo the good work of the bowlers with inconsistent performance. 
READ: Mustafizur makes the IPL team of the tournament