'IPL has made Mustafizur more aware'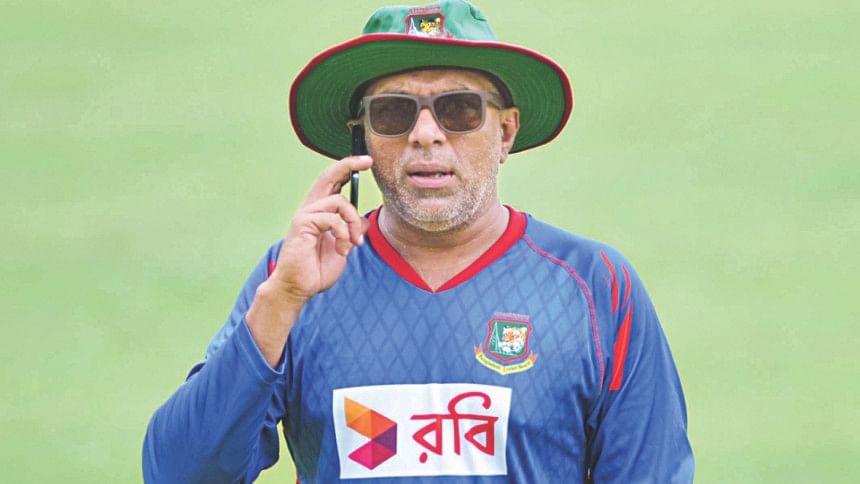 Arguably the most successful Bangladesh coach, Chandika Hathurusingha's two-year contract with the Bangladesh Cricket Board (BCB) will end in June this year. The Sri Lankan, who is on leave in Australia at the moment, is scheduled to return to Bangladesh later this month and is expected to negotiate a new contract. He spoke to The Daily Star's Naimul Karim yesterday over the phone regarding a number of issues. While he was not ready to speak on his new contract or the highlights of his two-year stint, he did speak in detail about the plans that the board has for Mustafizur Rahman and the preparations for the India series in August. 
The Daily Star (TDS): Are you a little concerned that Mustafizur is getting a little too exposed because of the IPL [Indian Premier League]?
Chandika Hathurusingha (CH): It's the same with any bowler. The more you play, the more people get to know you. That's the nature of the game. The disadvantage is that people are getting used to him. But I think there is one benefit. He is becoming more aware of how batsmen handle him and is getting wiser in terms of using his variation and being effective. The experience he is gaining is already valuable.
TDS: Tamim Iqbal had earlier said that he was surprised with the way Mustafizur executed the yorkers regularly. Did his performance in the IPL surprise you?
CH: No, not at all. He always had the ability to bowl yorkers. He didn't use it when in the national team as much because it was probably a tactical thing. He is probably using it more in India because of the surface and conditions. If you remember the yorker with which he bowled Steven Smith in the World Cup; that was all about tactics. These are based on discussions in the team management.
He always had the skillset. If you notice, he bowls differently with the new ball in the national team. And then when the wicket tends to grip the ball a lot more towards the end, he bowls different variations. One thing about Mustafiz is that he is a very, very intelligent bowler. Not many young bowlers I have come across have picked up things so soon. He is one of those guys who has picked everything very soon and has managed to execute them as well.
TDS: There is talk about him playing in the Big Bash League. In fact, every T20 league may want him now.  As a coach, how do you see this rising demand?
CH: He will definitely be a hot property for T20 leagues around. For me, it entirely depends upon his wellbeing and not so much about people getting used to his bowling. It's about him playing cricket on the park. If that is compromised then we have to think about restricting him. If it's affecting his health I'll probably advise him and the board not to do anything that hinders his wellbeing. We are not going to compromise on that. And we probably have to compensate for that as well, because you can't stop anyone. Those are the balancing acts that we need to consider.
TDS: What about his stint in Sussex?
CH: We have to see how he pulls up after the IPL. I am aware of his Sussex contract and I am in good touch with the officials there. We keep discussing. If he is fit enough and has no injuries, playing for Sussex will be very good because we have the Champions Trophy in England and getting exposed to those wickets will be good for him.
TDS:  In terms of bowling in Tests, would you say he needs to add a few more tricks? Practise the art of swinging the ball, perhaps?
CH: Learning is an ongoing process, not only for Mustafiz but for any other bowler. You have to develop your skill as you play. But then again, there are limitations in every bowler because of their actions. Some bowlers can swing, some can seam. Very rarely you can get someone who can swing and seam because of different things involved. It's not a thing that you can do for a particular series. You can't be like, okay I need to swing the ball in this series and then seam it the next. It's very hard. I think it's more important for Mustafiz to understand his strengths and what he can do in different conditions.
TDS: In a recent interview, Mustafizur said that while he enjoys playing all formats, he prefers the games that are over in a day. Does that worry you a bit?
CH: Was that interview in English or Bangla?
TDS: It came on an Indian website. Was probably taken in Bangla but written in English.
CH: Don't worry about it. I know Mustafiz. If you ask him something in Bangla, it's very difficult to get it out, if you ask in English it's impossible.
But anyway, everyone has a preference. I think he is good enough to play all three formats. Sometimes when you are young your preference comes for the success rate that you have and he has just played two Tests.
TDS: Have you been following the Dhaka Premier League?
CH: I have been following it. I have sometimes followed it ball by ball as well. I am getting reports from the concerned people. It's very competitive and the pitches have been sporting. After the league we have plans of hosting practice matches that will emulate particular match scenarios, much like the ones that have taken place in the last two years.
TDS: You have spent two years with the team and you are probably set for a new contract. How does it feel?
CH: I am sorry I can only talk about this issue once I return to Bangladesh. I need the permission of the board to speak on this issue.