News Analysis
No fuss with Fizz, please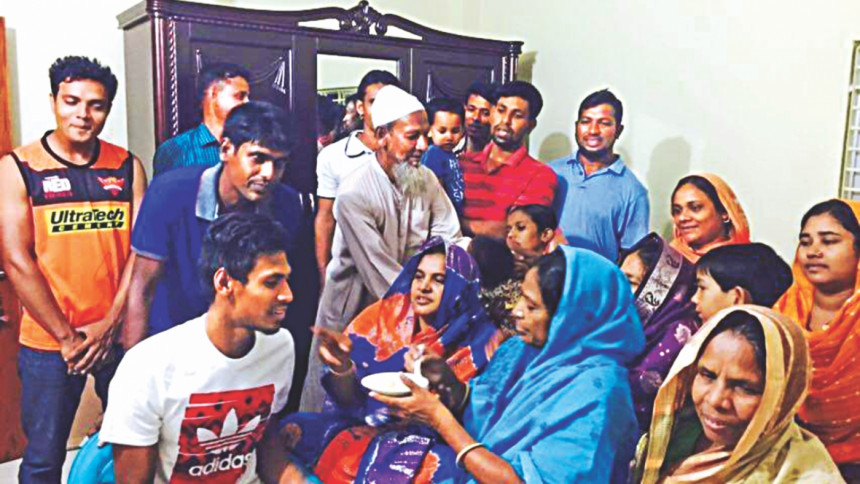 With a flower crown on his head, Mustafizur Rahman was flashing his trademark boyish smile to every flash of camera from a horde of media people. His happy face could hardly hide how tired he was from an energy-sapping IPL final in Bangalore on Monday night, the after-match party and long journey the next day. He was heard mumbling at times, "Bhai (Brother), started off early in the morning. Very tired."
Tired, but who cares? Deputy Minister for Sports Arif Khan Joy received the young lanky seamer with what was dubbed as the king's crown (of red roses). He then went on to feed him the famous Balish misti (pillow-shaped sweet) from Netrokona, a district town some 40 kms away from Dhaka. Hard to tell how the specially made, heavily-sweetened Balish tasted in Mustafizur's mouth late in the night at the airport. Just a little flinch! Affectionately called The Fizz by the world media and cricket buffs, Mustafizur could cleverly disguise how it tasted the way he disguises his cutter, slower delivery or fast-swinging toe-crusher with no visible change in the bowling action.         
Prime Minister Sheikh Hasina recognised him as a national hero, the deputy minister informed Mustafizur, who starred in Sunrisers Hyderabad's epic journey to winning the trophy for the first time. The shaven-headed footballer-turned-politician also disclosed that a grand reception by the government will follow soon.
Isn't this reaction from the sports ministry a bit much?
Indeed, our little Mustafizur stood apart in the prestigious Indian T20 league this season. No other foreign cricketer, let alone someone from Bangladesh, has been such an instant hit, seized so much of the media spotlight and created such a fan frenzy in India. Whether his team was playing or not, his bowling remained the subject of absorbing analysis by cricket greats everyday throughout the tournament.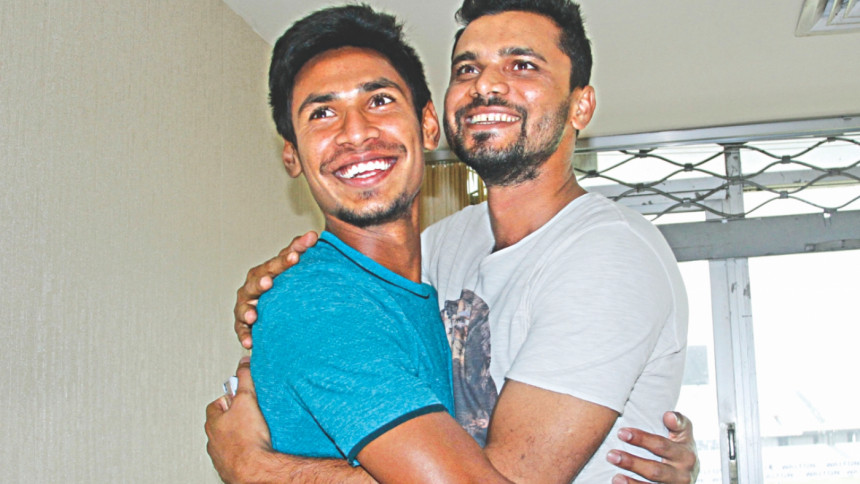 Yes, his 17 wickets in 16 matches at a 6.90 economy rate were simply unbelievable in the ball-bashing version of cricket. Not surprising therefore, that the 20-year-old was voted the Emerging-Player-of-the-IPL for the way he dictated terms to the world's top batsmen like Virat Kohli and AB de Villiers. It was a sight to behold the way the left-arm pacer unleashed a perfect yorker that not only rattled Andre Russell's middle stump but also brought down the big West Indian to the floor. 
Cricket lovers and the media have plenty of reasons to go gaga over Mustafizur for his IPL epic. But how should our government react to a cricketer's performance in India's cricket league? Should it too act like the cricket fraternity? After all it's Sunrisers Hyderabad who won the IPL championship, not the Bangladesh national team.  
What Mustafizur did made us mighty proud. He is indeed the source of many cheers for Bangladesh ever since he made his debut in international cricket only 13 months ago. He is our cricket's hottest property and should be handled with extreme care. The sports ministry must not go overboard. A reception or awarding of a flat to Mustafizur will only make the government a laughing stock internationally. And this unnecessary pampering may greatly hamper the youngster's progress to a greater level.
Rather, the sports ministry should leave Mustafizur to the devices of the cricket board, which must ensure that The Fizz does not fizzle out anytime soon. Mustafiz has to work hard on his fitness and skills to prolong his international career. He has to hone his mystery deliveries and add a few more weapons to his arsenal in order to stay effective, and even to increase his efficacy. The cricket board needs to take good care of the pipeline for new Mustafizurs. It has to have a system in place so that Mustafizurs do not just slip into oblivion after some time.    
One just wishes the sports ministry could spare some of its enthusiasm for some other games. The under-14 girls clinched the AFC regional championships twice, in Nepal and Tajikistan, but that phenomenal achievement could hardly stir up the sports ministry. No cash bonanza, no reception for them. Those wonder girls do not know yet what the future holds for them. The gold medal winners in the South Asian Games in India this year also missed the attention of our sports bosses. So, what are they up to? Wake up, sports bosses!