'Death bowling is his art'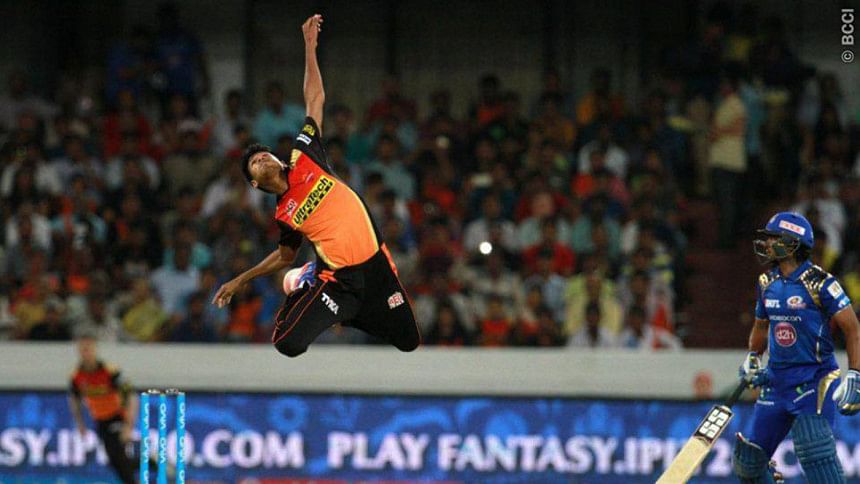 Sunrisers Hyderabad captain and Aussie batter David Warner enthusiastically backed up Bangladesh pacer Mustafizur Rahman's bowling at the back end of a match and compared the left-armer's deeds with those of his teammate Mitchell Starc.
David Warner drew a lofty comparison between the Fizz and one of the best exponents of the white ball in recent times, Australia's spearhead Mitchell Starc. "The ideal circumstance with Fuzzie (Mustafizur) is you bowl him one in the first six and keep three at the end. He's a very, very good death bowler. That's his art. I can bank on it. It's almost like Mitchell Starc. With the new ball, he's very dangerous. And then at the end, it's very hard to score (off him)," reports Cricbuzz.
In the match against Mumbai Indians, Mustafizur Rahman was steady but was unfortunate to concede at least two boundaries due to fielding lapses. He bowled four overs, took the wicket of Hardik Pandya and conceded 32 runs.
Read more: Maiden strikes of Mustafizur
The Fizz was given the responsibility to bowl the 17 and 19 overs, and he answered the call of duty brilliantly. Neither Rayudu nor Krunal could get a hold of Mustafizur and were easily flummoxed by his use of cutters.
Read more: Mustafizur's first overseas tour
When Mumbai batters were hell bent to score quick, Mustafizur gave away only five runs in the 17th over. In the crucial 19th over, Mustafizur sent back Pandya for two and almost picked up Harbhajan Singh with the last ball of his spell. Fuzzie bowled a slower cutter which nearly provided a caught-and-bowled opportunity. A diving Mustafizur though just failed to grasp the ball before it hit the ground.
Read more: Don't miss Mustafizur at IPL 2016
Tigers pacer conceded only six runs in his last over. In three IPL games for Hyderabad, Mustafizur has picked up four wickets, and is looking better with each outing.