Don't miss Mustafizur at IPL 2016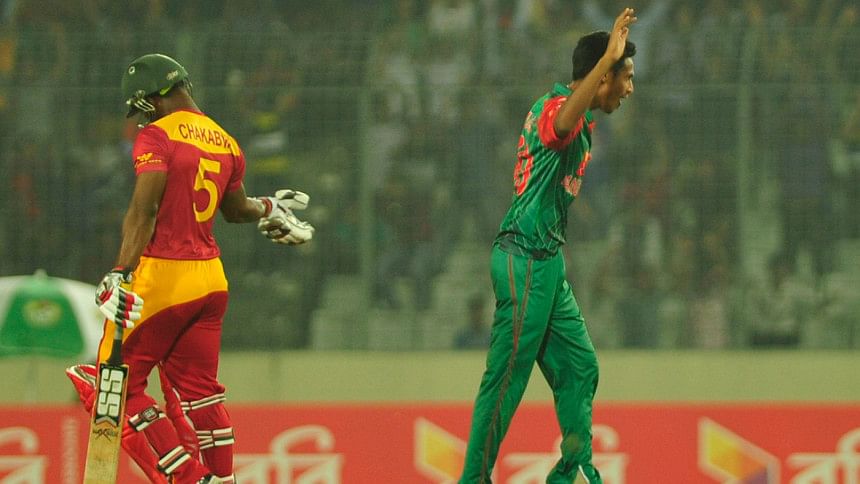 The sixth Bangladeshi cricketer to receive a contract in the Indian Premier League, left-arm sensation Mustafizur Rahman will don the colours of Sunrisers Hyderabad and show his craft with the ball in the most attended professional Twenty20 cricket league in the world.
The ninth edition of IPL will blast off with all the glitz and glamour of Bollywood on April 9, 2016 when the current champions Mumbai Indians led by Rohit Sharma will take on the new kid on the block, Rising Pune Supergiants captained by MS Dhoni at the Wankhede Stadium, Mumbai according to the official IPL20 website.
Read more: Shakib, Mustafizur leave for India
Bangladesh pace sensation Mustafizur Rahman was bought by Sunrisers Hyderabad for 1.40 crore rupees (approximately Tk 1.64 crore), almost thrice his base price of 50 lakh rupees. In a two-way battle for the pacer's signature, Hyderabad emerged victorious after Royal Challengers Bengaluru backed out at 1.40 crore.
Mustafizur said that he was ecstatic and looked forward to make the most of this opportunity when he spoke to The Daily Star. "Shakib bhai is doing very well in the IPL. Many other players have also played there before. So now it feels really good that I am getting a chance to play there. I hope I can learn and improve my skills by playing in the competition," he said.
Read more: Mustafizur makes an IPL splash
Mustafiz is bowling in good rhythm after coming back from his injury, and recently grabbed his maiden five-for in T20Is, and registered the second best bowling figures in an innings for Bangladesh during the Super Ten match of ICC WT20 2016 against New Zealand at Kolkata, India. He bowled four overs and took five wickets, conceded only 22 runs on March 26, 2016.
Read more: Mustafizur makes his mark in T20Is
The Cutter Master is expected to play his first IPL match when his team Sunrisers Hyderabad will face Royal Challengers Bangalore in the fourth match of IPL 2016 at Chinnaswamy Stadium, Bengaluru at 8:00pm Bangladesh Standard Time on Tuesday, April 12, 2016.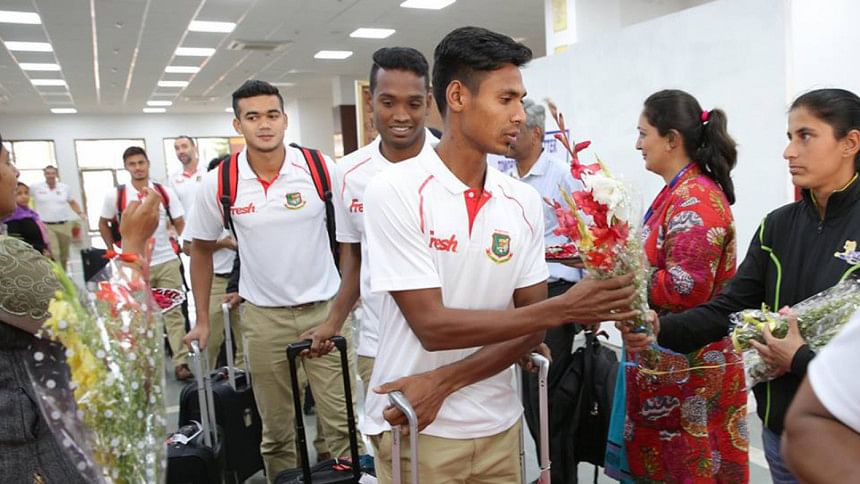 Catch the complete fixture of Mustafizur Rahman's team, and cheer for Bangladesh's cricketing icon when he makes his mark in the professional T20 cricket league in India.
Match 4 vs Royal Challengers
20:30 BST (14:30 GMT), Tuesday April 12th 2016
Match 8 vs Knight Riders
4:30pm BST (10:30am GMT), Saturday 16th April 2016
Match 12 vs Mumbai Indians
8:30pm BST (2:30pm GMT), Monday 18th April 2016
Match 15 vs Gujarat Lions
8:30pm BST (2:30pm GMT), Thursday 21st April 2016
Match 18 vs Kings XI Punjab
8:30pm BST (2:30pm GMT), Saturday 23rd April 2016
Match 22 vs Rising Pune Supergiants
8:30pm BST (2:30pm GMT), Tuesday 26th April 2016
Match 27 vs Royal Challengers
8:30pm BST (2:30pm GMT), Saturday 30th April 2016
Match 34 vs Gujarat Lions
8:30pm BST (2:30pm GMT), Friday 6th May 2016
Match 37 vs Mumbai Indians
4:30pm BST (10:30am GMT), Sunday 8th May 2016
Match 40 vs Rising Pune
8:30pm BST (2:30pm GMT), Tuesday 10th May 2016
Match 42 vs Delhi Daredevils
8:30pm BST (2:30pm GMT), Thursday 12th May 2016
Match 47 vs Kings XI Punjab
8:30pm BST (2:30pm GMT), Sunday 15th May 2016
Match 52 vs Delhi Daredevils
8:30pm BST (2:30pm GMT), Friday 20th May 2016
Match 55 vs Knight Riders
4:30pm BST (10:30am GMT), Sunday 22nd May 2016