World on his mind, Tetulia in his heart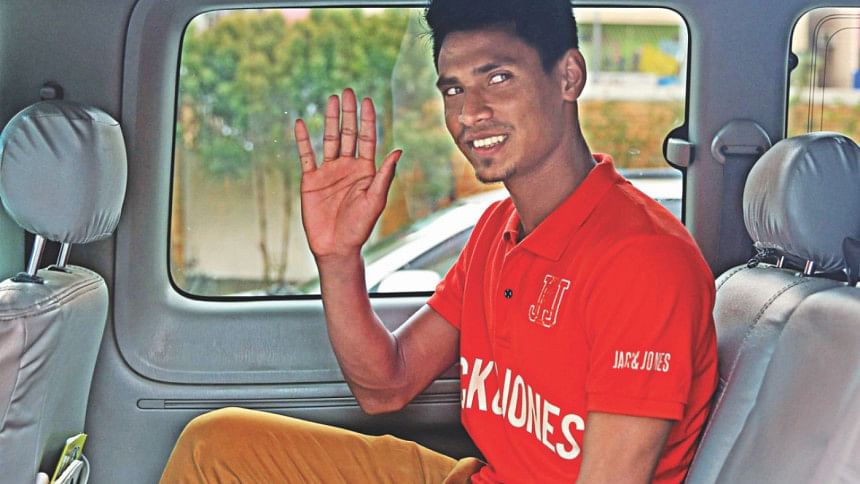 Tetulia is next to heaven for him. Nothing is more pleasing for Mustafizur Rahman than spending time in the tranquil village with his beloved family members and friends. He is now an emerging star in the global cricket arena and the success has come to his life like a bolt of lightning. A lot of changes have come into his external life but inside he is as emotional as any other ordinary Bengali man and he is as homesick as any young man venturing out into the world. That is why leisure means spending time in his dearly loved village, playing cricket on an open field, having fun with old friends. But the whole world is now open to him and he dreams of becoming a world-beater, so whatever opportunity comes his way, he has to accept it even if it means leaving home comforts for some time.
"There (Tetulia) it is a lot of fun. I enjoy every moment I spend there. Many people come to meet me when I go to my village and that is the only change; otherwise everything is as it was before. But I have to do my duty also," Mustafizur, voice wavering with the emotion of farewells said to loved ones, said while talking to this reporter on way to the Hazrat Shahjalal International Airport yesterday afternoon to catch the Kolkata flight to play in the Indian Premier League (IPL) for Sunrisers Hyderabad.
He started from the BCB Cricket Academy after a short press meet which began with him asking: "What do I need to say?" Mustafizur's bowling speaks in many ways but when it comes to answering questions, he prefers dealing in one-word answers wherever possible. In his words: "I love addas but don't like media conversations. Let me play, then there will be something to tell you people."
It was no different even when his uncle, who was accompanying him to the airport, advised him on many things. "It will not be a problem," he responded when advised to call at any time whenever he feels lonely. "It will not be a problem," he responded when he was advised to take care of his health. "It will not be a problem," was his response to almost every piece of advice, even when he received calls from near and dear ones, but his voice continued to falter. It was the first time in his career that he was going alone to play cricket abroad.
Is he a bit nervous? "No, nothing like that," was his answer.
He has plans to go to England after the IPL to play county cricket for Sussex, which means he will be away for a long time. But those close to him suspect that he will manage to squeeze a short trip home in between.
When it comes to cricket issues, Mustafizur is not someone who tells you anything elaborately but even in his brief statements you can find wisdom and character. What would be more interesting, IPL or county cricket?
"Same. Only difference is I will get much more breaks between matches in England. Conditions… I hardly think about that because I love to bowl in any conditions."
Many fear that tough days are ahead for Mustafizur as everyone is working to break down the mystery of his cutters. "Let me enjoy the moment. Definitely I will not sit idle when the new challenge comes," said Mustafizur, whose cricketing brain has been widely lauded.     
Is he  developing anything new in his bowling?
"I am not delivering the cutters and slowers in the nets but definitely I practise these two deliveries. Yes, I need to develop the swinging deliveries for more success but I am hardly getting any time right now.
 "You know the grip is most important. How you can use the seam depends on you. No one but you can develop your skills," he said when asked about taking tips from former greats.
How would he tackle it if bad times do befall him?
"I already have the experience of how difficult it is to sit idle when the team is playing, though it was for injury. I don't think anything beyond this moment."
Thus ended the conversation during a short trip with a bowler who is as simple and emotional as any other Bengali, but much more crafty with the cherry in hand.