Mustafizur's first overseas tour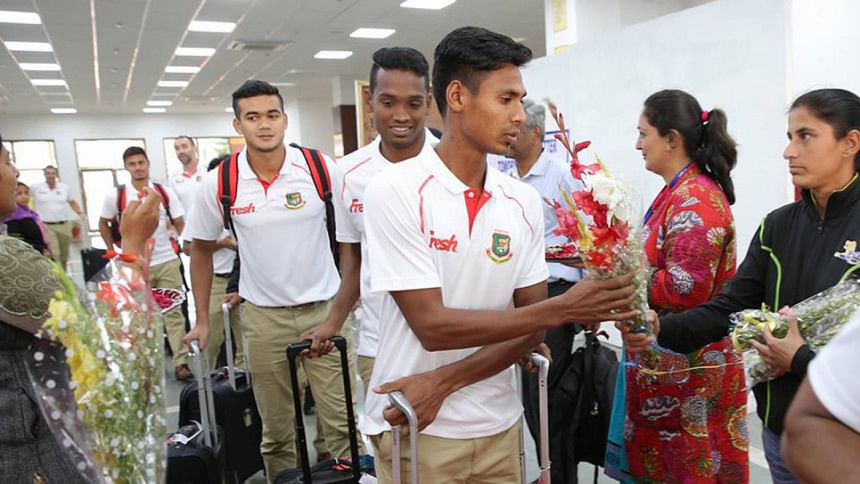 Bangladesh pacer Mustafizur Rahman, the latest pin-up boy in cricketing pop-stardom made his mark in 2015 during the ODI series against India when he took consecutive five-fors in his first two one-day matches.
As a crucial member of Bangladesh cricket team during the ICC T20 World Cup in India, Mustafizur Rahman has embarked on his first overseas tour, and is acclimatizing to the environment at Dharamsala where Tigers are due to play their three qualifying matches.
Read more: Sussex signs Bangladesh bowler for T20 blast
Mustafizur Rahman and his teammates reached Dharamsala, India on Monday on a specially chartered Spicejet aircraft and boarded a bus towards the Pavilion hotel, where they will set up camp for the qualifying section of the global tournament, reported our correspondent.
The weather at Dharamsala is strikingly different to what the Tigers have experienced at home. The maximum temperature does not exceed 20 degree Celsius while it has been mostly cloudy and muggy at the Himachal Pradesh Cricket Association Stadium.
Read more: The Guardian praises Mustafizur
This is the first overseas tour for the 20-year-old left arm pacer as a member of the national team, but he went on foreign tours before when he was playing for the Under-19 and A-team of Bangladesh, namely to United Arab Emirates, South Africa and West Indies.
Mustafizur was rested during the Asia Cup 2016 after a few matches due to a side-strain, but is expected to play soon.
He is rearing to go after the lay-off, and would love to show India and the world what he can do with a white, cricket ball bowled with a freakishly supple wrist. His exploits against India didn't not unnoticed; Mustafizur was picked up by Sunrisers Hyderabad during last month's IPL auction for £150,000.
Bangladesh will face Netherlands on March 9, Wednesday. On March 11, Friday Ireland will lock horns with Tigers while Oman will meet Bangladesh on March 13, Sunday.