'Missing Eng series is hard'
Fizz returns; will begin rehab in four weeks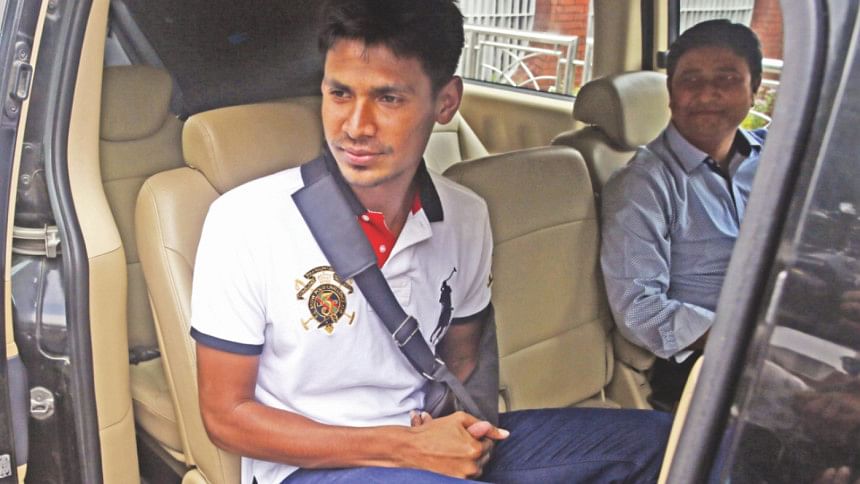 For the second time in two months, a group of journalists waited for Mustafizur Rahman in the VIP area of the Hazrat Shahjalal International Airport yesterday.
In June this year, the pacer was given what was probably his biggest ever reception in an airport with ministers, his family members and the media converging on him upon his return to Dhaka following the Indian Premier League. Garlanded with flowers, a smiling Mustafizur was brimming with confidence as he spoke to the media.
Two months on, the setting was a lot different. Under heavy security, Mustafizur arrived with his arm in a cast to a bouquet of flowers from the Bangladesh Cricket Board. He is not going through the best of times at the moment, but he still managed a smile.   
Longing to go back home after such a long time abroad, he was understandably in a hurry. However, he had just enough time to spend a couple of minutes with the media.
"Alhamdulillah, I am doing well now. After the operation, the doctor showed me a few short exercises to do and also [BCB Sports physician] Debashish [Chowdhury] da has received instructions from the doctor with regards to the rehab. I will began rehab in four weeks' time," he added.  
The pacer, who is expected to be out of cricket for nearly four months, will miss England's tour of Bangladesh due to begin in October this year. If he is lucky and recovers in time, he might just make it for Bangladesh's tour of New Zealand, which is set to begin on December 26. It's a situation that he would rather not be in.
"Till now I have been to England twice and got injured on both occasions. Once, during an under-19 tour, and the second time while playing with Sussex. Hopefully, the future will be better.
"Since I am not fit enough to play, I will obviously miss the England series and yes, that does feel bad," he said.  
"With all your prayers, I will hopefully be able to get back to the game soon," he added.